Strange Adventures #10 Review: Let's Make A Deal
With what could possibly be the most disturbing game of "Let's Make A Deal" ever, this issue both does something truly intense from a purely plot-related perspective and something sadly boring from an execution perspective. By ignoring the cardinal rule of storytelling, "show, don't tell," this issue makes a case for what really happened in the war between Rann and the Pykkts but also did a great deal to tear down another icon.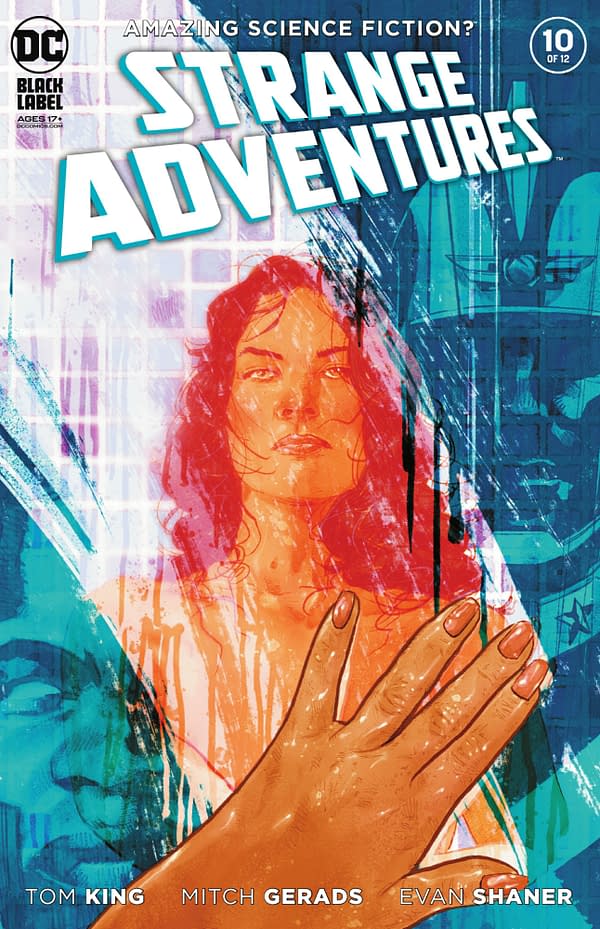 Dig, if you will, the picture: imagine an entire issue of a comic book that uses a letter as a framing device. Alanna Strange reads a letter from Michael Holt, also known as the genius athlete superhero Mister Terrific, and it makes room for things to be displayed through flashbacks and montages. From a screenwriting standpoint, this would have been a rock-solid approach that would have worked well with even a journeyman director. From the concept of sequential art, however, it's a bit of a push as this square peg doesn't quite fit into this triangular hole.
The artwork from Mitch Gerads, Evan Shaner, and Clayton Cowles switches from a painted look (which seems like colors over pencils) and crisper flashbacks of combat and wartime derring-do. That works well to separate the different time periods shown through the book. Likewise, Tom King's script does some great work in using literary allusions (the book dedication, the analysis) to give the work some heft and narrative significance.
However, there are two basic problems. The first, of course, is the issue of the structure of the issue: a woman reading a letter and flashing back to things that happen does not a riveting experience make. Second, the disturbing habit of taking heroes and dragging them through the mud — corruption, failure, mass murder (like Wally West, another scarlet-clad victim of King's pen), and the like — in the interest of short-sighted editorial fiats is exhausting in a day and age when there are so few heroes we can actually regard. That's another bitter pill to swallow, and together with the structural eccentricities, it makes this book an ambitious struggle. RATING: MEH.
Strange Adventures #10
By Tom King, Mitch Gerads, Evan Shaner
Once upon a time on Rann, Adam Strange made a deal with his neighbors and foes to take a stand against the invading Pykkts. Now, on Earth, he is trying to do the same thing: to get all the heroes to rise as one to keep the marauders from doing to his home planet what they already did to his adopted one. But the original deal was a devil's bargain, and Alanna Strange has received a mysterious letter that may tell her more than she wants to know. If she wants to keep her husband safe, it's time for her to go on the offensive.