Superman & Orson Welles Team Up on Mars in 1949, Up for Auction
Superman's strange 1949 team-up with legendary writer/actor/director Orson Welles promoted the film Black Magic via War of the Worlds.
---
1950s-era Batman is often thought of as the peak of DC Comics superhero weirdness, but Superman's 1949 crossing over with a real-life Orsen Welles in a promotional tie-in with Welles' film Black Magic is also as strange as it gets. Superman #62 features Superman teaming up with Orson Welles to battle Martler, the Martian Nazi, in order to prevent a Martian War of the Worlds with Earth. The original U.S. version of Superman #62 was cover-dated January-February 1950 with an on-sale date of October 31, 1949. The UK edition was published by K.G. Murray and cover-dated June 1950. Featuring a cover and story drawn by the legendary Wayne Boring, this strange four-color classic from the late Golden Age of comics is up for auction in the 2023 January 29-30 Sunday & Monday Comic Books Select Auction #122305 at Heritage Auctions.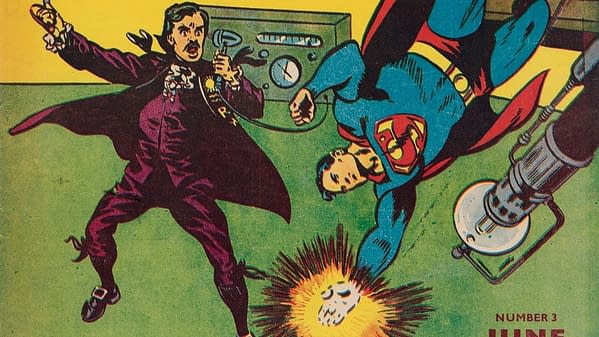 Of course, Welles was a writer/director/actor best remembered for the film Citizen Kane and his radio adaptation of H.G. Wells' War of the Worlds. His film Black Magic, an adaptation of volume one of Alexandre Dumas' Mémoires d'un Médecin, had debuted in theaters about two months prior to the release of Superman #62. Dumas' four-volume work focuses on key events that lead up to the French Revolution. The story in this Superman comic picks up as Welles and his co-star Nancy Guild are filming the final scene of Black Magic, revealing the climatic moment of the film in the process, oddly enough.
As Welles and Guild drive away from the filming location, they happen across a group of scientists preparing to launch a rocket to Mars. Welles ends up accidentally trapped inside the rocket as it launches, and once he makes it to Mars he is captured by Martian Nazis who intend to "blitzkrieg the solar system" and plunder Earth for its Uranium. Ironically, the Martian Hitler "Martler" offers Welles the role of Propaganda Minister of Earth, and getting him back to Earth eventually involves Superman.
DC Comics frequently collaborated with movie studios during this era. Universal Pictures got its star Ann Blyth on the cover of Action Comics #130 to promote the film Mr. Peabody and the Mermaid in 1949, for example. The comic book title Miss Beverly Hills of Hollywood was launched as a vehicle for Paramount Pictures stars. A very strange moment in Superman history, there's a Superman #62 UK Edition (K. Gordon Murray Productions Inc., 1950) CGC VF 8.0 Off-white to white pages up for auction in the 2023 January 29-30 Sunday & Monday Comic Books Select Auction #122305 at Heritage Auctions.

Affiliates of Bleeding Cool buy from and/or consign to Heritage Auctions.