Welcome to Thank FOC It's Friday, a semi-weekly mailing list, similar to The Daily LITG, but (mostly) every Friday and planned to coincide and cover the demands of Final Order Cut Off. The date when retailers have a last chance to amend their advance orders for comic books without penalty. A final chance for publishers to promote books while orders can still be added. And a time for credits to be amends, new covers to be revealed and a final push given. This is an attempt to sift through them all and find the most relevant items.
And this week it seems that Diamond Comic Distributors has decided to join in. Well, imitation is the greatest form of flattery. You can sign up here or with the form at the bottom.
So what's FOC'ing today?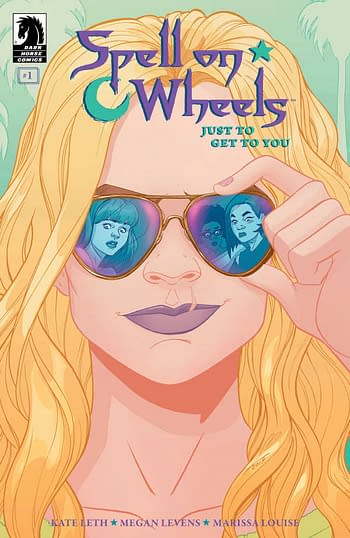 Kate Leth and Megan Levens relaunch Spell On Wheels with a Vol 2 #1 from Dark Horse Comics.

There is Umbrella Academy wrapping paper. In time for Christmas.

Frozen: The Hero Within gets a collection in time for Frozen 2…
Warren Ellis and Bryan Hitch bring us The Batman's Grave. And yes he is. Returnable to retailers whose orders match or exceed 120% of their FOC orders on Batman Who Laughs #1.
Watchmen #1 for a dollar again. Handy for the HBO show.
Event Leviathan #5 promises reveals before the conclusion…
Harley Quinn & Poison Ivy #2 is up, and retailers whose orders on all 3 covers meet or exceed 65% of their order on Batman #72 will be eligible for 50% stripped cover returns. Worth the gamble?
Saban's Go Go Power Rangers #24 now includes an all-new, open-to-order FOC Cover by Johanna the Mad.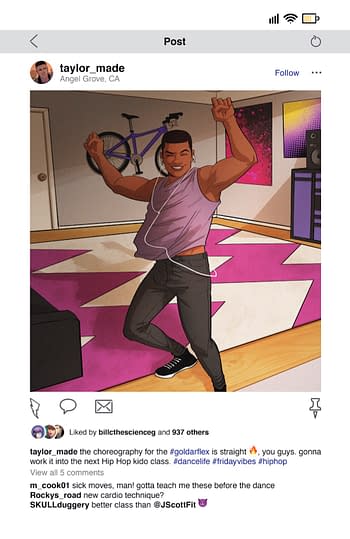 It's John Carpenter's Joker: Year of The Villain one-shot. This will be a thing.
DC put Marguerite Bennett and Mirka Andolfo's RWBY comic into print with a #1.
Luthor from Brian Azzarello and Lee Bermejo gets its tenth-anniversary collection for Black Label.
Superman #16 reunited the much older Jonathan Kent with Damian Wayne.
Frank Miller and John Romita conclude Superman Year One.
Scott Snyder, Kyle Higgins and Javi Fernandez give us What If Azrael Has Stayed as Batman in this Tales From The Dark Multiverse: Knightfall. And fully returnable
Death Defyin' Devil #3 has FOC covers, a 1:11 B&W virgin sketch cover and a 1:15 blood virgin sketch cover by Ricardo Federici.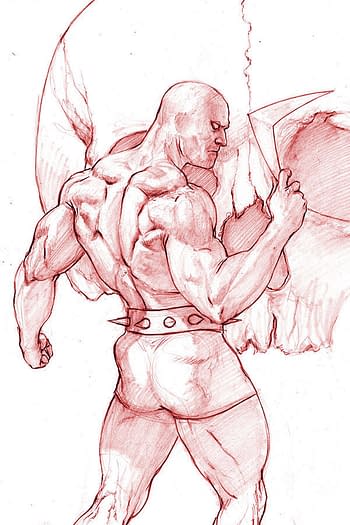 Canto #5 continues its 1:10 cover offer.
Cobra Kai continues the Karate Kid story in comic book form, launching from IDW. Fully returnable with 1:10 and 1:25 covers.
John Byrne has his Marvel Classics Artefact Edition hitting FOC
How is Coffin Bound doing? #3 from Dan Watters and Dana is up.
Spawn #301. Back on FOC. With more covers and a week later… and this new Clayton Crain cover for FOC.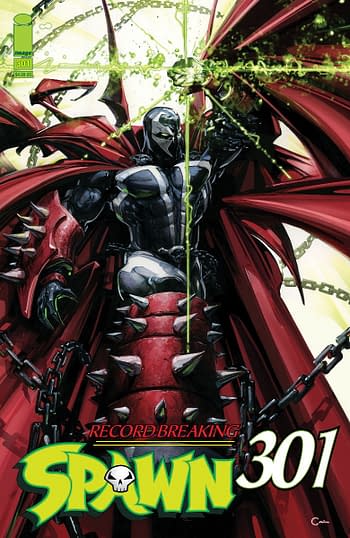 It's the Thought Bubble Anthology 2019. Essential, even when Harrogate bound.
Christopher Cantwell and Salvador Larroca launch Doctor Doom #1 from Marvel Comics, with 1:10, 1:25, 1:50 and 1:100.
Vampirella/Red Sonja #2 has a Frank Cho FOC Sneak Peek cover at 1:15 and a virgin version at 1:55.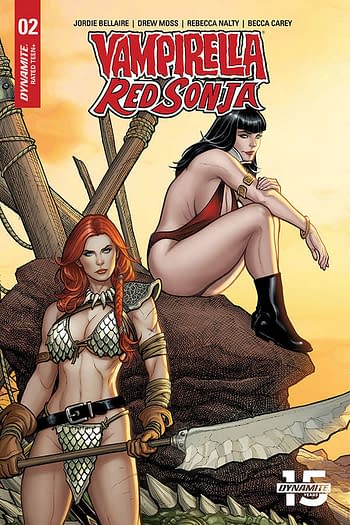 Marvel launching Future Fights First: White Fox #1.
It's the end of HOXPOX with Powers Of X #6 with 1:10 and 1:100 covers.
Launch of Buffy/Angel event Hellmouth #1 from Boom, returnable with 1:15 and 1:25 covers.
Ronin Island #7 now includes an all-new, open-to-order, FOC Cover by Takeshi Miyazawa.
Dynamite is publishing a Replica edition of the original Vampirella #1 horror anthology comics magazine.
AfterShock is publishing Patrick Kindlon and Stefano Simeone's Shoplifters Will Be Liquidated #1, returnable to retailers who order 5 copies or more.
Titan Comics are launching their Robotech Remix #1.
And Bill Sienkiewicz's sketchbook Revolution is late – so retailers get a chance to amend their orders…
There's also Bob Batchelor's book about Stan Lee, Man Behind Marvel.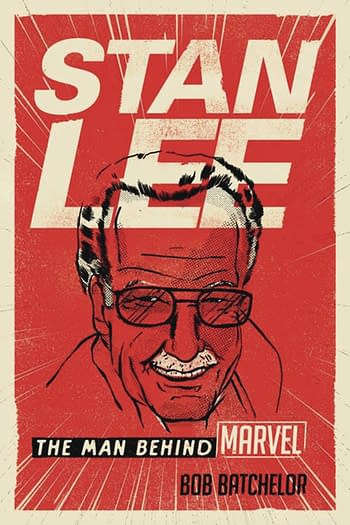 What's on your FOC?
Sign up below and we'll see what Thank FOC It's Friday brings next week… on time possibly.
Enjoyed this article? Share it!