The Last Ronin #3 Is Coming – Thank FOC It's Friday, 16th April 2021
Thank FOC It's Friday – Planned to coincide and cover the demands of Final Order Cut Off at Diamond Comic Distributors. And now Lunar Distribution as well. Who knows what Penguin Random House will bring? Here's this week's comics product coming through that may adjusting as demand slips and slides with the emerging economic bubble. Or somesuch.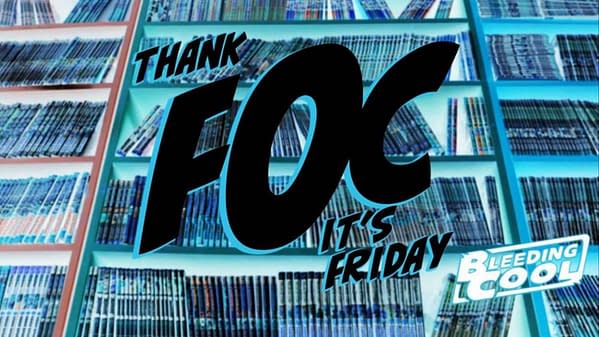 Traditionally FOC is the date when retailers have a last chance to amend their advance orders for comic books without penalty. A final opportunity for publishers to promote books while orders can still be added. A time for credits to be amends, new covers to be revealed and a final push given. This is an attempt to sift through them all and find the most relevant items.
What's FOC-ing today?
Teenage Mutant Ninja Turtles; The Last Ronin #2 is finally up for FOC with a free 1:10 variant cover.
Dark Horse has their latest video-game coffee-table book, The Art Of Far Cry Vol 6.
House Of Lost Horizon, the new series by Mike Mignola, Chris Roberson and Leila Del Duca is launching from Dark Horse, returnable for retailers who order ten or more copies.
Operation Dragon is the new WWII graphic novel byBill Groshelle, Brendan Cahill and German Peralta with a lot of eyes on it.
How did Marvel Action: Spider-Man #1 do? #2 is up with a free 1:10 variant cover.
Crossover by Donny Cates and Geoff Shaw gets its first collection.
How did Geiger #1 and Silver Coin #1 do? #2 for both are up.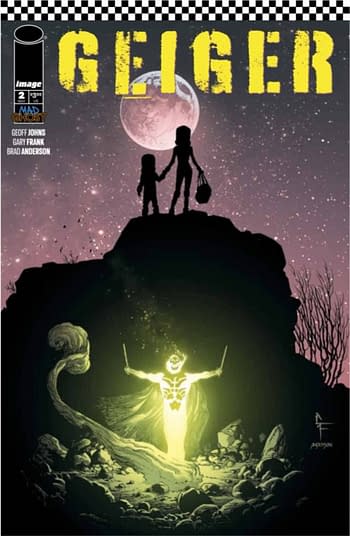 Time Before Time, the new series by Declan Shalvey, Rory McConville, Joe Palmer and Chris O'Halloran from Image Comics is up. Returnable to registered retailers.
Avengers: Curse Of Man-Thing #1 is getting its second print with a Patrick Gleason Webhead cover, yet to be revealed. But you know how these things go.
Black Panther #25 is the over-sized final issue from Ta-Nehisi Coates with Daniel Acuña and Brian Stelfreeze. The price has jumped from $4.99 to $5.99.
Fantastic Four #32 promised The Bride Of Doom.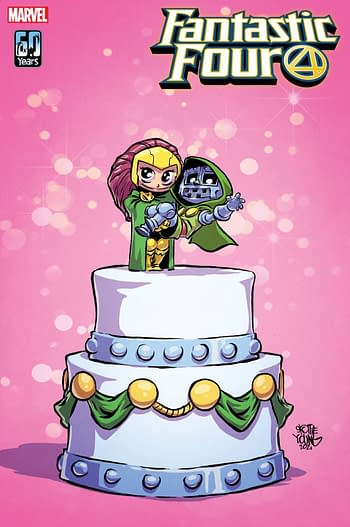 Nick Spencer and Roge Antonia are bringing it all together with the Giant-Size Amazing Spider-Man: King's Ransom #1
Heroes Reborn #2 is up, as are spinoffs Hyperion And The Imperial Guard and Peter Parker: Shutterbug.
X-Corp #1 is up.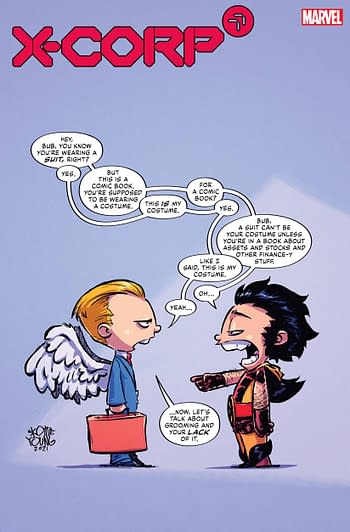 How did Magic The Gathering #1 do? #2 is up.
Silver City #1 by Olivia Cuartero-Briggs and Luca Merl is up from AfterShock Comics, returnable to retailers who order ten or more copies and a 1:15 variant.
White #1 by Kwanza Osajyefo and Jamal Igle is up, limited to 2500 copies.
How did Doctor Who: Missy #1 do? #2 is up.
DC Comics launches Future State Gotham #1, Justice League: Last Ride #1, and the Teen Titans: Beast Boy graphic novel. And Scout Comics joins Lunar Distribution for FOC.
What's on your FOC?
Sign up below, and we'll see what Thank FOC It's Friday brings next week… on time possibly.