The Bleeding Cool Top 100 Power List 2018 Countdown: #41-45
We are most definitely over halfway now…
Every year, Bleeding Cool runs its Top 100 Power List of members of the comics industry. And every year we get told how wrong we are. Somehow, it's always for completely different reasons and from completely different directions. Why was X in when Y was not? Why is Z is high when W is so low? And neither U or T should be on this list after that incident involving V… and condemning us for being either infested with SJW virtue signalling or providing platforms for fascists – and sometimes simultaneously. Man, I don't know how Time Magazine manages.
But that's part of the process. This attempt to list the most powerful people working in the English-speaking comic book marketplace is, of course, flawed. It is judged by all manner of attributes, the ability to influence what comics exist and sell, but also the willingness to use that power in the industry to affect things, and the ability to retain said power if a job is taken away. Which is why you will see a number of people on a higher spot than their bosses.
The Power List rewards those who combine roles, creator, publisher, distributor, retailers, those who are double and triple threats, and also where power is concentrated in one person rather than being spread out among many. Some powerful organisations or groups, where power is diffused amongst several individuals, may drop down or drop out altogether.
It does not measure talent or likeability, respect or fairness, and it does not intend to represent diversity or balance. All it does is note power, used for betterment — or detriment — in the English speaking comic book world.
The list was created in consultation with a number of senior figures in the comics industry, and I thank them for their help. Although because they all disagree, they'll all think the final list is wrong, too.
If you really hate this list, then do the obvious thing. Write your own. Otherwise, watch for new batches every day…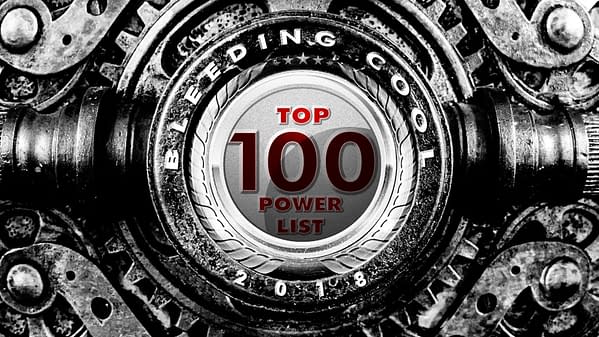 41. Mark Millar. The man who sold Millarworld to Netflix, he continues to have an extraordinary ability to attract A-List artists to his projects even if they are no longer creator-owned, recently including Kevin Smith on Hit Girl. Money talks. His ability to launch a book has been lessened however, as The Magic Order with Oliver Coipel was only a hit when he got Reed POP to order 100,000 of the first issue and warehouse them, in return for a trip to C2E2. Prodigy's launch with Rafael Albuquerque was relatively ignored.
42. Jason Aaron. Lead writer from Marvel of The Avengers and Thor, with the War Of The Realms event coming, Aaron has been the connective tissue between the Alonso and the Cebulski EIC reigns as the publisher recently resolves all the threads begun by Marvel Legacy with the return of the Fantastic Four, the Infinity Wars series, Avengers 1,000,000 BC and War Of The Realms on the schedules. Will Jason have a similar role in writing the following chapter for Marvel Comics?
43. Nick Spencer. Everyone apart from Ta-Nehisi Coates has forgotten Secret Empire, leaving Spencer to pick up the Slottless Spider-Man and reinvent the comic as a flatshare sitcom with his friends from Superior Foes. And sales success has been his, challenging Tom King's Batman on a number of occasions, regularly Marvel's best-selling title and retailers finding themselves selling out and re-ordering repeatedly. It's like the good old says of Superior Spider-Man…
44. David Steward II. Owner and founder of St Louis publisher, Lion Forge, a comics publisher recently undergoing its own restructuring, he sells himself as a photographer done good but is also the son of multi-billionaire David Steward, Chairman and Founder of World Wide Technology, Inc, with vast potential resources and funding opportunities to draw upon.
45. Jamie Rich. Group Editor of Batman and one recruited to the fold by Tom King over a spat with the Bat/Cat proposal, Rich edits DC's most prominent and best-selling group of books and with the ability to spin them off into all sorts of chart-busting books. Being EIC at Oni Press, running DC Vertigo and writing his own comic books over the years have stood him in good stead even when it's now all about billionaires punching each other on Gotham's rooftops.
See you again tomorrow. Happy Boxing Day one and all. And keep up with this handy-dandy Top 100 Power List tag.