The Bleeding Cool Top 100 Power List 2018 Countdown: #75-71
This is where it all goes kablooey.
Every year, Bleeding Cool runs its Top 100 Power List of members of the comics industry. And every year we get told how wrong we are. Somehow, it's always for completely different reasons and from completely different directions. Why was X in when Y was not? Why is Z is high when W is so low? And neither U or T should be on this list after that incident involving V… and condemning us for being either infested with SJW virtue signalling or providing platforms for fascists – and sometimes simultaneously. The latter of which is on this part of the list. We are not giving this specific person a platform nor are we agreeing with anything they might have to say. Unfortunately, sometimes people with less than agreeable ideals are influential even if people don't want to admit it and they make this list. Man, I don't know how Time Magazine manages.
But that's part of the process. This attempt to list the most powerful people working in the English-speaking comic book marketplace is, of course, flawed. It is judged by all manner of attributes, the ability to influence what comics exist and sell, but also the willingness to use that power in the industry to affect things, and the ability to retain said power if a job is taken away. Which is why you will see a number of people on a higher spot than their bosses.
The Power List rewards those who combine roles, creator, publisher, distributor, retailers, those who are double and triple threats, and also where power is concentrated in one person rather than being spread out among many. Some powerful organisations or groups, where power is diffused amongst several individuals, may drop down or drop out altogether.
It does not measure talent or likeability, respect or fairness, and it does not intend to represent diversity or balance. All it does is note power, used for betterment — or detriment — in the English speaking comic book world.
The list was created in consultation with a number of senior figures in the comics industry, and I thank them for their help. Although because they all disagree, they'll all think the final list is wrong, too.
If you really hate this list, then do the obvious thing. Write your own. Otherwise, watch for new batches every day…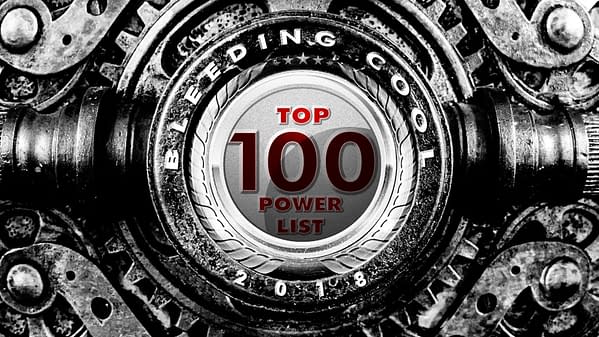 71. Jon Goldwater. Co-CEO of Archie Comics, Goldwater has seen a revival of the brand grow, from relaunching Archie in a Young Adult direction, chasing newspaper headlines, creating horrific and political spinoffs and seeing the Riverdale TV show find a whole new audience for the Archie comic books. He has overseen the re invention of what an Archie Comic book could be across today's society. Next stop, India…
72. Tim Lenaghan. Vice President of Purchasing at Diamond Comic Distributors. You would like a book in Diamond's Previews catalogue? And into the direct market of comic book stores? The buck stops with him. He is directly involved with anything that goes on in the direct market of comic stores and the bookstore market to whom Diamond supplies. He negotiates contracts with comic book publishers and has direct power over almost every one of them.
73. Caitlin DiMotta. A partner at Katz Golden Rosenman LLP , specialising as an attorney in entertainment law, and more specifically with comic book creators, including Ed Brubaker, Jeff Lemire, Rick Remender, Kelly Sue DeConnick, and Chip Zdarsky. A well-regarded negotiator with publishers, with merchandising, and with media rights, she's been responsible for some very attractive deals and an extra zero on the end of some paycheques. A lawyer who's liked? That's a very powerful attribute to have indeed.
74. Ethan Van Sciver. Leaving DC Comics after prominent creators refused to work with him anymore, he used the usual mixture of Comicsgate virtue signalling, identity politics and mocking hater videos to raise over half a million dollars on Indiegogo, for his still-upcoming Cyberfrog comic revival. The highest amount raised on crowdfunding by any comic creator in the year, it helps that he can actually draw. This helped him take the position as leading Comicsgate figure as Richard Meyer stepped back, due to his legal case with Mark Waid, and not wanting to give the defence further ammunition.
75. Christina Merkler. Co-owner of the international comic book discount site DCBS, Diamond Comics' biggest comics account, with a major influence as to what comics she recommends to her customers, she is also president of the Comic Book Legal Defense Fund, able to heavily influence which cases the activist free speech group take on.
See you tomorrow, if I survive the combination of hate from people angry for saying what I said, and from others for saying anything at all. Happy Christmas one and all.. And keep up with this handy-dandy Top 100 Power List tag.