The Bleeding Cool Top 100 Power List 2018 Countdown: #85-81
It's happening, it's really happening.
Every year, Bleeding Cool runs its Top 100 Power List of members of the comics industry. And every year we get told how wrong we are. Somehow, it's always for completely different reasons and from completely different directions. Why was X in when Y was not? Why is Z is high when W is so low? And neither U or T should be on this list after that incident involving V… and condemning us for being either infested with SJW virtue signalling or providing platforms for fascists – and sometimes simultaneously. Man, I don't know how Time Magazine manages.
But that's part of the process. This attempt to list the most powerful people working in the English-speaking comic book marketplace is, of course, flawed. It is judged by all manner of attributes, the ability to influence what comics exist and sell, but also the willingness to use that power in the industry to affect things, and the ability to retain said power if a job is taken away. Which is why you will see a number of people on a higher spot than their bosses.
The Power List rewards those who combine roles, creator, publisher, distributor, retailers, those who are double and triple threats, and also where power is concentrated in one person rather than being spread out among many. Some powerful organisations or groups, where power is diffused amongst several individuals, may drop down or drop out altogether.
It does not measure talent or likeability, respect or fairness, and it does not intend to represent diversity or balance. All it does is note power, used for betterment — or detriment — in the English speaking comic book world.
The list was created in consultation with a number of senior figures in the comics industry, and I thank them for their help. Although because they all disagree, they'll all think the final list is wrong, too.
If you really hate this list, then do the obvious thing. Write your own. Otherwise, watch for new batches every day…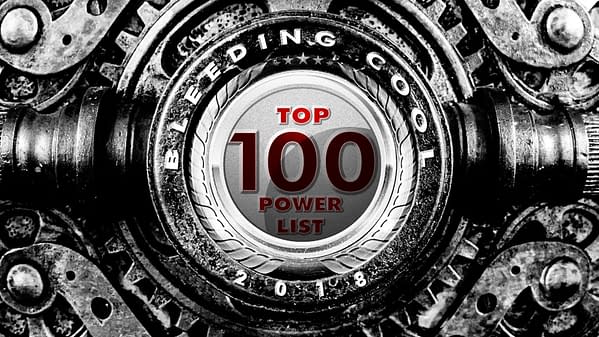 81. Matt Gagnon. Editor-In-Chief of Boom! Studios, he's a major curator of a major line of titles in comics — as well as writer of The Day Men. Matt has lead to expand the publisher into all ages and young adult comic books that have led publishers like DC Comics into similar territories.
82. Gina Gagliano. Director of Random House Graphic, a dedicated graphic novel imprint, releasing its first graphic novels in 2019, and reporting to Judith Haut, Random House Senior VP. Previously a longtime member of staff at First Second Books, and a programmer of comic book festivals, Gina Gagliano has been writing and arranging major publishing deals for a number of major creators – which may be why you haven't heard what your favourite creator has been working on for a while now. She is specialising in titles for children and young adults, focusing on both commercial and literary graphic works
83. Hajime Isayama. Creator of Attack On Titan, the most popular manga in the USA and one of the bests selling comic books of all time. His schedule, his whims, what he signs off on and what he does not, make major marketplace waves.
84. Robbie Robbins. Letterer-turned-co-founder of IDW Publishing, he is now Executive VP and Senior Graphic Artist, setting the look of the comics publisher and still keeping his hand in on the lettering duties. He retains a hands-on role in a tight, small group of IDW execs, as the publisher continues its expanse from comics into games, TV, and film.
85. Kat Salazar. Director of PR and Marketing at Image Comics, the success of many titles this year has come from getting new properties in front of as many eyes as possible, and this is visible by the number of best-of notes that Image has been getting at the end of the year. She also sets the tone for whenever Image Comics has to apologise for whatever one of the creators on its books has gone and said now…
More tomorrow… and keep up with this handy-dandy Top 100 Power List tag.