The Debut of Golden Age Dr. Strange, Thrilling Comics #1 at Auction
Thrilling Comics #1 from Ned Pines' Better Publications debuted a Doc Savage-inspired character named Dr. Strange in the Golden Age.
---
Thrilling Comics #1, cover-dated February 1940 and published by Ned Pines' Better Publications, features the first appearance and origin of Dr. Strange — but it's not the later Marvel character you're probably familiar with. A scientist-adventurer clearly in the Doc Savage mold, the Thrilling Comics Dr. Strange got his powers from his miraculous formula Alosun, "a distillate of sun-atoms endowing its possessor with limitless power." In practice, this gave this version of Dr. Strange very Superman-like powers. He was super strong, bulletproof, and could be seen leaping tall buildings. The character was created by writer Richard E. Hughes and artist Alexander Kostuk. An interesting part of Golden Age comic book history, there's a Thrilling Comics #1 (Better Publications, 1940) CGC GD- 1.8 Cream to off-white pages up for auction in the 2023 February 23 The Thrillingly Exciting Heroes of Nedor Comics Showcase Auction #40219 at Heritage Auctions.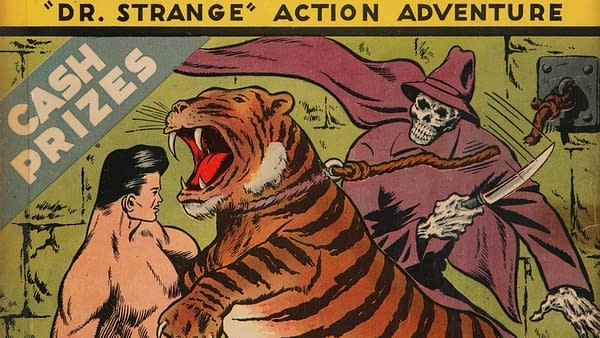 This debut issue and the Thrilling Comics title itself also play an underappreciated and misunderstood role in the launch of Fawcett's Whiz Comics. In creating a series to launch the character we now know as Shazam, Fawcett first attempted to trademark Flash Comics and then Thrill Comics. It's fairly obvious that DC Comics got to the Flash Comics title first. The conventional wisdom regarding Thrill Comics vs Thrilling Comics is that Pines beat Fawcett to the punch and that the similarity between "Thrill" and "Thrilling" forced Fawcett to back off.
But a look at the timeline indicates that's not necessarily true. Fawcett attempted to claim use of the Thrill Comics trademark with an ashcan on October 9, 1939. Despite seemingly not having previously filed a trademark for Thrilling Comics, Ned Pines' Thrilling Comics #1 hit the newsstands on or around December 1, 1939, according to Library of Congress copyright records. However, Pines had long made a brand out of "Thrilling" in pulps with Thrilling Publications, Thrilling Wonder Stories, Thrilling Detective, Thrilling Mystery, Thrilling Western, and others, so it's not unlikely that Fawcett and Pines spent part of October and November wrangling over the similarity of the two titles. Fawcett's Whiz Comics trademark application then claimed use since December 8, 1939.
Golden Age Dr. Strange co-creator Richard E. Hughes would have extensive involvement with the comics of that era. Working as a writer and editor for Benjamin W. Sangor's comic production studio, Hughes co-created heroes such as Dr. Strange and the Black Terror, and later became the editor of the American Comics Group 1943-1967. Artist Alexander Kostuk would also contribute to titles such as Fawcett's Captain Marvel, and was a background assistant for Will Eisner's The Spirit 1941-1943.
Thrilling Comics was the second comic book title Ned Pines launched, after the short-lived and unusually-formatted Best Comics, and he ultimately considered this an extension of a pulp brand he had invested considerable effort in. This copy is graded CGC GD- 1.8 Cream to off-white pages. There are only 23 entries for Thrilling Comics #1 on the CGC census, and this one is available in Heritage Auctions' 2023 February 23 The Thrillingly Exciting Heroes of Nedor Comics Showcase Auction #40219. Check out Heritage Auctions' FAQ on the bidding process and related matters to learn more.

Affiliates of Bleeding Cool buy from and/or consign to Heritage Auctions.