Posted in: Comics | Tagged: bryan talbiot, charlie adlard, Comics, comics festival, gilbert shelton, lakes, sean phillips
---
The Lakes International Comic Art Festival – One Day All Comic Book Shows Will Be Like This Gary Gray writes from the The Lakes International Comic Art Festival for Bleeding Cool;
Yesterday I managed to sneak away for a day for a good long drive to The Lakes International Comic Art Festival (LICAF) that was being held in Kendal over the weekend of. And that last word Festival is the most important word to be used in discussion with LICAF. It's a FESTIVAL, not a Convention. I repeat it is NOT a convention as most comic fans expect. You know show up at an enormous shed with lots of tables and the artists and writers sit and sign all day with areas allocated for talks. Hell no, the organisers took over the ENTIRE town. Arriving into town they had set out their stall with massive posters where you usually see the Welcome to Kendal signs advertising LICAF, and as you got closer to the town massive banners across the streets advertising the Festival. No not your standard comic convention this. And then once you have parked up etc, and start to walk through the town you really start to see that the Festival had truly taken over the entire town. It wasn't just the multiple venues everywhere; there were activities all over the place covering comics in many different ways. Such as over 50 shop owners who had decorated their windows with amazing displays of comic art and comic related goodness, what a splendid effort and helped made the town look so special. And just wandering about I kept discovering lots of events for everyone to get involved in LICAF no matter their age or comic tastes. Such as in the Westmorland shopping centre where several of the shops had been turned over to comics workshops for the kids to have a go at drawing comics and boy did the kids get stuck in, from colouring in superheroes to making up a massive strip that went round the walls. How wonderful to see kids still loving comics, maybe the next Talbot or Phillips started their first step on their journey with this? There was also a superhero face painting and photography event and a seaside type attraction where you stick your head through and get your photo taken looking like a superhero. But this wasn't all, over in another shopping centre the Beano had set up a pop up shop and the next door library was having various comic related events and while I popped in a Peppa Pig event where they were reading Peppa Pig comics. So yes the kids were really being catered to at LICAF which was wonderful to see. Even the pubs were getting in on the act with one of the pubs being renamed for the weekend into the Fnarr Bar with a wonderful display of original art and again a seaside stand of the Fat Slags. There was even a pop up comic shop where the rumour was Bronze Age comics had been on sale for 50p each! Because the events were spread around so many venues it was great for bumping into people all over the shop, I even bumped into comics people who were rummaging in the local charity shops! But so far this is only scratching the surface of what was all going on as I now headed off to Wildman Street where first off there was a brilliant exhibition of Bryan Talbot art on the entire weekend, that featured his very early stuff right up to his latest work Sally Heathcote, Suffragette. And what a great variety of people were in attendance at this event, in fact I think I was only person in at the time below retirement age! It seemed the local area had really gotten excited about the Festival and had turned out to see just what comics are about. Then round the corner there was a restaurant/historical house that had a huge selection of original comic artwork by Hannah Berry and Stephen Collins, including a fantastically funny Fru T. Bunn Viz gingerbread character lying on the bed. But I was the only person looking round this! And that was probably my only problem with such a spread out Festival in that I don't think most people had realised just how much stuff was spread everywhere round the town waiting to be found and discovered. I haven't even started talking about the main venues yet that had massive crowds, as I say this was a Festival and I think there could have been a bit more work done by the organisers to let people know about all of this wonderful stuff, and again why I'm mentioning all of this wonderful stuff first. It was this that made the Festival special and unique, not the talks or the mart/signings. And that isn't me criticising the organisers in any way, this was LICAF's inaugural year and how amazingly organised it was. It felt like it was in at least its fourth or fifth year. It had no teething problems that I could see and was running like a well oiled machine with excellent queue management and super friendly volunteers enjoying LICAF just as much as the guests and audience. Which brings me onto some the main venues, first off The Box at Wildman Street which was featuring most of the Watch Them Draw events where the one I caught saw Charlie Adlard drawing three large pieces for a sell out audience of 150 which made it all rather intimate, and post the event the excellent organization kicked in where the entire audience followed Charlie next door for a signing/sketching session! Events like that went on the entire day here including Dougie Braithwaite, Oscar Zarate and more all with excellent attendances, and all artwork drawn was going into an auction event being held at some point during the festival. Now onto to where the biggest crowds were in the shape of the Comics Clocktower where the most traditional event was being held in the shape of a comic's mart/signing tables. But again the organisers had thought about this a bit more as they had even went to the trouble of raising a Batman flag at the top of the flagpole of the building. And this is where I feel they could have spread some of the signings and tables out into the other venues as it was jam packed at all times I visited. Many people didn't seem to realise there was so much on everywhere else. Hopefully next year word will have spread that LICAF isn't just a mart with talks, and they get out and experience the whole event. LICAF isn't an event to come and get loads of sketches or signings, its one to experience and enjoy the wonder of comics. And I haven't even been at the beating heart of the Festival yet, which was the Brewery Arts Centre where most of the talks were taking place at. And again great crowds of people were in attendance. There was a lot of concern pre-Festival that because it was being held in Kendal in the middle of October that people wouldn't come along and that it was going to be a convention too far in an already jam packed year of cons. But I'm glad to say this wasn't the case as attendances were excellent. The comics gods were definitely smiling in the favour of LICAF this weekend as the torrential rain stopped early morning with the temperature warming up so much that people were able to have a sit outside in the Brewery's excellent gardens all adding to the atmosphere. Now to the inside of the Brewery itself where massive queues were in place for signings, such as the one for Sean Phillips who along with Bryan and Mary Talbot were the festival patrons and played a massive part in securing the guest line-up such as being able to secure Ed Brubaker in his first ever UK appearance. And this was probably the main reason why Phillips had a massive gallery of his artwork inside as well that featured many pages of his and Brubakers joint efforts. And Brubaker was certainly the BIG name guest that they had secured for the inaugural festival. And while I do agree fully that Brubaker is a massive name and draw I do feel the guest list was a bit lacking for such a wonderful Festival of comics. Many of the guests have been seen many times on the UK convention circuit, apart from six international guests and the Viz guys. But I do think that this is a small criticism, and is entirely due to this being the first year of the event. I think it's because everything else was on such a professional level and way bigger than most comic's events in their first year that the expectation was that the guest list would be much larger. No doubt word will get out there that LICAF is an amazing success and will be an easy job to get many more big names next year. I did manage to squeeze in one talk during my shortish visit, and this was for comic's legend Gilbert Shelton and Hunt Emerson. Shelton who now lives in Paris was looking a lot more fragile and elderly than I was expecting, but his sense of humour and spark was still much in effect drawing much laughs from the really appreciative audience.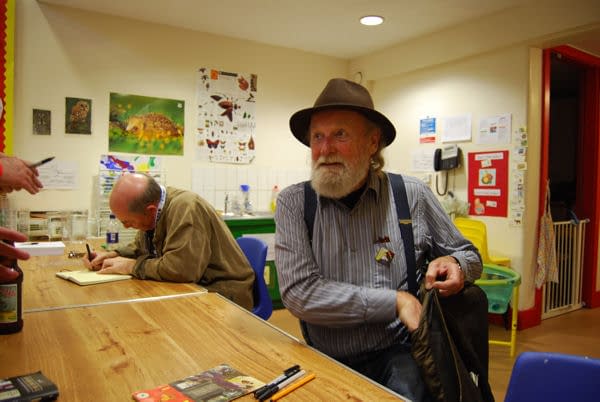 And that's as far as time allowed me to sample LICAF, but there was still several venues I didn't manage to visit in the shape of the Abbot Hall Gallery that was hosting talks on the Ninth art and other events and Kendal College that was hosting a massive 2000AD: An On Earth Odyssey event, and back at the Brewery even more workshops for people to create comics, oh and Waterstones hosting lots of signings events as well. Comics were just everywhere! But funnily enough nothing at the local WH Smiths who appeared to take no part at all, which considering most of us in the UK when we were kids probably got their first introduction, they didn't even do anything in their window, a noticeable absence in my opinion, and shame on WH Smiths for not taking part. But I doubt many people would have noticed this as there was just so much comics events happening everywhere and I think I barely scratched the surface, even if I had been there all weekend I doubt I'd have seen everything that was going on.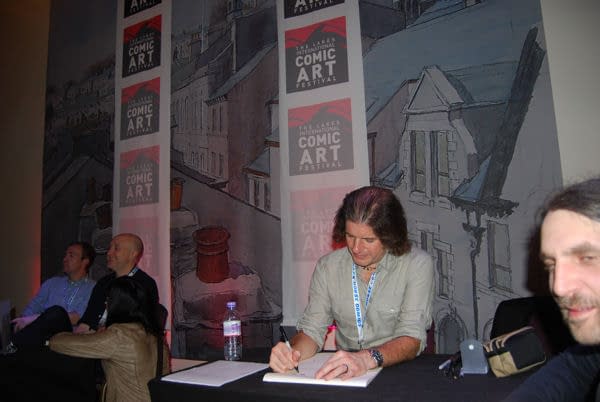 And what a wonderful weekend of celebration of comics it was even from my short visit, and what a great start for future years. If this was year one and they managed to do things on such a large and professional scale I can see this event being as large as Angouleme in years to come, just as long as it continues to be funded by the various organisations that have funded the event this year, and it certainly deserves to be. It's not in any shape or form like any of the other comic's events in the UK, not even the recent Stripped strand at the Edinburgh Book Festival. Just don't come expecting sketches and signings, come and enjoy comics and comics people instead!
---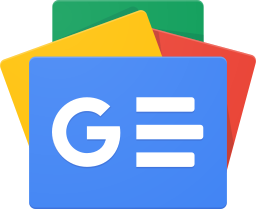 Stay up-to-date and support the site by following Bleeding Cool on Google News today!