The Runaways have got a big problem. The children of the Gibborim, an evil race of alien gods, have returned to collect on the debt owed by the Runaway's parents, The Pride. And the Gibborim aren't afraid to kill off the Runaways and replace them with a new Pride if that's what it take to get their human sacrifice, causing us to wonder: are the Gibborim secretly running Marvel? It would certainly explain the company's reliance on reboots and status-quo-altering super-mega-crossover events.
In any case, it would seem the Runaways are due for a battle they might not be equipped to win, but luckily, the returned Alex Wilder has a way to stave off the Gibborim's demands: by promising to deliver the required sacrifice, just not right now, a request the Gibborim find reasonable, because if there's one thing bloodthirst space gods understand, it's the difficulty of logistics.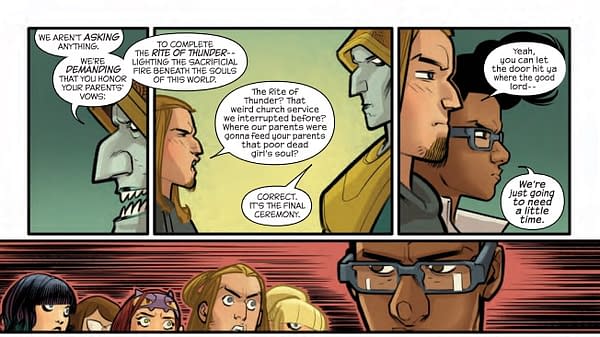 Alex has a plan, right? Right?!
Runaways #14 hits stores on Wednesday.
Runaways #14
(W) Rainbow Rowell (A) David Lafuente (CA) Kris Anka
• A truly terrifying villain from the Runaways' past returns and gives the Runaways an ultimatum with the world in the balance.
• The kids have had a hard enough time with a grandma and a 13-year-old, so…things look pretty bleak for everyone in the world.
• Plus, see a story from a never-before-seen perspective!
Rated T+
In Shops: Oct 17, 2018
SRP: $3.99
Enjoyed this article? Share it!