The Mad Science of the Big Snake in Tales of Horror #8, Up for Auction
Mel Keefer's cover for the 1953 Toby Press release Tales of Horror #8 features a giant monster rampaging in New York City.
---
Tales of Horror #8 is a textbook example of the importance of the power of a good comic book cover. This classic Pre-Code Horror cover by artist Mel Keefer based on the feature "The Big Snake" in this issue is the key factor that drives the interest in this title among Pre-Code Horror collectors, fitting in that niche between horror and the giant monster science fiction theme that was about to blow up during this mid-1950s era. An obscure comic book with a weirdly eye-catching cover, there's a Tales of Horror #8 (Toby Publishing, 1953) Condition: GD/VG up for auction at Heritage Auctions in their 2023 January 29-30 Sunday & Monday Comic Books Select Auction #122305.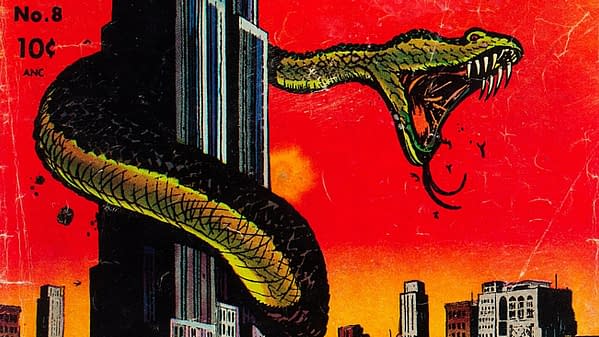 Keefer is primarily remembered as a syndicated comic strip artist, having worked on strips including Perry Mason, Dragnet, Gene Autry, and the long-running gold strip Mac Divot. In comics, he worked on a variety of war, western and other titles for publishers including Toby Press, Charlton, Dell, and Marvel. Keefer also did work for comic magazines CARtoons and Drag CARtoons. In his story "The Big Snake," a power-mad scientist creates a serum capable of creating giant animals with the intent of using it to create an army with which to take over the world. One of those experiments ultimately gets out of control and rampages in New York City.
Toby Press was formed by Elliot Caplin, brother of cartoonist Al Capp. Caplin had been the editor of Parents' Insitute's comic book line, which included True Comics, Calling All Girls, and Varsity. A the time the company was formed, Newsweek characterized Toby Press as a joint venture between Capp and his brother as a vehicle for publishing comics based on Capp's Li'l Abner, but the publisher did much more than that, ultimately publishing over 350 comic books 1949-1955. Tales of Horror was published via their Minoan Publishing Corp. imprint.
Interestingly, "The Big Snake" had originally appeared in Tales of Horror #3 with a very different cover. But the publisher would ultimately return to the giant monster theme on the covers of Tales of Horror repeatedly. This copy of Tales of Horror #8 is graded as G/VG by Heritage Auctions and this comic book doesn't change hands too often, as there are only 49 entries for this issue in the CGC census. For those who are new to Heritage Auctions, please take a moment to check out their FAQ on the bidding process and related matters.

Affiliates of Bleeding Cool buy from and/or consign to Heritage Auctions.