Last week ComicConnect held its 42nd Event Auction, kicking off its 2020 season. This auction featured comic books, video games, and original art. Hopeful owners from across the globe flocked to the site to try their luck on the item of their dreams. Some of the most elite collectors in comics bid on beautiful pre-code horror, patriotic superheroes, and high-grade key books from across the eras. ComicConnect's COO Vincent Zurzolo was pleased with how this event auction went, which was a surprise given what's been happening across the globe in response to the COVID-19 pandemic.
""I'm so grateful to our world class bidders for bringing their A-Game to the auction. And of course, thanks to our amazing consignors who place their trust in our team to get the most out of their collections at auction." said Vincent Zurzolo, ComicConnect's COO. "Thank you to everyone who participated in Event Auction #42. We set more than a few records this go around, and we can't wait to see you all again soon."
Highlights from the last event auction include;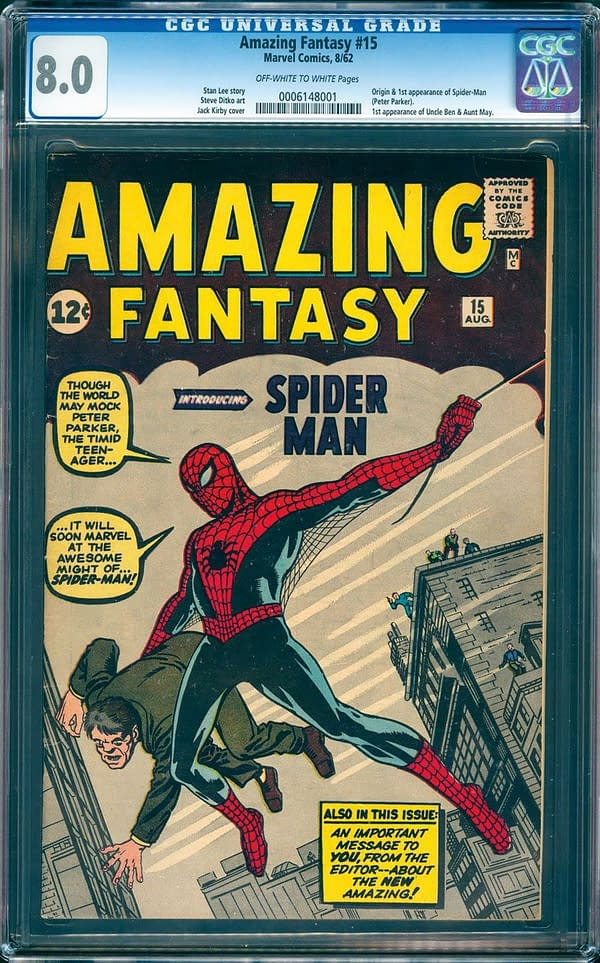 Comic Books:
Amazing Fantasy 15 CGC Universal blue label CGC VF: 8.0 $177,000: ow/white pgs, Kirby cvr; Ditko art; origin & 1st app. Spider-Man; 1st Uncle Ben & Aunt May (8/62)
X-Men #1 CGC Universal blue label CGC NM-: 9.2 $134,000: white pgs, Jack Kirby cvr/art; origin and 1st app. X-Men; 1st app. Magneto
Batman #1 CGC Universal blue label CGC VG-: 3.5 $83,000: sl. brittle pgs, one of the most iconic covers of the Golden Age! 1st app. Joker; 1st app. Catwoman (Spring 1940)
Playboy #1 CGC Universal blue label CGC VF+: 8.5 $11,200: ow/white pgs – Newsstand Edition, "Sweetheart of the Month" Marilyn Monroe
Original Art:
Carmine Infantino – Batman (1940-2011) #184 cover VF 8.0 $42,663: Carmine Infantino pencils/Murphy Anderson/Joe Giella inks; cover; 1966; image size 18.5" x 12.5"
John Romita – Amazing Spider-Man #40 VF 8.0 $9,200: John Romita pencils; unused pg. 18; 1966; image size 12.5" x 18.5"
Jack Kirby – Kobra #0 Illustration VR: 8.0 $7,900: Jack Kirby pencils; King Kobra concept illustration; 1975; image size 10" x 15"
Jack Kirby – Mister Miracle (1971-78) #14 Interior Page VF: 8.0 $2,989: Jack Kirby pencils/Mike Royer inks; page 8; 1973; image size 10" x 15"
You can see the rest of the results from this past auction here. ComicConnect is currently accepting consignments through June 1 for their next event auction. CoimicConnect routinely gets some of the best comics for collectors and has seen record-breaking numbers on several highly collectible books. Those who are interesting in consigning should contact ComicConnect's Director of Consignments, Rob Reynolds, at robr@comicconnect.com, or call 888.779.7377
Did you win anything from last week's auction? Looking forward to seeing what ComicConnect gets next? Tell us about it in the comments below!
Enjoyed this article? Share it!