The Red Mother #1, Selling for $175 To Netflix Speculators
Earlier this week it was Black Badge #1 selling for up to $125. A few days earlier, we saw Bone Parish #1 seeing its main cover going for $120. The week before that, it was Something is Killing The Children #1 with raw copies of the main cover selling for over $30. All three Boom Studios books have only become hotter since we reported on them, with speculators looking for the next series to be adapted by Netflix in the wake of their massive First Look deal with Boom.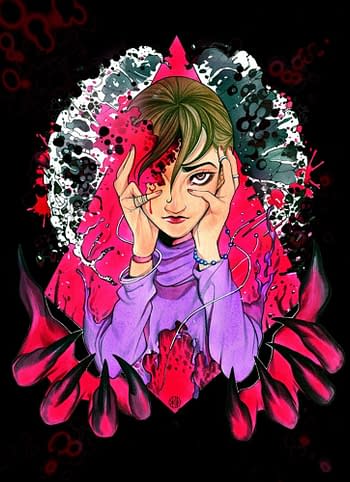 Now, it looks like Jeremy Haun and Danny Luckert are the latest Image Comics superstars to find their hottest series is the one from Boom Studios, as The Red Mother #1 is selling for up to $175.
The hottest of all the covers is, surprisingly, a retailer variant from Slab City Comics – it's unusual for these covers to become the most coveted among collectors. But this Peach Momoko cover is hard to find and selling for up to $175 at a 9.8 grade, though it has sold for the relative "deal" price of $119.95 in a few cases.
Raw copies are selling for a slightly more attainable $65, though you can get it for $60 or even as low as $50 …at least till those sellers read this article.
For now the main cover to The Red Mother #1 can be purchased for cover price, but if a Netflix development deal is announced – will they go even higher than this Peach Momoko variant? And with The Red Mother #5 being the first issue to FOC since Diamond shut down distribution this coming Monday, will the aftermarket heat be enough to offset what we expect to be more cautious retailer buying instincts? Or will issue #5, the first issue of a new arc, be even more rare than usual?
As Boom #1s continue to be the gift that keeps giving for collectors, all eyes are on to Faithless II #1, launching on June 10 from Brian Azzarello and Maria Llovet. With retailers still ordering conservatively ahead of the 5/18, this is going to be a hard issue to find if it gets optioned – and that goes double for controversial erotic variant covers to this series. Even with Boom making the series returnable for retailers, will they bring in enough copies?
After all, CBSI's Andy Tomberlin has anointed Faithless as a hot book and he hasn't missed yet…