If you're wondering where fans are looking to spend big right now, it seems like the answer is Boom Studios. First it was Something is Killing The Children #1 blowing up after Boom announced a first look deal with Netflix. James Tynion IV is one of the hottest writers in comics and this is his most acclaimed series, so it made sense. Then the Netflix speculators moved to Bone Parish #1, one of writer Cullen Bunn's best-reviewed series ever and they drove prices up to $120 for the debut issue. But it's a new week and we've got another Boom book dominating collector coverage thanks to a now seemingly deleted tweet by writer Matt Kindt about his hit series Black Badge with artist Tyler Jenkins from Boom: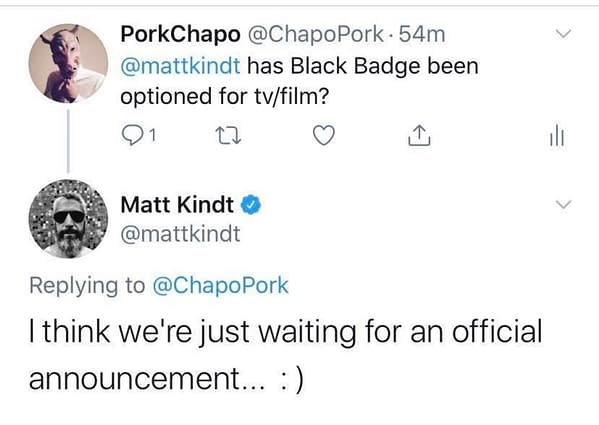 This prompted an alert from Key Collectors Comic app, which has emerged as the biggest influencer in the collectors market today.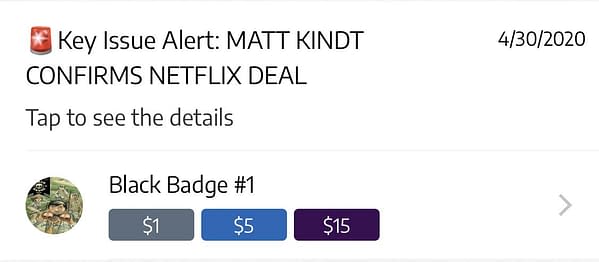 However, that $15 high price? Well… it's more like $125, if you want the Black Badge rare variant (less than 450 copies) sent to comic shop retailers in the Boom Guarantee retailer program. Copies of the main cover have risen to $19.99, though your best bet may be to pick up one of the sets with the variant cover for $25 before more folks see successful sales at even higher prices. Now it's the #1 hottest comic with collectors.
As Boom Studios launches from the past two years continue to heat up, I'd pay extra attention to Faithless II #1, the next chapter of the acclaimed series from Brian Azzarello and Maria Llovet that goes on-sale 6/10. Retailers are likely to still be placing orders conservatively as they approach the 5/18 FOC and if this series is optioned, this could be an incredibly hard book to find – especially the highly coveted erotic variant. With Alienated and King of Nowhere on FOC today, shops would do best to double-check their orders — if one of these series becomes a Netflix show, under-ordered COVID issues might become the new chase variant. Good thing Boom Studios has made it all returnable…
Enjoyed this article? Share it!