Last week it was Something is Killing The Children #1 as one of the top comics with speculators and fans who were chasing all the big Boom! Studios debut issues after the announcement of their First Look deal with Netflix.
But this week it's Cullen Bunn and Jonas Scharf's Bone Parish #1 that is the Must Have book from Boom. It looks like fans are following the lead of influencers like CBSI's Andy Tomberlin and the Simplemans Comics crew for guidance on where to look for the next big Boom books. That would explain why even a variant to Sparrowhawk #1 is selling for $44.99.
Those tips have led to a CGC 9.8 copy of the Bone Parish #1 main cover selling for $120, with raw copies selling for $29.99 while there are some "deals" at $24.99 available out here right now.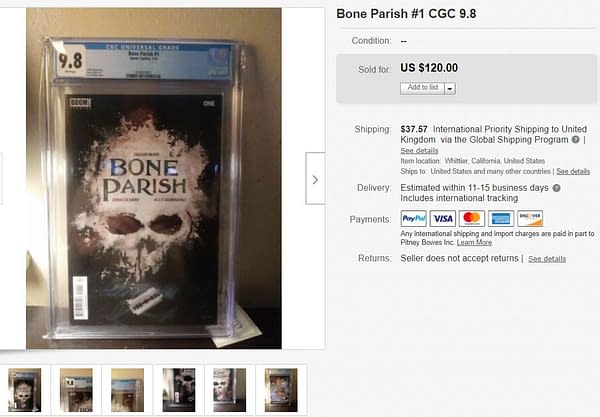 The Tyler Crook variant is also at $24.99, but may also be worth a look given it has a significantly smaller print run than the main cover.
This isn't the first time we've reported Bone Parish #1 has been hot – but the fact that it's come back even hotter may be a sign to pay more attention to those Boom Studios #1s.
With Diamond announcing new comic books will be back starting May 20, it seems like Boom's next "Must Read" series of the year will kick off soon in the form of Faithless II #1. It's another series that has been driving Netflix speculation – but will this issue be underordered given the more conservative numbers we expect to see from comic shops? If it is, it won't be cheap to get your copies of the main cover – or the erotic variant – after it sells out. Also, you might want to watch out for Alienated and King of Nowhere, both in the middle of their run — second and third issues will be tough to find…
Enjoyed this article? Share it!