The Spirit Hits Baltimore Comic-Con For 75th Anniversary
Kevin Pearl, who works in Sales and Marketing for Dynamite sent us the following report from Baltimore Comic Con:

The 75th anniversary of Will Eisner's The Spirit continued over the weekend at Baltimore Comic-Con and The Harvey Awards where Dynamite Entertainment closed out the Diamond Retailer Summit with a celebration at The Geppi's Entertainment Museum where attendees we're treated to an exclusive variant cover from artist and current Spirit writer Matt Wagner. The event was well attended and a few of the covers have already made it up on ebay.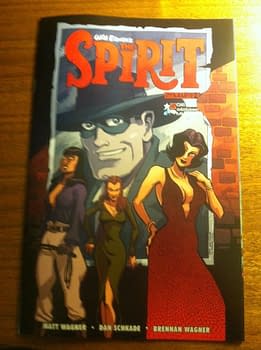 Saturday saw the creative team on the book take center stage during the "The Spirit 75th Anniversary Panel" at Baltimore Comic-Con where they discussed the creative legacy of industry legend Will Eisner and his most iconic character. Fans who attended the panel walked away with free prints of Eric Powell's cover to issue #1 and got the chance to pick the brains of Matt Wagner, Dan Schkade, Brennan Wagner, and Dynamite Senior Editor Joseph Rybandt. Attendees of Saturday's nights Harvey Awards also received an exclusive cover to the debut issue of Dynamite's latest series from artist and Harvey Winner Francesco Francavilla. Keep an eye out for those to drop on the internet auction world soon.