The Walmart Report, DC Giants for January: The Weird Arrival Of Crisis on Infinite Earths Giant #2
The DC Giants for January started being sold at Walmart around January 17th and included five comics:
Batman Giant #3
The Flash Giant #3
Swamp Thing Giant #3
Wonder Woman Giant #3
and the one-shot Birds of Prey Giant #1.
Bleeding Cool covered that information and arrival around the same time and noted that four to five books in the norm is seems now for the Giant Line and what Walmarts around the country will get each month, with copies with different covers arriving anywhere from a week later to five weeks later at your Local Comic Book Shop.
However a strange thing happened about a week ago starting as early as January 22nd as Crisis on Infinite Earths Giant #2 had copies just show up at Walmarts around the United States. No reason given, just copies started showing five days to a week later, now mixed in with all the other books. Additional copies of any of the other books put out in January did not show up, and most Walmarts only received 3 copies at most, some getting maybe 1 or 2, of Crisis on Infinite Earths Giant #2. The first copy sold on eBay on 23rd.
Now Walmart itself does not stock the comics, a separate vendor does, which is why the books are placed usually in a area at the front of the store near the cashiers, so no reason has been found so far as to why the late arrival of this one comic, separate from the other books for January. Looking at comments online and availability at several Walmarts indicate it is the least stocked comic from the Giant line in recent memory, though that doesn't mean there is a shortage of the book like the Detective Comics Giant #1.
The delay arrival of this book just adds to the weirdness of marketing and arrival for the Giant Line, as this book's solicts and information, along with Swamp Thing Giant #3, were not released until the books were already completed and Walmart versions had already arrived.
Weird, weird, weird…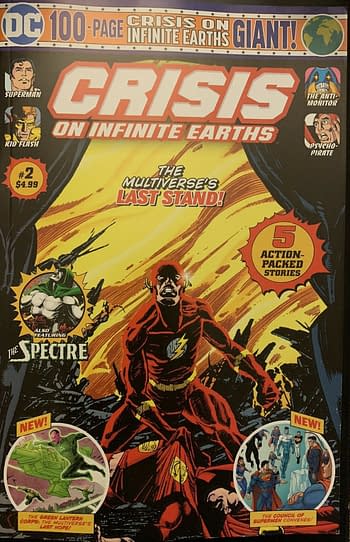 Content details for:
"Crisis on Infinite Earths Part 2," a 24-page story written by Marv Wolfman and Marc Guggenheim with art by Tom Derenick, Trevor Scott and Andy Owens
The Multiverse is losing its battle against the Anti-Monitor. Felicity Smoak mounts one last effort to find a way to save Oliver Queen, and it will bring the team face to face with an entire corps of new heroes: A Green Lantern Corps!
"The Council Part 2," an 8-page story written by Marv Wolfman and Marc Guggenheim with art by Tom Grummett and Danny Miki
Lex Luthor has been captured by a council of Luthors from across the Multiverse, and to stop them from destroying everything, he'll need to team up with people he hates: the council of Supermen!
"A Flash of the Lightning," from Crisis on Infinite Earths #8 (1985)
"Aftershock," from Crisis on Infinite Earths #11 (1986)
"Aftermath," from DC Universe: Legacies #6 (2010)