Things To Do In London In May If You Like Comics – And The British Library
Well, obviously, there's the British Library. Do we have to mention Comics Unmasked exhibition again, opening today? Maybe just the bit where they've recreated webcomics that are no longer available online, such as Dave McKean first hypertext narrative, or listening to the audio of the Oz obscenity trial. Or wondering what dark forces could be unleashed by exhibiting the manuscripts of John Dee and Alistair Crowley next to one another.
[youtube]http://www.youtube.com/watch?v=cOm-0-G1vaM[/youtube]
But it's not the only thing going on in London in May for comics.
Friday 2nd May,
British Library, 6.30pm – 8.30pm
The launch of Mary and Bryan Talbot and Kate Charlesworth's Sally Heathcote: Suffragette
a gripping tale of loyalty, love and courage set within the campaign for votes for women and a vividly realised backdrop of Edwardian Britain.

The event begins with a screening of the documentary Graphic Novel Man: The Comics of Bryan Talbot, followed by Bryan, Mary and Kate Charlesworth in conversation with Rachel Cooke of The Observer.
Orbital Comics, 7.30pm to 9.30pm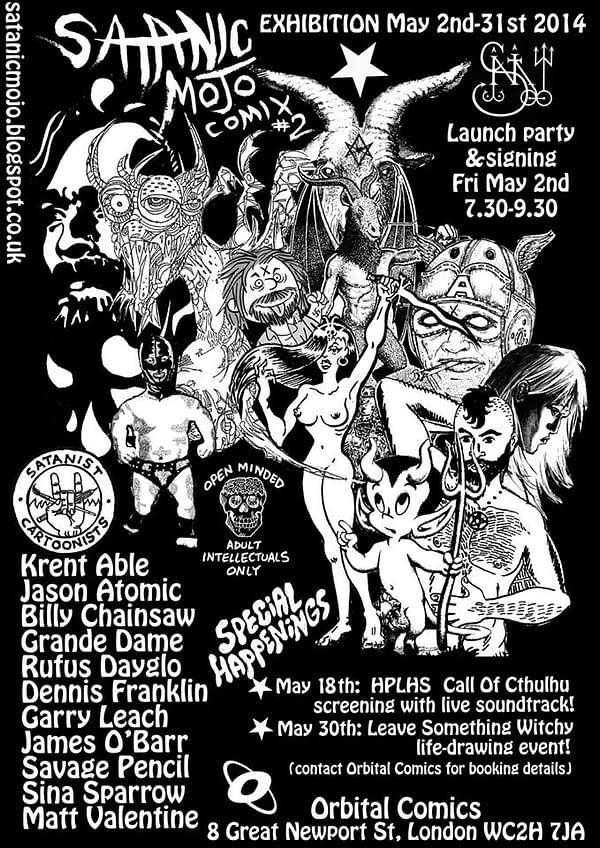 The launch of Jason Atomic's Satanic Mojo Comix #2, launch party with an exhibition running through the month, with artwork from Krent Able, Jason Atomic, Billy Chainsaw, Grande Dame, Dennis Franklin, Garry Leach, James O'Barr, Savage Pencil, Sina Sparrow and Matt Valentine.
Saturday 3rd May – Free Comic Book Day Gosh Comics, from noon
A rotation of indie and mainstream comics artists at our kid's art table, drawing, helping, and giving advice – Steven Appleby, Marc Ellerby, Eleni Kalorkoti, Mike Medaglia, Emma Raby, John Riordan, Alison Sampson, Rachael Smith, Claude TC and Emma Vieceli.
Forbidden Planet from 1pm
Signings from 2000AD folk Henry Flint, Matt Smith and Tiernan Trevellian from 1pm and Martin Stiff will be signing The Absence from 3pm.
British Library, , 2.30pm-4pm
Ally Sloper's Half Hour Holiday
The scheming, drunken Ally Sloper, the first comics superstar, was a Victorian sensation. His comic Ally Sloper's Half Holiday made its debut exactly 130 years ago on 3 May 1884, and went on to become the the biggest-selling title of its kind in the world, shifting as many as 350,000 copies a week.

Hear his story in this free, illustrated talk by Roger Sabin, Reader in Popular Culture at Central Saint Martins, University of the Arts London. He is the author of several books about comics, and freelances for the BBC and international press.
Conway Hall, 2.30pm
Mike Carey on Comics for Sci-Fi London.
Comic books and graphic novels are important to the team at SCI-FI-LONDON as a medium that shares some similarities with film, in telling a story through visuals and dialogue. This year we have three events with creators whose work has also fed into other media.
Orbital Comics from 3pm
A live podcast recording with surprise comics guests on hand…
Wednesday May 14th
Orbital Comics from 5pm
James O'Barr and Michael Golden signing. British Library 6.30 pm
European Literature Night: The Graphic Novelists
With Line Hoven (Germany), Lucie Lomova (Czech Republic), Max (Spain) and Judith Vanistendael (Belgium/Flanders) in conversation with Paul Gravett.

Contemporary graphic novels from across Europe have never been more diverse and innovative. For the first time, European Literature Night explores this comics phenomenon by inviting acclaimed cartoonists to discuss and read from their fascinating works. In Love Looks Away (Blank Slate), Line Hoven uses her stunning scraperboard precision to record her grandparents' and parents' histories, from Hitler's Germany to modern America. InDivoši ('Savages'), Lucie Lomova tells the true story of a Czech ethnographer who befriends a Brazilian tribesman and brings him to Prague in 1908, an encounter that transforms both their lives. In the tradition of Dalí and Buñuel, the Spanish cartoonist Max blends surrealism, philosophy and humour in the richly symbolic escapades of Bardin the Superrealist (Fantagraphics). The authors will be in conversation with Paul Gravett, co-director of Comica Festival, author of Comics Art (Tate Publishing), and co-curator of the British Library's exhibition Comics Unmasked: Art and Anarchy in the UK.

The event is followed by a reception in the Entrance Hall of the British Library which will include free entry to the summer exhibition, Comics Unmasked: Art and Anarchy in the UK, as well as an ELN bookstall. The reception is supported by the Goethe Institut.
Friday May 16th
British Library 1pm-2.15pm
Comcis Unmasked Talk
Comics Unmasked; Art and Anarchy in the UK is the first exhibition of its kind staged by a major institution. The guest curators John Harris Dunning and Paul Gravett together with their British Library counterpart Adrian Edwards, talk about the creation of the show and take your questions.
British Library 6pm-8pm
Neil Gaiman And Tori Amos, Comics Connections
Writer Neil Gaiman's contribution to the world of modern comics and graphic novels is immense, with magnificent achievements such as The Sandman series celebrated even in the highest cultural circles. At this special event he talks about his work, comic influences and passions; and is also joined by close friend and frequent collaborator, songwriter and performer Tori Amos.
British Library 7.30pm-10.30pm
Late In The Library with Amanda Palmer
A night of songs and sounds – inspired by the world of comics, plus food, drinks and more.

Expect special guest performances and DJs and much to explore, including a cameo appearance by songwriter and performer Amanda Palmer.
Saturday May 17th Gosh Comics, 2pm – 3pm
Signing for Jonathan Cape's Sally Heathcote, Suffragette – written by Mary Talbot, illustrated by Kate Charlesworth with layouts by Bryan Talbot.
Sally Heathcote: Suffragette is a gripping inside story of the campaign for the vote. A tale of loyalty, love and courage, set against a vividly realized backdrop of Edwardian Britain, it follows the fortunes of a maid-of-all-work swept up in the feminist militancy of the era.
Sunday May 18th
Orbital Comics: Call Of Cthulhu screening, with live improvised soundtrack.
Wednesday, May 21st,
Forbidden Planet, 6pm till 8pm
Paul Cornell launching his new novel, The Severed Streets. Okay, it's not a comic. But still.
Friday May 23rd,
British Library, 6.30pm-8pm
The First Graphic Novel Award
The Myriad First Graphic Novel Competition is a biennial competition open to all previously unpublished cartoonists, writers and artists. Following the 2012 success of Gareth Brookes' The Black Project, the winner of the latest competition is announced at this special event in the presence of the judges, who include novelist Meg Rosoff and cartoonist Woodrow Phoenix.

The prize is publication by Myriad and a week-long artist's retreat. Gosh Comics, 7pm till 9pm
Launch party for Becky Cloonan's By Chance or Providence with an exclusive Gosh! Bookplate edition
Now Becky is collecting her Wolves Trilogy into one superb hard cover graphic novel, By Chance Or Providence, out through Lounak Studios (who have plenty of lovely stuff on their website). We'll be launching it here, in London, at Gosh!, with a good ol' knees-up and many bottles of wine. Saturday May 24th,
Forbidden Planet, 1pm till 2pm
Mark Millar and Duncan Fegredo signing MPH #1.
PLEASE NOTE: Due to time restrictions, Mark Millar & Duncan Fegredo will only be signing copies of MPH and The Art Of Millarworld – and Duncan will be unable to sketch at the event.
Tuesday May 27th
Discover Greenwich , 10.30am
Comic Life
This workshop lets 11-14 year olds get creative and put together their own digital comic strips, drawing inspiration from the history of the Old Royal Naval College.
Friday May 30th
British Library 6.30pm – 8.30pm
National Lampoon and US Satire In The 70s
Now most associated with broad comedy films, the National Lampoon was originally a sharp, often coruscating, satirical magazine that captured the political and cultural transformations of the 1970s. Ellin Stein, author of That's Not Funny, That's Sick: The National Lampoon and the Comedy Insurgents Who Captured the Mainstream, explores its huge influence on subsequent American comedy and its continuing relevance.

This event is co-sponsored by the Eccles Centre for American Studies at the British Library and the American Museum in Britain.
Orbital Comics, 7.30pm till 9.30pm
Leave Something Witchy life drawing event.