By Mike Sangregorio…
On Friday the sixth Comics Arts Conference panel was held. This one dealt with the theme of Comics Auteurs and focused on Jack Kirby and Will Eisner both of whom celebrate their centennials this year. The panel was divided into three parts, each with a different focus from its own presenter.
In part one attorney Marc Greenberg took the audience through the key aspects of the Kirby estate's ongoing legal struggles with Marvel, which ended in 2014. This included why the case was shaping up to be a landmark decision and possibly why the Supreme Court ultimately did not hear it. Whether or not you know who Kirby is or even like and appreciate his work is incidental. Kirby was responsible for more intellectual properties for Marvel, and other media companies, than most. Due to the sometimes not-clear circumstances under which he produced the work there is a significant gray area in terms of the rights the author has to the work and which the company has.
Kirby, according to Greenberg, was responsible for 262 unique copyrights that Marvel held. While there are significant amounts of legal wrangling as to what laws these were filed, and maintained, under, the key factor here is that under an interpretation of the law as it currently stood the Kirby Estate saw a chance to have those removed from the care of Marvel and possibly placed within their own, or, alternatively, both parties would have to work out a better way those claims could be utilized. As far as we know the intent was not for the Estate to, for example, publish Fantastic Four on their own but they very well could have been part owners of those characters when Marvel did. These laws are nebulous. Intellectual property law in this country is archaic and vague at the best of times because the practical realities of the creative process and the media industry do not lend themselves to dotting every 'i' and crossing every 't' when a deadline has to be met. Kirby was known to plot entire story arcs over the course of a meal and produce an issue in a week. While we have pages of groundbreaking art, a few margin notes, and the memories of collaborators we do not have detailed meeting minutes or dated expense reports.
There was some precedent within the comic industry for the Estate's claim in the former of the Siegel and Shuster heirs speaking with DC Entertainment to work out the claims on Superman. Similar legal counsel was involved but in that case a settlement was reached. The Estate v Marvel was complicated by the latter's purchase by Disney. Disney performed a variety of procedures to make the situation as favorable to them as possible and settlement talks appear, as far as anyone can tell, to have ceased. Testimonies were taken and while the aforementioned collaborators, including Mark Evanier and Jim Steranko had theirs thrown out because they were not in attendance originally Stan Lee was. His recollection that he came up with the ideas that he provided to Kirby to draw helped prove key to Disney's claim that Kirby produced his work for Marvel in a legal manner that meant the heirs had no claim.
The problem is that this is not an area with much highly visible precedent and a series of appeals led the media and entertainment industry to have to watch as the Supreme Court came close to hearing this case. Among other things this would have resulted in very clear legal guidance for how the ambiguous copyright laws had been interpreted up to this point.
Ruth Bader Ginsburg herself, according to Greenberg, contacted Disney to make sure that their legal filings were in order because the Court may very well have been getting ready to take on this case.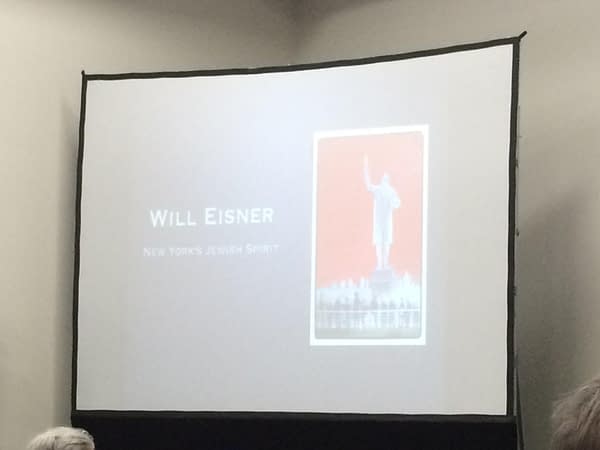 What happened? Well, now Marvel comics featuring Kirby characters have creator credits and the Estate has an arrangement that presumably includes some sort of satisfactory terms. This was provided on the Friday before the third Monday of the term when the Supreme Court typically announces which cases it will hear.
What would have happened if no settlement had been reached and the Court had decided to hear the case? This is not a new issue, most of this happened in 2014 and prior, but as Kirby turns 100 and his work is the preeminent media influence (superheroes and the visual language derived from his work in that genre) it is worth asking if whether or not he could also have been the legal benchmark of how creators are treated. Jack Kirby rarely defended himself to his publishers and his battles, private and public, are well recorded elsewhere, but the volume and quality of his work placed his legacy in the unique position of being a bargaining chip that could have been used to positively change the circumstances under which similar struggles involving IP are resolved.
Doing the impossible, in a big way, while the world watches and wonders what will happen next? This entire saga could have been a Kirby story played out in headlines instead of heavenly realms. Imagine a world with a "Kirby rule," or some such similar guidance, where authors had a claim to their work that could be defended and enforced without long drawn out legal proceedings. The King's name has been attached to many things over the years but you have to imagine that that would have made him a little happier than Kirby Krackle.
The other two parts of the panel featured Kim Munson (From Panels to Frames: Comic Art in Museums) discussing how Will Eisner and Jack Kirby with instrumental in having comic book and popular art taken seriously from the perspective of museums and gallery showings. How what they brought to their work and its enduring popularity helped prove that the medium was not disposable and that, including to an international audience, would stand the test of time.
The third featured Jennifer Willms (University of Koblenz-Landau) examining the instances of Jewish and immigrant culture in the works of Eisner including how he dealt with "the original fake news in the Protocols of Zion" and shined a light on what he called the "promised land" of Manhattan using thinly veiled analogues of the stories and people he knew so well from his neighborhood and the culture that both developed from there and influenced it from the outside.
Enjoyed this article? Share it!