Thor's Comic Book Review Column: Sagas of the Northmen And A Hero's Death GN
THIS WEEK'S REVIEWS:
Sagas of the Northmen, volume 1
A Hero's Death GN
Sagas of the Northmen, volume 1 (Black Jack Press, $6.99)
By Jeb D.
"The vast stretches of the unknown and the unanswered still far outstrip our collective comprehension."
John F. Kennedy
Back in the days of dim antiquity, a comics fan, and aspiring comic writer, named Sean Fahey, gathered (virtually) a group of like-minded fans to begin a comics review column; in keeping with his enthusiasm for Vikings, Sean chose the name Thor's Comic Review Column, and through various ups and downs, and an assortment of home websites, the tradition continues these days at Bleeding Cool.
It's been a few years since Sean moved on from the column he started; he's now an established writer and editor, mostly through Black Jack Press, whose Tall Tales From the Badlands we've covered in the past. Now, Sean returns to his first love, as it's Vikings galore in the new anthology Sagas of the Northmen.
And, yes, Sean's a (virtual) friend: but he was already a comic writer before I knew him, and I'm comfortable taking the book on its own terms (though, full disclosure, I did get a free pdf download to review).
We're accustomed to Viking stories being large-scale epics of violence and pillage. Though Sagas of the Northmen isn't wholly without those elements, as much as anything else, most of the stories here seem to have their focus instead on culture clash, and an effort to capture the sense of people just becoming aware of the existence of real-world mysteries beyond their own experience: at a time when much of the world's population was rooted in their ancestral homes, Norsemen were venturing across the seas, opening their eyes to the peoples and cultures that they would one day help forge into what we think of as Western civilization.
The seven stories here feature a mixture of writers (including former CHUD mainstay Mark Wheaton aka Smilin' Jack Ruby), and the various artists, working in black and white, bring a level of polish that's a notch or two above what we often see in small-press comics, with a blend of styles that feel distinct from each other, but never jarringly at odds.
Satan's Hordes, from Wheaton and artist Jok, begins with a victim's-eye perspective on the initial Viking incursions, taking its narrations from an actual letter to the monks at Lindisfarne abbey, in the wake of their first exposure to the pillaging Norsemen.
No King But the Law, written by Fahey, with art from Borch, moves the setting to Iceland, with a quietly effective tale of fate and duty.
Because It Is There—Fahey and artist Marcelo Basile compare the Vikings' quest into the unknown with our own era, a thoughtful piece that takes its text from a startlingly a propos speech by John F. Kennedy.
The Dimming Spirit, written by Tom Pinchuk, presents a test of faith, and brute strength, with possibly the most striking art in the volume, from Ezequiel Rosingana.
Ascension, written by the team of Derek Frodolfs and Ken Jones, with art from Michael Kennedy, is a poignant tale of a father's legacy, and a son's burden.
Heart of Iron brings the sole female writer to the project, Susan Wallis, with art by Todor Hristov; it takes its real-life historical protagonist, Freydis Eriksdottir, on a journey from mother to diplomat to warrior.
The volume ends with The Emperor's Wineskins, as Fahey reteams with Basile, who brings its Byzantine setting vividly to life.
Taken together, the (technically unrelated) stories in Sagas of the Northmen bring an effective and convincing picture of a wider range of characters and settings than we often associate with the Vikings and their era.
And Sagas of the Northmen provides good value, at $6.99 for sixty pages of black and white story.
You can preview it here.
Jeb D. has already lost the war on Christmas, and is planning a stealth strike on New Year's.
A Hero's Death GN (IDW, $17.99)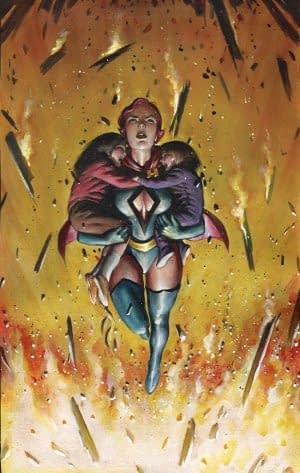 By Cat Taylor
Promotional material for A Hero's Death describe it as both a reporter's search for what really happened the day a city's resident superhero died, and a story about the need for hope and heroes. While there's no doubt that the story is about the former, I had a little trouble seeing this as the story of the latter. Even though the reporter in the story specifically says that the city needs heroes, I didn't really see that as the meaning behind the story. To me it was more about the effects of failure on someone who had never failed and helping to bring someone up from depression.
Regardless, of what I got out of it as opposed to the promo blurb, veteran writer Ricardo Sanchez truly has a gift for painting pictures with words, without being overly descriptive. This is evidenced in his writing on the main comic book story, but also in two prose pieces about the character which are also included in this volume. Personally, I have a bit of a disdain for long prose stories in a comic book. I feel like they aren't the reason I buy comic books and they take a long time to read while rarely making an impression or adding anything to the universe of the characters. Although, I could just skip them, I somehow feel obligated to read them. Granted, it's a personal problem and you may feel quite differently.
Despite my general dislike of prose in a comic book, these pieces really do support Sanchez as a competent writer in a field where often much of the "writing" in comics is actually done by the artist. The most obvious evidence of Sanchez's ability is in the second prose piece, which is A Hero's Death as it originally appeared as a short story in an anthology novel. The story, as originally written, is almost exactly the same, words, descriptions, and all, as what appears in the comic version. The only significant difference is that in the original prose version, Hero is a man, but she is drawn as a woman in the comic version. This was apparently artist Mark Texeira's only original contribution to the comic version. Otherwise, Texeira simply illustrates exactly what Sanchez originally wrote in 2011. This isn't meant to take away from Texeira's work, it's simply an observation.
As far as the quality of Texeira's art is concerned though, he illustrates this story beautifully with what appears to be a medium of pastels in a style that's as realistic as any I've seen in comic books. The fact that A Hero's Death has very little action and is mostly conversation, demonstrates that, despite his reputation for kinetic superhero action art in the 90s, Texeira can draw with great versatility.
The other prose piece included here is a very long one about Hero at three points in time. It was originally an incentive piece that could be unlocked through the Kickstarter campaign used to get this book published. Even though this story lacked the emotional depth of the main feature, it further supports Sanchez as a fine writer who can paint clear visuals with minimal description. My only criticism of all these stories is that even though they may not be a routine as a standard issue of Superman or Batman, the concepts in all of them aren't anything I haven't read before. Once again, that doesn't take away from Sanchez as one of the best people to tell these concepts but from my perspective, originality was not one of his strengths.
Where the story did excel, in my opinion, was in emotional content, as stated earlier, and subtext. In fact, while this is meant to be a one-shot self-contained story, I really feel that there's a huge boat that could be missed as it leaves the port if Sanchez doesn't go back and explore the psychosis of one of the characters who stopped doing good and using personal gifts simply because the character in question messed up one time. Is that a selfish act by a supposedly unselfish person? Also, what kind of fragile ego must someone like that have? Most of us fail daily, but we keep going and keep trying. In many cases, perhaps it's only because we have to do so. So, does that mean that being perfect is a detriment, especially when one mistake causes a depression so deep that you stop helping people in need when it's so easy for you?
Finally, this story ends on a sort of revelation that doesn't seem like it would be a huge surprise to the character. The fact that it was tells me how isolated this character must have been for years and years, which is another point that begs examination. Overall, there is a lot of material to be mined here and hopefully Sanchez is already considering some of this himself.
Cat Taylor has been reading comics since the 1970s. Some of his favorite writers are Alan Moore, Neil Gaiman, Peter Bagge, and Kurt Busiek. Prior to writing about comics, Taylor performed in punk rock bands and on the outlaw professional wrestling circuit. He took the past few weeks off from writing reviews because Christmas is a'coming and he's no Grinch. You can e-mail him at cizattaylor@hotmail.com.