Just the "No. 1" from First Superman in Action Comics #1 at Auction
It's Superman time! The auction house ComicConnect has a lot of major items going under the hammer today, but this one might be major in a very different way than you might expect for an auction of Action Comics #1, the first appearance of Superman, slabbed by CGC. Because while slabbed Action Comics #1's have sold for millions, this won't. But it will sell for thousands and that in itself is fascinating.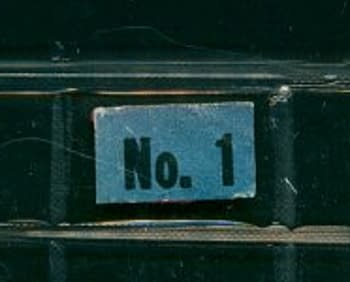 Single pages from Action Comics #1 and other major key comics often sell for thousands of dollars each. In 2021, a slabbed Action Comics #1 5th page only sold for $23,000. Even an auction lot consisting of unslabbed page flakes and a single staple from a copy of the first appearance of Superman has sold for hundreds of dollars. But this ComicConnect auction takes selling pieces of a key comic in a decidedly different direction — by selling just the printed issue number from the cover of a copy of Action Comics #1. How did this come about? According to the consignor, this item originated as part of this "Superman Homemade Golden Age Stories Bound Volumes" set sold at Heritage Auctions in 2013. As can be seen at that auction listing, some collector, presumably decades ago, made his own set of these stories and cut out issue numbers from the covers of several issues of Action Comics and Superman to help do that.
The consignor of this tiny piece of history acquired the "No. 1" as an item on its own subsequent to that auction, and contacted CGC to get it authenticated and slabbed. CGC tells Bleeding Cool that this is the smallest comic book item that they've ever graded. This tiny but noteworthy piece of Action Comics #1, is currently at $3,300 after 16 bids and will go for more when all is said and done.
ComicConnect also has a listing for one page from Action Comics #1 in today's session, the seventh page which does feature Superman. That is currently going for over $10,000 after 26 bids.
Of course, on a tighter budget, another way to get a version of a full copy of Action Comics #1 without breaking the bank is to go for the 1988 reprint, collectible in its own right, and currently only $50…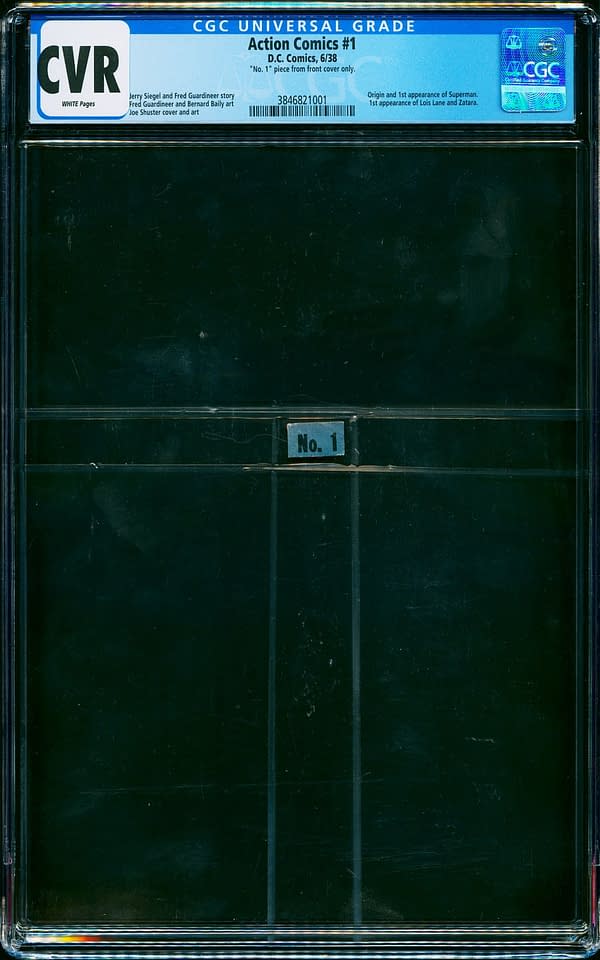 Action Comics #1 The No. 1 from the front cover!
origin & 1st app. of Superman by Siegel and Shuster
The most important comic book in history, Action #1 stands as the introduction of the archetype of all other heroes to come as Superman transcends comics and pop culture as an icon of truth, justice, and the American way! Created by Jerry Siegel and Joe Shuster, Superman is quite possibly the most recognizable fictional character in the world. The brainchild of two struggling sci-fi fans from the Rust Belt, the Man of Steel became an instant icon to Depression-era readers and transformed into a symbol of national spirit and spunk during the brutal days of WWII. Since then, he has endured as both a beloved character and an embodiment of hope and vigor, making this first appearance not just a piece of comics' history, but of American history as well.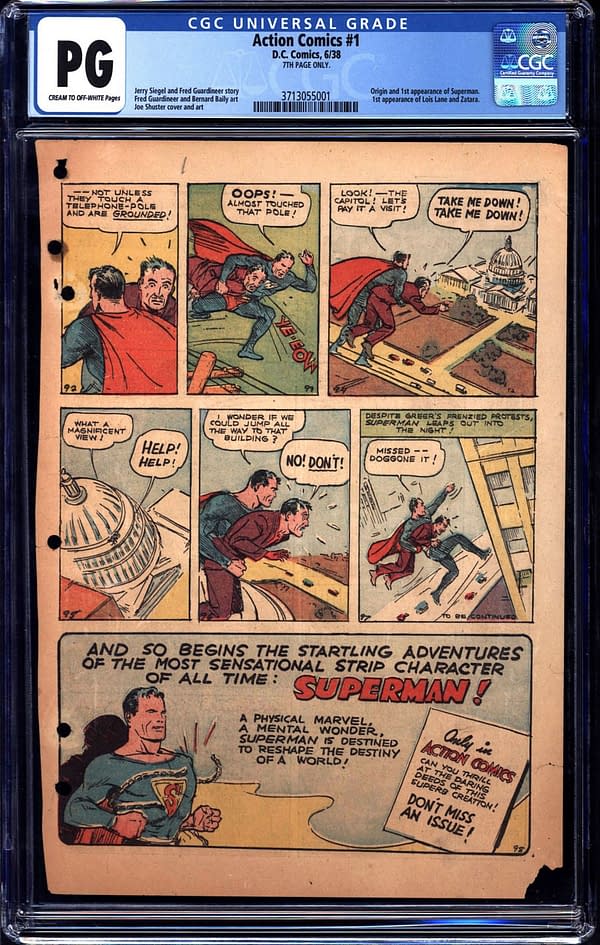 Action Comics #1 crm/ow pgs; 7th Page Only; conclusion of first Superman story.
origin & 1st app. of Superman by Siegel and Shuster
This page depicts the very first time Superman breaks chains by flexing his chest; an image that became the pin-up in Superman #1 and was later used countless times over the decades to come. This isn't just the last page of the first Superman story, it's also the "contest page" on the reverse. Reader of this issue in 1938 were invited to color in the "Chuck Dawson" page on the reverse and send it in to DC as part of a contest. Hence, the "contest page" became the most likely page to go MISSING from copies of Action 1. Loose copies of this page became sought after by collectors very early in fandom, and even today if you find a copy of Action 1 in the wild missing one page, it is most likely this page you would need to complete it.

ACTION COMICS (1938-2011) #1 CGC NM/M: 9.8 white pages; 1988 reprint
origin & 1st app. of Superman by Siegel and Shuster