TMNT Lost And Found In IDW Publishing Full April 2023 Solicitations
Everything IDW Publishing will be publishing in April 2023 solicits, including turtles, rabbits, ponies, hedgehogs and more, much more.
---
IDW Publishing is enhancing the Teenage Mutant Ninja Turtles: The Last Ronin – Lost Years, experience with a tie-in one-shot by TMNT co-creator Kevin Eastman, Tom Waltz, Ben Bishop, and Luis Antonio Delgado. The 40-page special issue, available in April, is called Teenage Mutant Ninja Turtles: The Last Ronin—Lost Day Special and will straddle both the past and the future of the Last Ronin universe, setting the stage for new tales to come. Alongside Sonic, Star Trek, My Little Pony, Dungeons & Dragons, Rocketeer and more, here are IDW Publishing's April 2023 solicits and solicitations.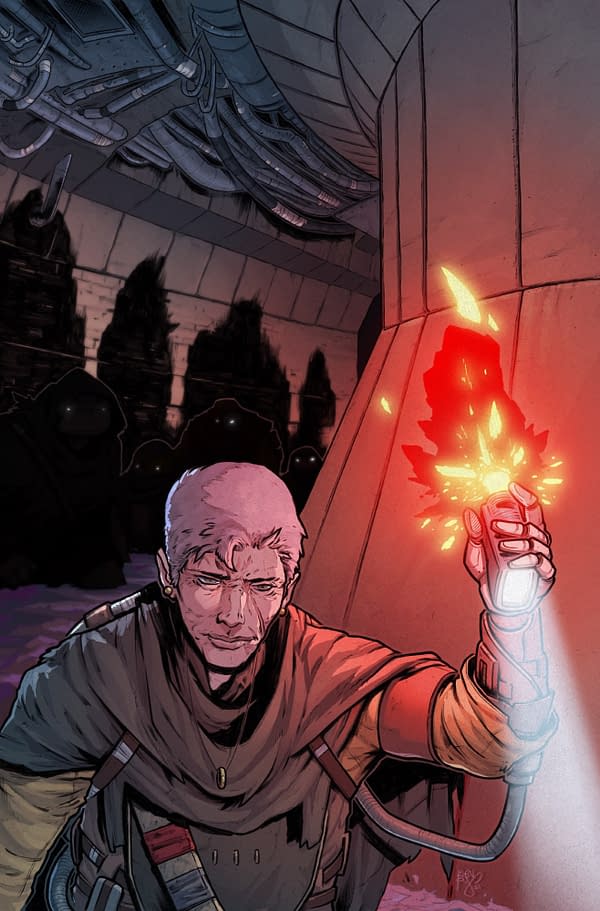 TMNT LAST RONIN LOST DAY SPECIAL CVR A
IDW PUBLISHING
FEB231510
(W) Kevin Eastman, Tom Waltz (A) Ben Bishop (CA) TBD
A special one-shot set in the Ronin-verse! After the Last Ronin defeated Oroku Hiroto, Master of the Foot Clan, New York City was free for the first time in more than a decade. But along with the newfound freedom comes a dangerous power vacuum waiting to be filled, and without a common enemy in the Foot Clan, various factions are vying to take control. Longtime resistance leader April O'Neil finds herself and her loved ones-including four small mutant turtles she and her daughter, Casey Marie Jones, are raising and training together-once again caught up in the battle for the soul of the city. When April takes the young mutant turtles with her on a supply run into the city, they become lost and must find their way back to the sewer lair or risk becoming collateral damage in the newest power struggle overtaking the streets. Old memories mix with new realities as April and her four small charges race to get back home before it's too late. This title will be standard trim size, not the oversized format of The Last Ronin series.
In Shops: Apr 19, 2023
SRP: 7.99
TMNT LAST RONIN LOST DAY SPECIAL CVR B
TMNT LAST RONIN LOST DAY SPECIAL CVR C
TMNT LAST RONIN LOST DAY SPECIAL CVR D 25 COPY INCV
TMNT LAST RONIN LOST DAY SPECIAL CVR E 50 COPY INCV
TMNT LAST RONIN LOST DAY SPECIAL CVR F 100 COPY INCV
TMNT LAST RONIN LOST YEARS DIRECTORS CUT #1 CVR A
IDW PUBLISHING
FEB231516
FEB231517 – TMNT LAST RONIN LOST YEARS DIRECTORS CUT #1 CVR B – 5.99
FEB231518 – TMNT LAST RONIN LOST YEARS DIRECTORS CUT #1 CVR C 10 COPY – 5.99
(W) Kevin Eastman (A) Ben Bishop, SL Gallant (CA) TBD
Revisit the first chapter of the Last Ronin's storied journey in this epic, in-depth director's cut edition of TMNT: The Last Ronin's Lost Years #1. Enjoy all the original content newly paired with never-before-seen artifacts from the desks of Kevin Eastman, SL Gallant, and Ben Bishop. This title will be standard trim size, not the oversized format of The Last Ronin series.
In Shops: Apr 26, 2023
SRP: 5.99
BREATH OF SHADOWS #4 CVR A CORMACK (MR)
IDW PUBLISHING
FEB231465
FEB231466 – BREATH OF SHADOWS #4 CVR B BARENDS (MR) – 3.99
FEB231467 – BREATH OF SHADOWS #4 CVR C 10 COPY INCV MULVEY (MR) – 3.99
(W) Rich Douek (A / CA) Alex Cormack
As our intrepid jungle wanderers reel from last issue's stunning revelation, Jimmy tries to navigate his way out of the pit he's found himself in. But does the real danger wait in the shadowy corners of the cave or the dark and twisting hallways of his mind?! The penultimate issue of this mind-bending horror tale from Rich Douek and Alex Cormack!
In Shops: May 03, 2023
SRP: 3.99
DEAD SEAS #5 CVR A BROKENSHIRE (MR)
IDW PUBLISHING
FEB231468
FEB231469 – DEAD SEAS #5 CVR B ANINDITO (MR) – 3.99
FEB231470 – DEAD SEAS #5 CVR C PHILLIPS (MR) – 3.99
(W) Cavan Scott (A / CA) Nick Brokenshire
Desperate pirates. Terrified prisoners. Ghosts unleashed aboard a sinking ship. And yet none of that can hold a candle to the horror now that Mother has arrived. You are not prepared for the penultimate issue of this supernatural thriller.
In Shops: Apr 26, 2023
SRP: 3.99
DUNGEONS & DRAGONS SATURDAY MORNING ADV #2 CVR A KAMBADAIS
IDW PUBLISHING
FEB231471
FEB231472 – DUNGEONS & DRAGONS SATURDAY MORNING ADV #2 CVR B HICKEY – 3.99
FEB231473 – DUNGEONS & DRAGONS SATURDAY MORNING ADV #2 CVR C 10 COPY – 3.99
(W) David M. Booher (A / CA) George Kambadais
With all their friends beguiled by the attractions of Waterdeep, Eric and Diana are left to contemplate the kids' future. Where do they really belong? Where are they most needed? But it's more than just the wonders of Waterdeep that have enchanted Presto, Bobby, Hank, and Sheila. Will everyone come to their senses in time?
In Shops: Apr 26, 2023
SRP: 3.99
MY LITTLE PONY #12 CVR A FORSTNER
IDW PUBLISHING
FEB231474
FEB231475 – MY LITTLE PONY #12 CVR B GARCIA – 3.99
FEB231476 – MY LITTLE PONY #12 CVR C 10 COPY INCV JUSTASUTA – 3.99
(W) Casey Gilly (A / CA) Trish Forstner
Have you heard?! Hitch has his very own podcast! Maretime Bay's cold cases are reopened by the sheriff himself. Mysteries, crimes, and disappearances will all be solved with Hitch on the case! Maybe he'll finally discover who stole my cupcake…
In Shops: May 03, 2023
SRP: 3.99
MY LITTLE PONY BEST OF TWILIGHT SPARKLE CVR A HICKEY
IDW PUBLISHING
FEB231477
(W) Various (A) Various (CA) Brenda Hickey
The first in IDW's new series collecting the very best moments from everyone?s favorite ponies is here! From Twilight Sparkle's first day at Princess Celestia's School for Gifted Unicorns to showing her own students the power of friendship, revisit the adventures and magic that make the Princess of Friendship! Collecting My Little Pony: Friendship is Magic #4, #40, and #84, My Little Pony: Friends Forever #4, and My Little Pony Annual 2017.
In Shops: Apr 12, 2023
SRP: 6.99
ROCKETEER CVR A
IDW PUBLISHING
FEB231478
(W) Danny Bilson, De Meo, Paul, Robert Windom, Kelvin Mao (A) Adam Hughes, Jae Lee, Craig Cermak (CA) TBD
It's a wall-to-wall adventure in a trio of Rocketeer stories in this terrific all-new special!
First, the writers of the Rocketeer film, Danny Bilson and Paul De Meo, and illustrator Adam Hughes bring us a tale featuring pioneering aviator Amelia Earhart. Second, Robert Windom (Seven Sons) and Jae Lee craft a story of the Rocketeer fighting a Japanese Zero in the South Pacific. And the third entry is by Kelvin Mao (director of the Dave Stevens documentary Drawn To Perfection, and co-writer of Seven Sons) and artist extraordinaire Craig Cermak. While on a date with Betty, our man Cliff encounters a vaguely familiar adventurer/archeologist. What kind of trouble will this spell for our hero? You'll have to grab a copy of this special one-off issue to find out!
In Shops: May 31, 2023
SRP: 4.99
ROCKETEER CVR B
ROCKETEER CVR C 10 COPY INCV
ROCKETEER CVR D 25 COPY INCV
SONIC THE HEDGEHOG #60 CVR A HAMMERSTROM
IDW PUBLISHING
FEB231482
FEB231483 – SONIC THE HEDGEHOG #60 CVR B CURRY – 3.99
FEB231484 – SONIC THE HEDGEHOG #60 CVR C 10 COPY INCV FOURDRAINE – 3.99
(W) Evan Stanley (A) Thomas Rothlisberger (CA) Aaron Hammerstrom
The battle rages on! But how do you fight a city?! Sonic and friends race to stop Eggperial City from expanding, badniks from attacking, and Eggman from… doing whatever it is Eggman does!
In Shops: Apr 26, 2023
SRP: 3.99
STAR TREK #7 CVR A FEEHAN
IDW PUBLISHING
FEB231485
FEB231486 – STAR TREK #7 CVR B CHO – 4.99
FEB231487 – STAR TREK #7 CVR C SHERMAN – 4.99
FEB231488 – STAR TREK #7 CVR D 10 COPY INCV FEEHAN – 4.99
FEB231489 – STAR TREK #7 CVR E 25 COPY INCV WARD – 4.99
FEB231490 – STAR TREK #7 CVR F 50 COPY INCV WARD – 4.99
(W) Collin Kelly (A / CA) Mike Feehan
Continuing Benjamin Sisko's quest to stop celestial genocide in "The Red Path," the second arc of the critically acclaimed Star Trek flagship comic series continues! Sisko returns to Deep Space 9, and it's the family reunion we've all been waiting for-or is it? Meanwhile, the crew of the U.S.S. Theseus meet a familiar face from Paramount+ hit show Lower Decks.
In Shops: Apr 19, 2023
SRP: 4.99
STAR TREK DEFIANT #2 CVR A UNZUETA
IDW PUBLISHING
FEB231491
FEB231492 – STAR TREK DEFIANT #2 CVR B SHERMAN – 4.99
FEB231493 – STAR TREK DEFIANT #2 CVR C WARD – 4.99
FEB231494 – STAR TREK DEFIANT #2 CVR D 10 COPY INCV UNZUETA – 4.99
FEB231495 – STAR TREK DEFIANT #2 CVR E 25 COPY INCV BARTOK – 4.99
FEB231496 – STAR TREK DEFIANT #2 CVR F 50 COPY BARTOK – 4.99
(W) Christopher Cantwell (A / CA) Angel Unzueta
Convinced that the only hope to prevent planetary genocide lies in understanding how the power of the gods is being harvested, Captain Worf and first officer Spock set the stolen Defiant on course to break into a highly guarded Section 31 outpost to recruit the highest computing mind in the galaxy-Lore!
In Shops: Apr 12, 2023
SRP: 4.99
STAR TREK DS9 DOG OF WAR #2 CVR A HERNANDEZ
IDW PUBLISHING
FEB231497
FEB231498 – STAR TREK DS9 DOG OF WAR #2 CVR B BARTOK – 4.99
FEB231499 – STAR TREK DS9 DOG OF WAR #2 CVR C PRICE – 4.99
FEB231500 – STAR TREK DS9 DOG OF WAR #2 CVR D 10 COPY INCV HERNANDEZ – 4.99
FEB231501 – STAR TREK DS9 DOG OF WAR #2 CVR E 25 COPY INCV TAMAYO – 4.99
FEB231502 – STAR TREK DS9 DOG OF WAR #2 CVR F 50 COPY INCV TAMAYO – 4.99
(W) Mike Chen (A / CA) Angel Hernandez
As Latinum the corgi begins winning over the hearts of the DS9 crew, Quark finds his own greed-filled heart touched by the large-lobed creature. But only a fool passes up a business opportunity! Meanwhile, Sisko tests the mysterious Borg component brought aboard the station in hopes of finding a tactical advantage in the war against the Dominion.
In Shops: May 03, 2023
SRP: 4.99
TMNT ONGOING #139 CVR A PE
IDW PUBLISHING
FEB231503
FEB231504 – TMNT ONGOING #139 CVR B EASTMAN – 3.99
FEB231505 – TMNT ONGOING #139 CVR C 10 COPY INCV DEL MUNDO – 3.99
(W) Sophie Campbell (A / CA) Fero Pe
Enter the Endgame! Ch'rell's forces descend upon a Mutant Town already ravaged by nonstop riots in the wake of the Imposter Turtles' attacks. Now, skirting Donatello's best defenses, the Utroms are closing in on Seri, the hunted Triceraton Regenta. Meanwhile, the Rat King's quest for chaos has culminated at the reunited Turtles' doorstep, and they have no choice but to take the fight to him! Can Donnie rally Mikey, Leo, and Raph and their allies to quell the Utrom invasion? The Armageddon Game enters its end stage!
In Shops: Apr 12, 2023
SRP: 3.99
TMNT ARMAGEDDON GAME #8 CVR A FEDERICI
IDW PUBLISHING
FEB231506
FEB231507 – TMNT ARMAGEDDON GAME #8 CVR B – 5.99
FEB231508 – TMNT ARMAGEDDON GAME #8 CVR C EASTMAN & FEDERICI – 5.99
FEB231509 – TMNT ARMAGEDDON GAME #8 CVR D 10 COPY INCV QUALANO – 5.99
(W) Tom Waltz (A / CA) Vincenzo Federici
Apocalypse Now! The pawns have fallen! The rooks have hunkered down. The knights continue to rally! All the while the Rat King has looked on in glee as Oruku Saki, the Teenage Mutant Ninja Turtles, and even his allies, the Trio of Terror, have played their parts. But now, as true chaos becomes manifest, the regent of rodents is faced with the full results of his machinations. The Pantheon will play! Whether chaos reigns or order wins the day, what comes next will forever change the world of the TMNT. Don't miss the epic conclusion of The Armageddon Game!
In Shops: May 03, 2023
SRP: 5.99
TMNT USAGI YOJIMBO WHEREWHEN #2 CVR A SAKAI
IDW PUBLISHING
FEB231519
FEB231520 – TMNT USAGI YOJIMBO WHEREWHEN #2 CVR B EASTMAN – 4.99
FEB231521 – TMNT USAGI YOJIMBO WHEREWHEN #2 CVR C 10 COPY INCV MYER – 4.99
FEB231522 – TMNT USAGI YOJIMBO WHEREWHEN #2 CVR D 25 COPY INCV SAKAI – 4.99
FEB231523 – TMNT USAGI YOJIMBO WHEREWHEN #2 CVR E 50 COPY INCV PETERSEN – 4.99
FEB231524 – TMNT USAGI YOJIMBO WHEREWHEN #2 CVR F 100 COPY INCV EASTMAN – 4.99
(W) Stan Sakai (A / CA) Stan Sakai
Sent back in time to feudal Japan, the Teenage Mutant Ninja Turtles immediately face a fight for their lives against Yukichi and Jotaro! Mistaking the Turtles for the violent kappa terrorizing a nearby village, the long-eared samurai descend upon the Turtles with swords brandished. Can the TMNT convince Usagi's allies to aid in their mission to stop Dr. WhereWhen from changing the future? Or will the larger threat prevail while Lord Noriyuki's forces march into the final battle with the Dark Lord Hikiji?
In Shops: Apr 19, 2023
SRP: 4.99