This article contains a couple of significant panels from the new issue of The Walking Dead #143, ahead of the one in two weeks, scheduled for San Diego Comic Con. Some speculation over what may be announced. And a tease of the significance of the final page. You have been warned.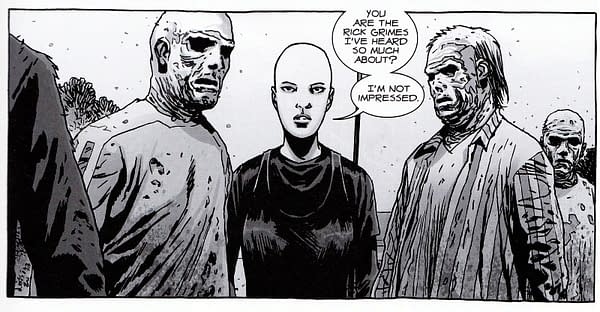 It's a comic that sees Rick confronting Alpha, that sees Ezekial confronting the absence of Michonne and that sees Carl confronting his Dad. Yeah, that's going to hurt. There's a very definite changing of the ways in this issue, that could see the central narrative split. Just as the TV show is becoming two series, with Fear The Walking Dead, it's quite conceivable that the comic book could do the same, one narrative following the life of Rick Grimes, the other following Carl Grimes. Just a thought, a purely speculative thought, but if there were going to announce something big at Image Expo next week, or at San Diego Comic Con, a Fear The Walking Dead ongoing comic could be it.
Just mindless speculation there. But for those who miss the zombie impact on The Walking Dead, as people are creating successful civilisations in the wake of the zombie apocalypse, the final page of this issue should suggest to you everything you've been waiting for… and lead into something rather major for the comic.
One way or another, The Walking Dead comic book is going to get a very big change of status any day now.
Comics courtesy of Orbital Comics, London. Who will be hosting a signing with Si Spurrier of his new Boom! comic The Spire next Wednesday from 6pm.
Enjoyed this article? Share it!