Saturday afternoon at San Diego Comic-Con 2019 saw legendary creator Todd McFarlane take the stage in front of a packed room. The creator of Spawn, and co-creator of Venom, was up and about before the panel even began. He took to the crowd and selected three fans to help him finish inking pages of the upcoming Spawn #300.
McFarlane, claiming to be a "nervous walker," says that sitting behind a table is not for him. He showed the three selected attendees how to add black ink to each spot on a panel that he had filled in with Xs and, when he was finished with his tutorial, he introduced those selected to the crowd and then added, "otherwise known as slave labor!"
McFarlane informed the packed hall that he wants to walk them through how "you get to three hundred issues." He thanked everyone in the audience for his career. He always says thank you to his fans when he signs their books. When other creators ask him why he does this he says that it is with their support that he has had the career he has for so long and he is constantly appreciative of that.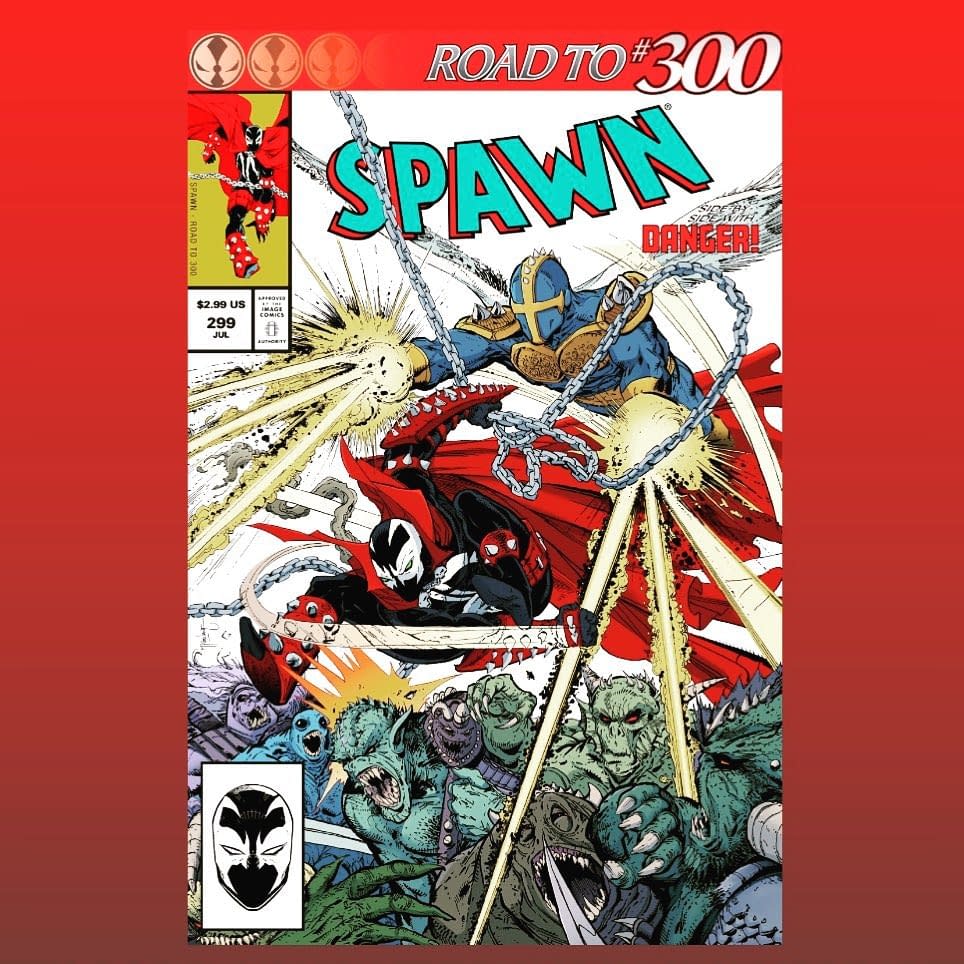 He added, passionately, that "I should be standing in line [for hours] to meet you!" and that he "[doesn't] know when my 15 minutes of fame is going to end because it's gone on way too long."
It was a 27 year journey to get his creator owned book Spawn, one of the original Image Comics launch titles, to 300 issues. He insists that no shortcuts were taken and that the work was "grinding." To give an example of how far he has come, June 2, 1992 was the launch date of Spawn #1. At the time his daughter was 4 months old daughter, and now she is just beginning her residency. McFarlane proudly proclaimed that "300 issues is measured by a baby becoming a doctor."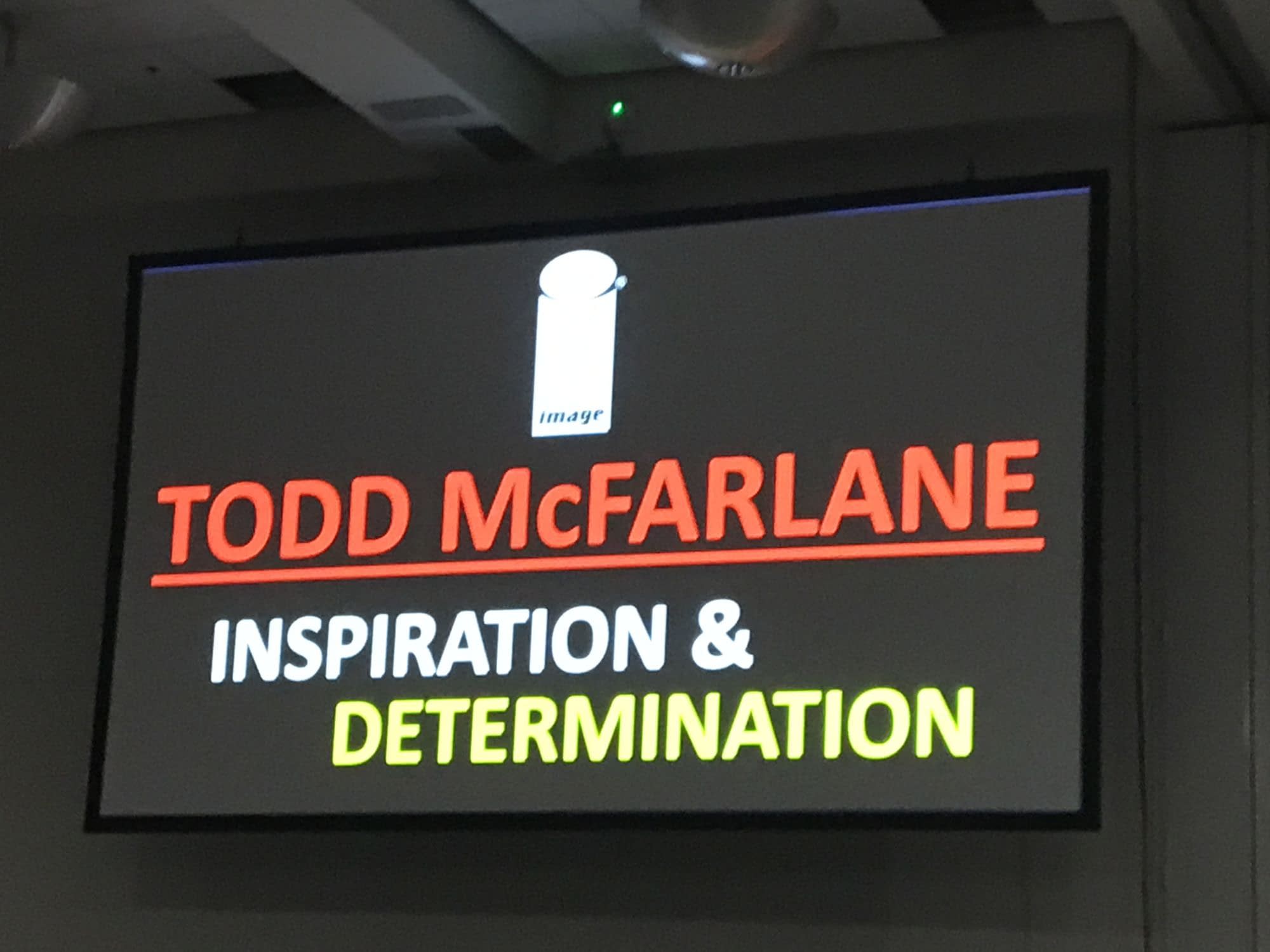 McFarlane is Canadian, from Calgary. Growing up be believed that "Terry Austin and John Byrne on X-Men was the best art in the industry." When he was 16 he was watching television when he turned to the local access station. He saw fellow Calgary resident, John Byrne, holding up a page of X-Men art. Hearing Byrne say that he lived in Calgary made McFarlane realize that he could actually become a creator.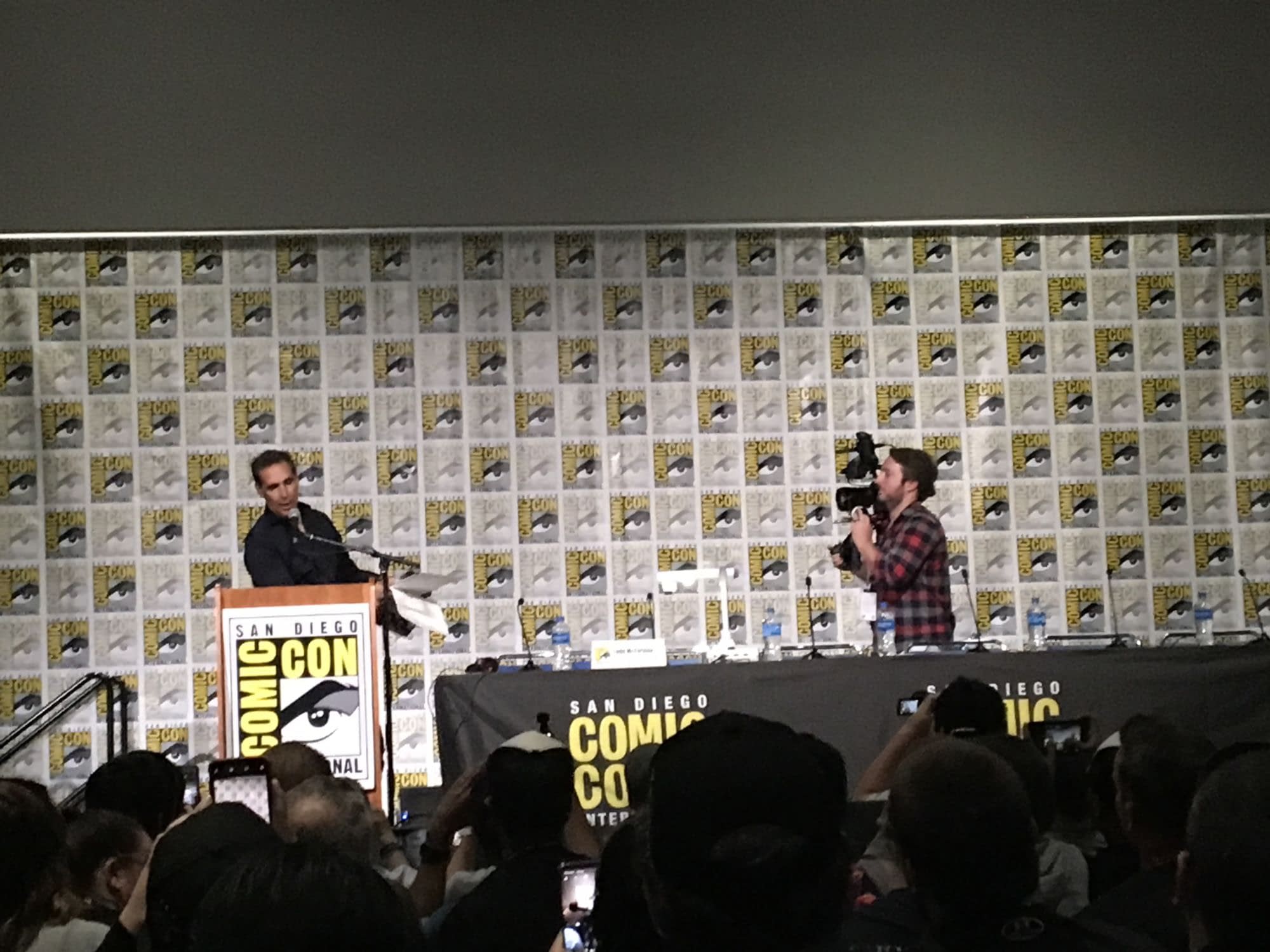 This revelation taught McFarlane his mantra of "it's doable." It was at this point that he decided that nothing was out of his reach, regardless of what he sought to accomplish. He sent out 700+ samples and received 350+ rejections. Eventually, when he was working at Marvel, he was getting letters saying he would never work at Marvel. He claims to be business person who speaks creative and a creator who speaks business.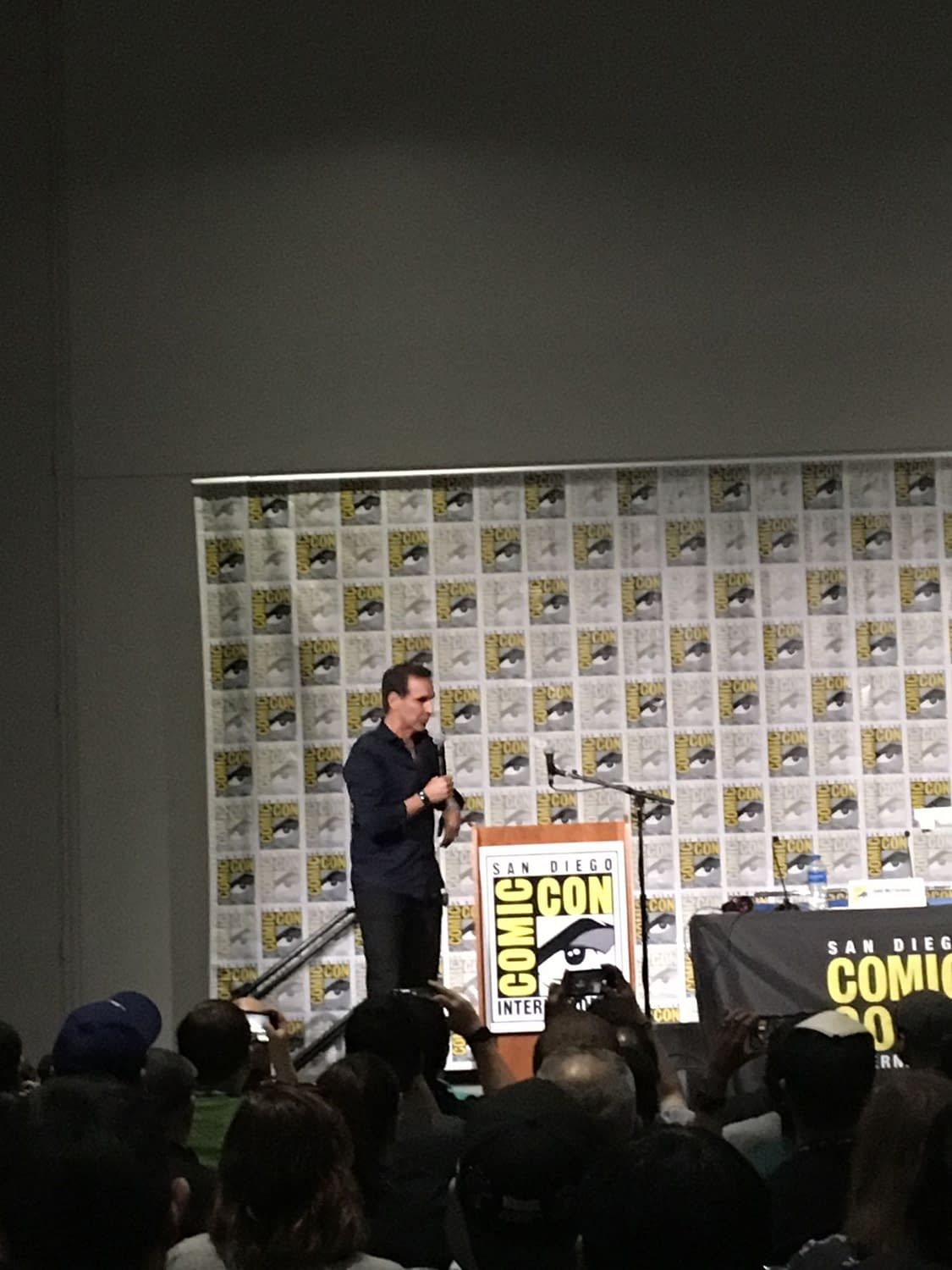 He recalled that the first comic convention he ever went to had Stan Lee in attendance. The young man peppered the legend with questions for three hours and Lee never stopped talking.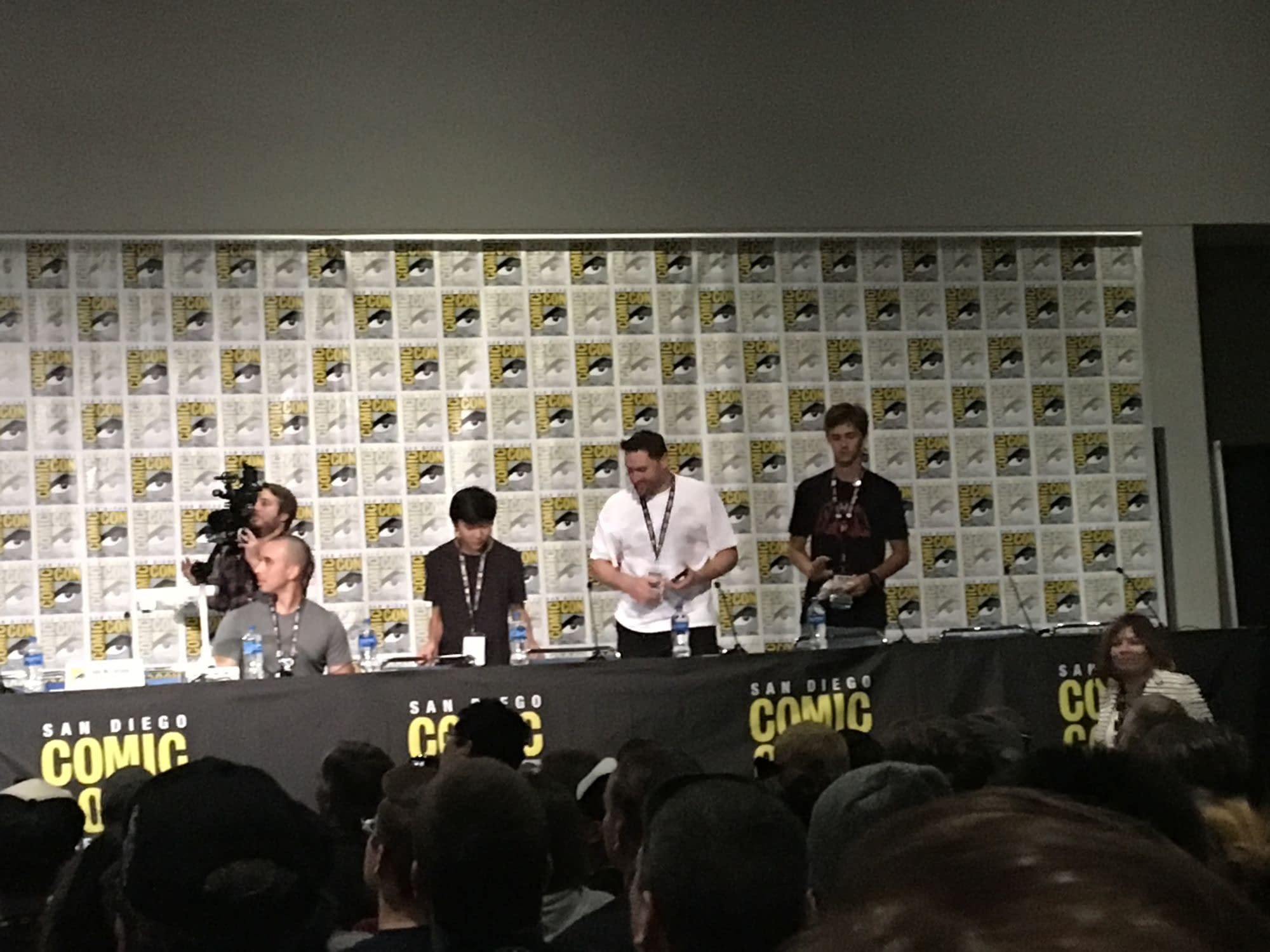 While McFarlane tells these stories he never stops moving. He goes from one end of the stage to the other. The microphone is in his hand, not mounted on a podium as it is with other panels, and there is never a lull. He's switching it from hand to hand as the need arises to point and draw attention to one place or another.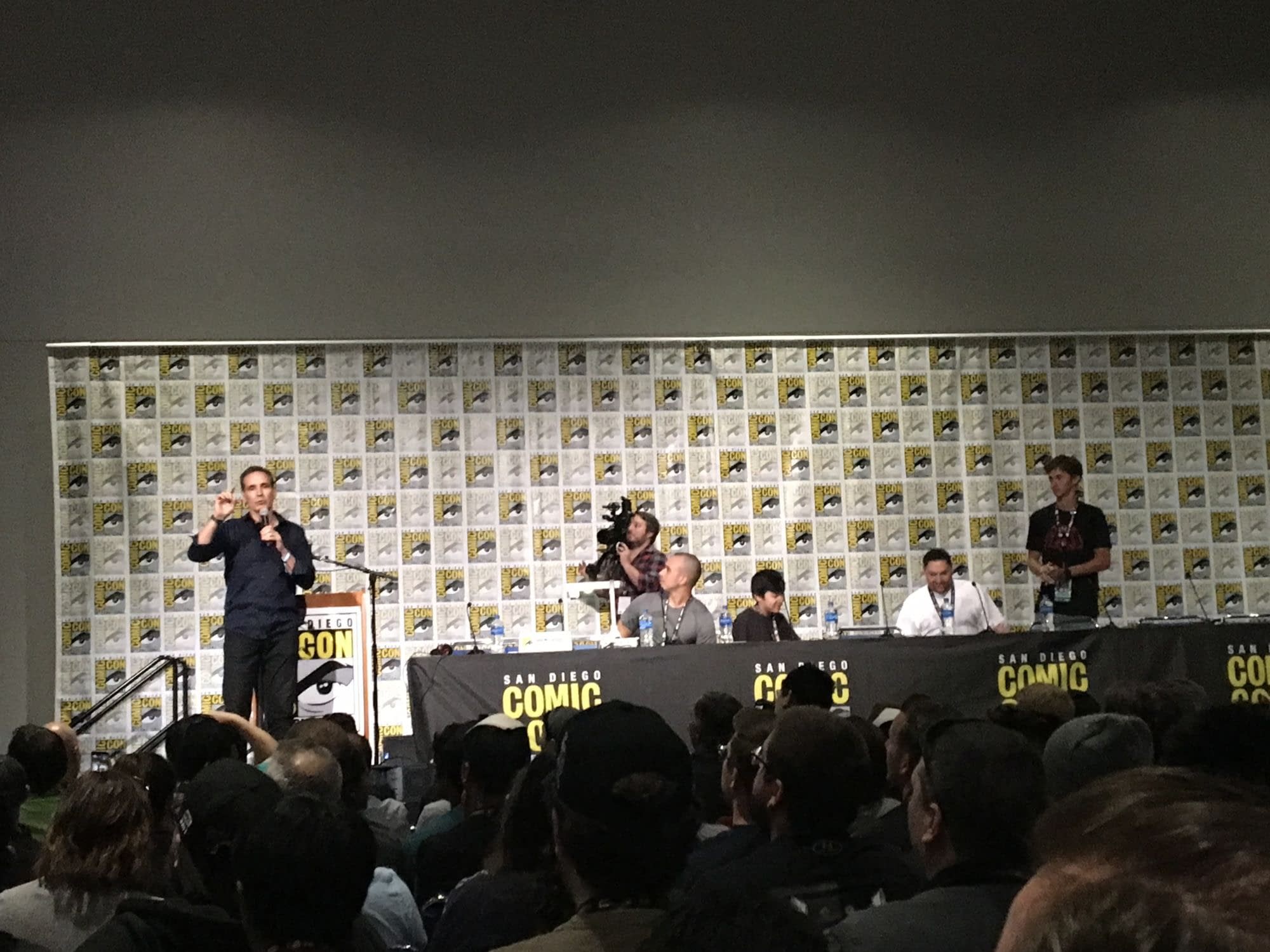 The audience is not listening to McFarlane speak but rather trying to keep up. He is directing the slides and checking-in with his new inkers. He never breaks stride.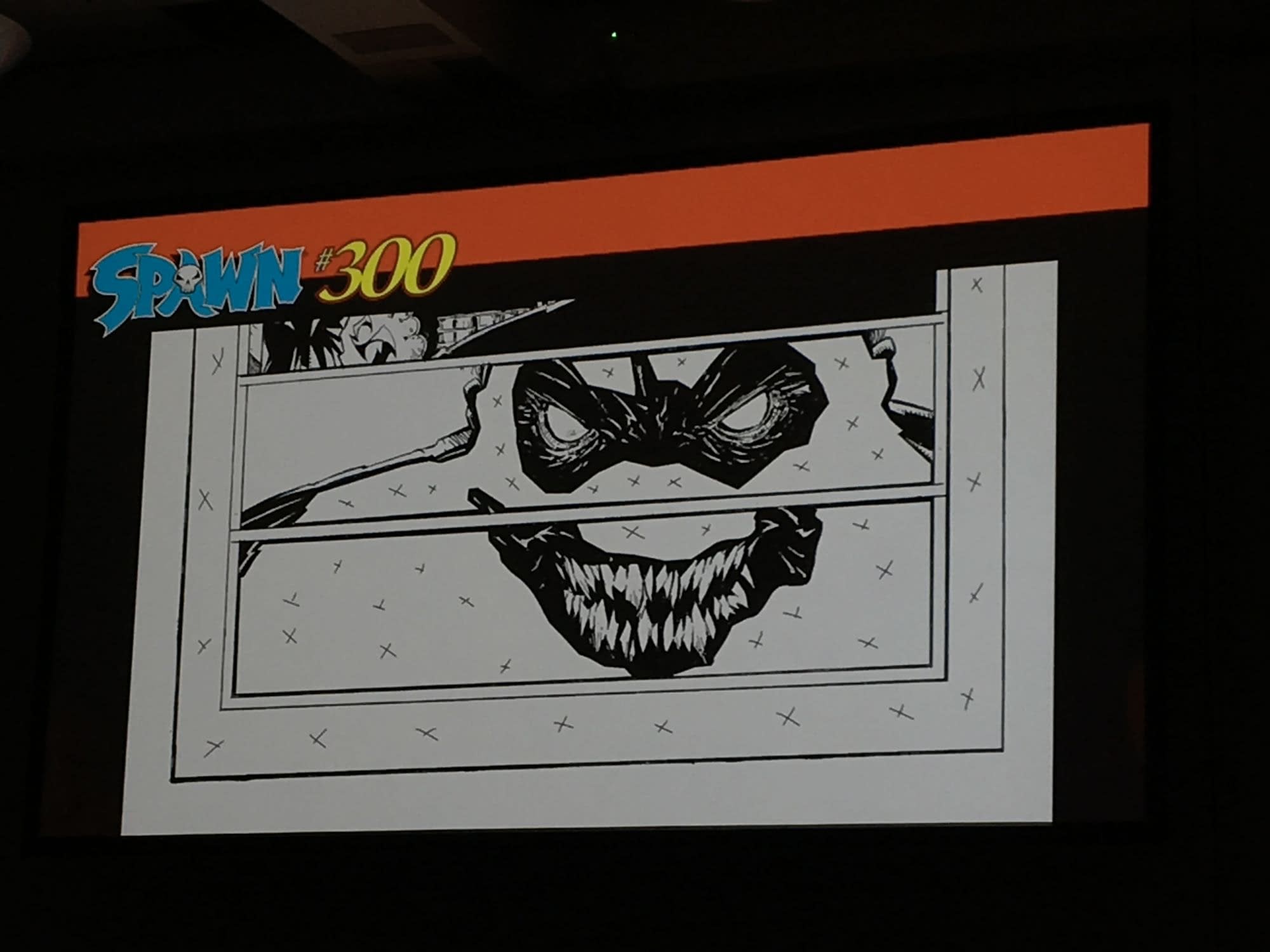 After he has told the crowd about meeting his heroes he says that his highest hope is that one day someone in this audience, or one just like it, is on the stage because of something they heard him say.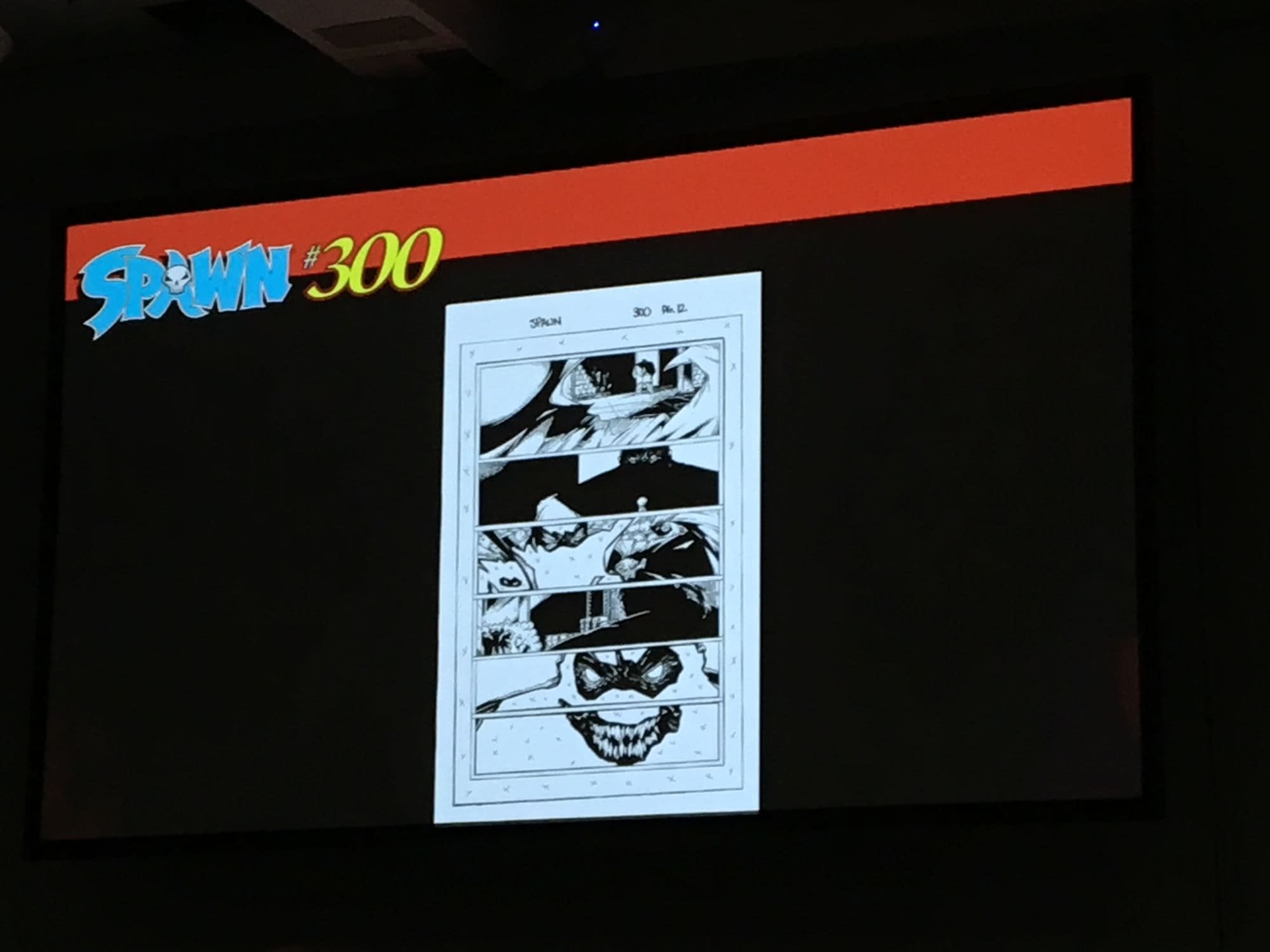 He stressed that it is issue #301 that is the key anniversary issue. That issue will see Spawn crowned the "longest running creator owned title." To get to that point he had some advice for everyone in attendance. "Here's how you do not disappoint yourself… assume the answer will be no. In every meeting or interview." He added that your streak is always to assume the worst and that "winning is when you break your streak… but [you get] the job."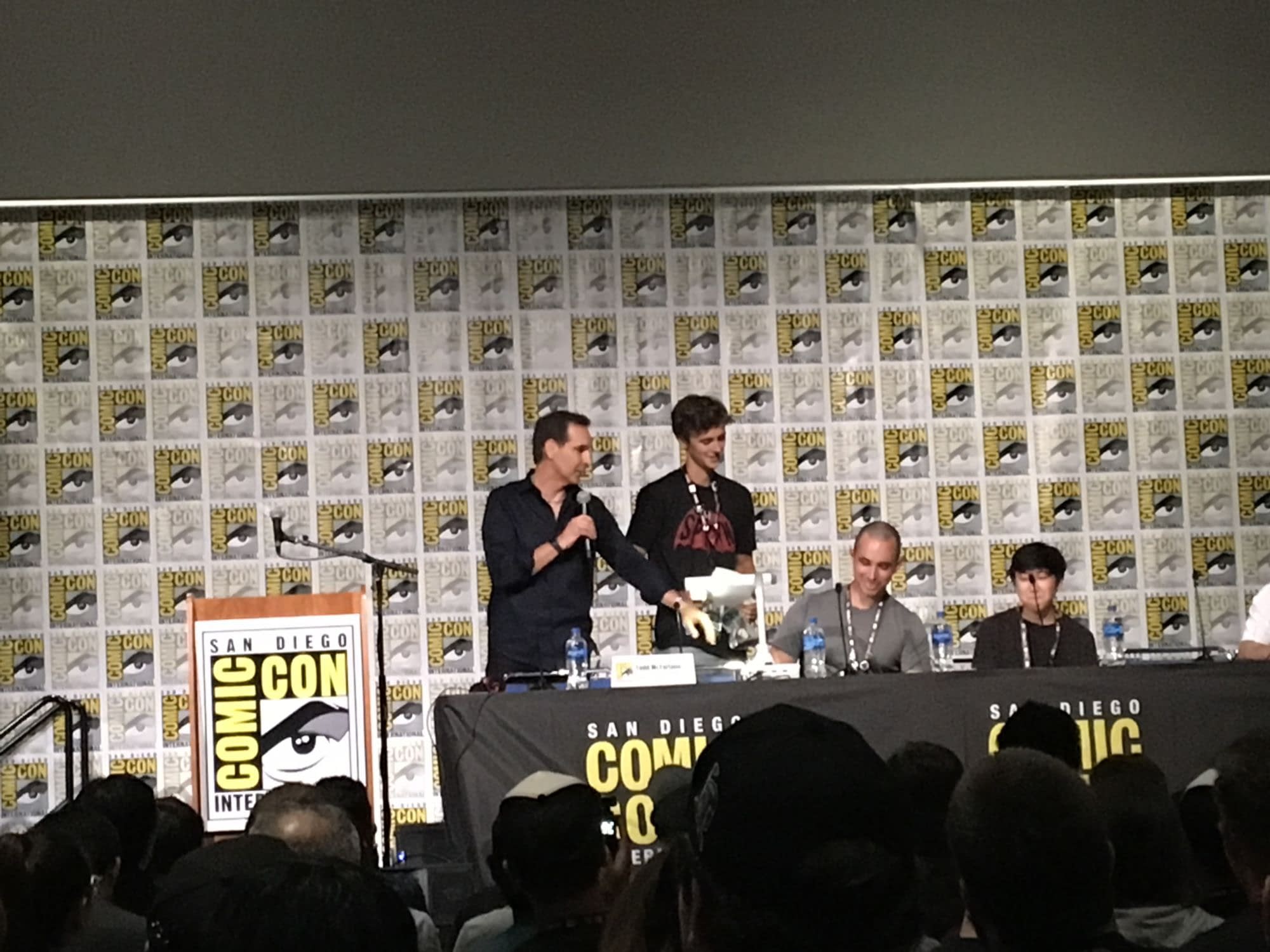 He claims that the key is that "you need to break down the act into its simplest thing. Ink on paper. Molded plastic. It's not insurmountable. Everything is doable."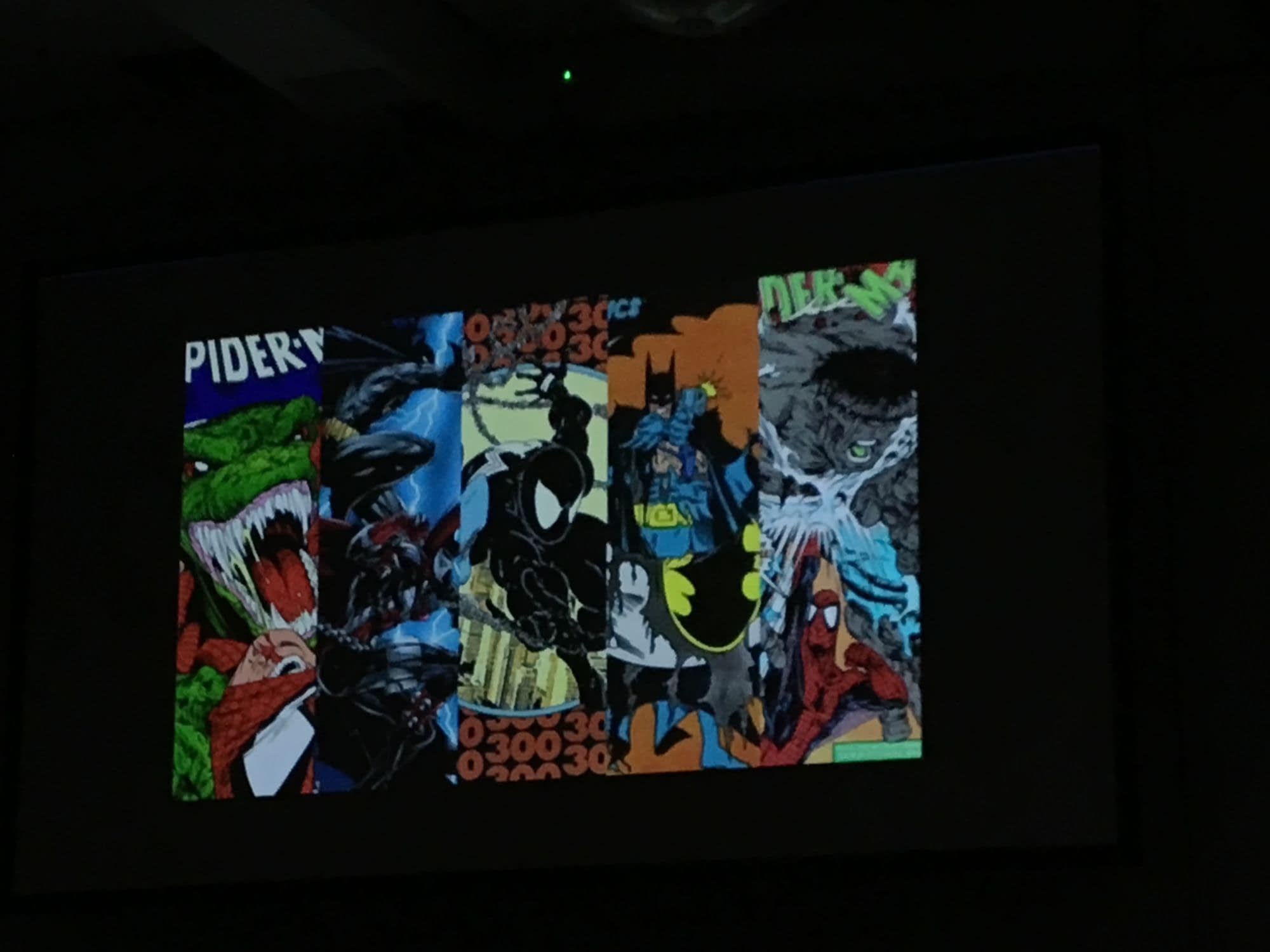 McFarlane teases the new inkers but it proves his point. As he is speaking to this crowd he is getting work done, advertising his forthcoming projects, and keeping everyone's attention.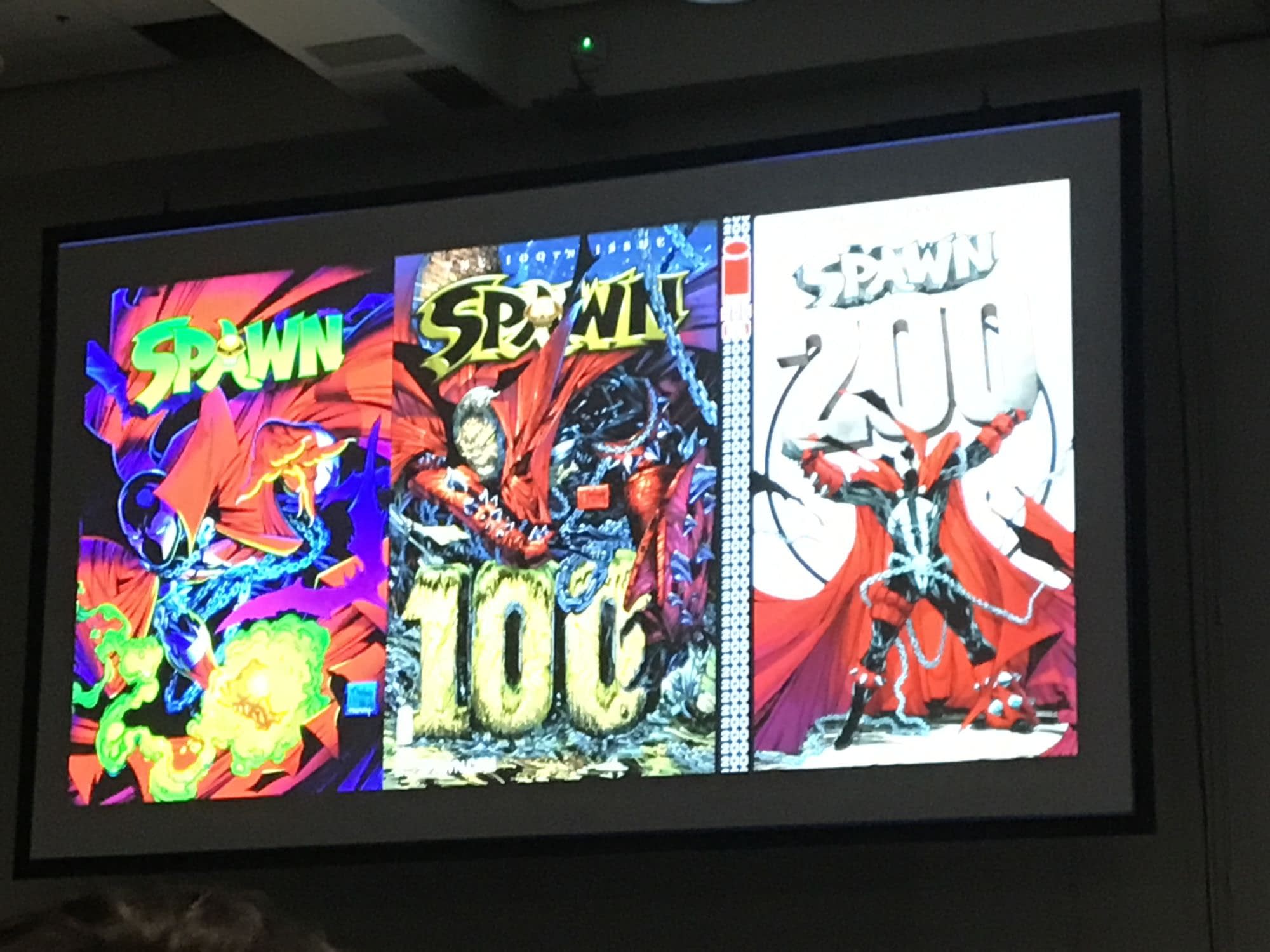 "I like lazy people. Make me look good every single day of my life." Asked who saw Shrek. Said that he is Donkey, specifically in the scene where Donkey asked to go with Shrek on the quest after everyone else said no. McFarlane believes that there have been more than a few times that he got picked because he offered, even if he was not always the best.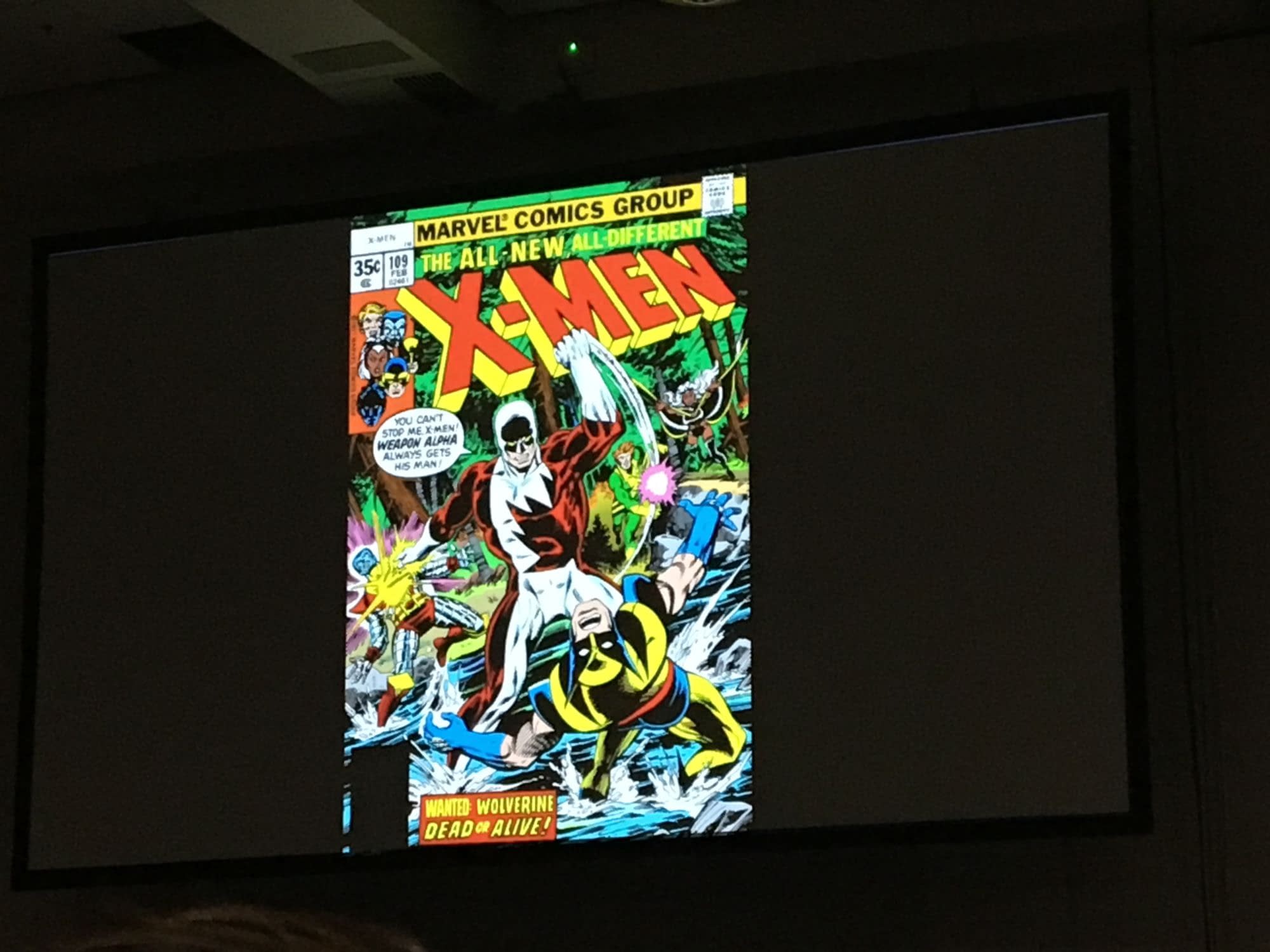 McFarlane is President of Image Comics, the third largest comic publisher. He informed the crowd that 94 out of the top selling 100 comics in June 2019 were Marvel and DC and thus Disney and Warner Bros. This means that all of those properties are off of the table for production by other television and film studios. Most of the remaining of the 100 are licensed work or already optioned.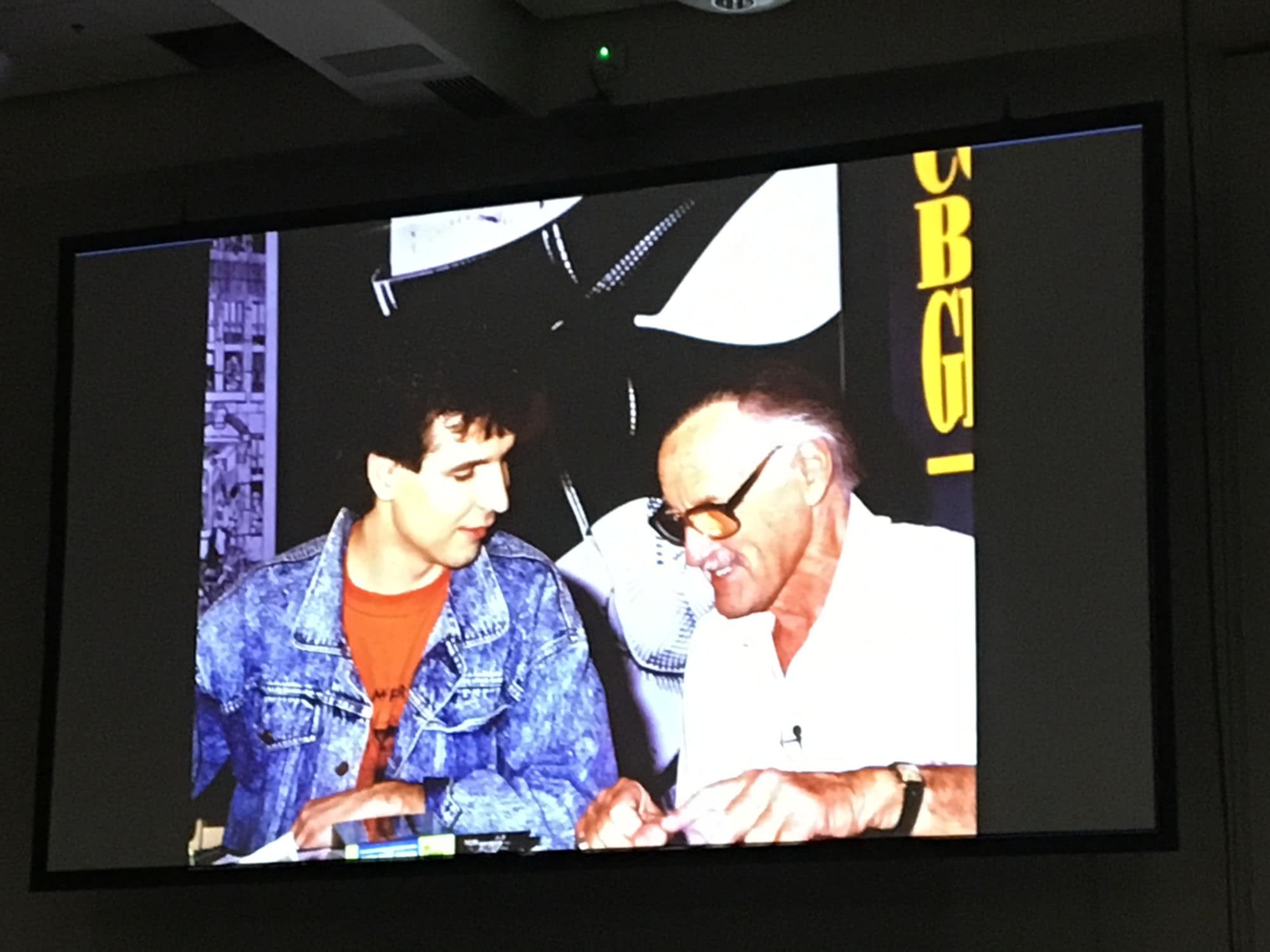 These producers are looking for content and if none in the top 100 are available then "all you have to do is be good enough to be 108" which is the number he claims would be the next spot where a producable work would be.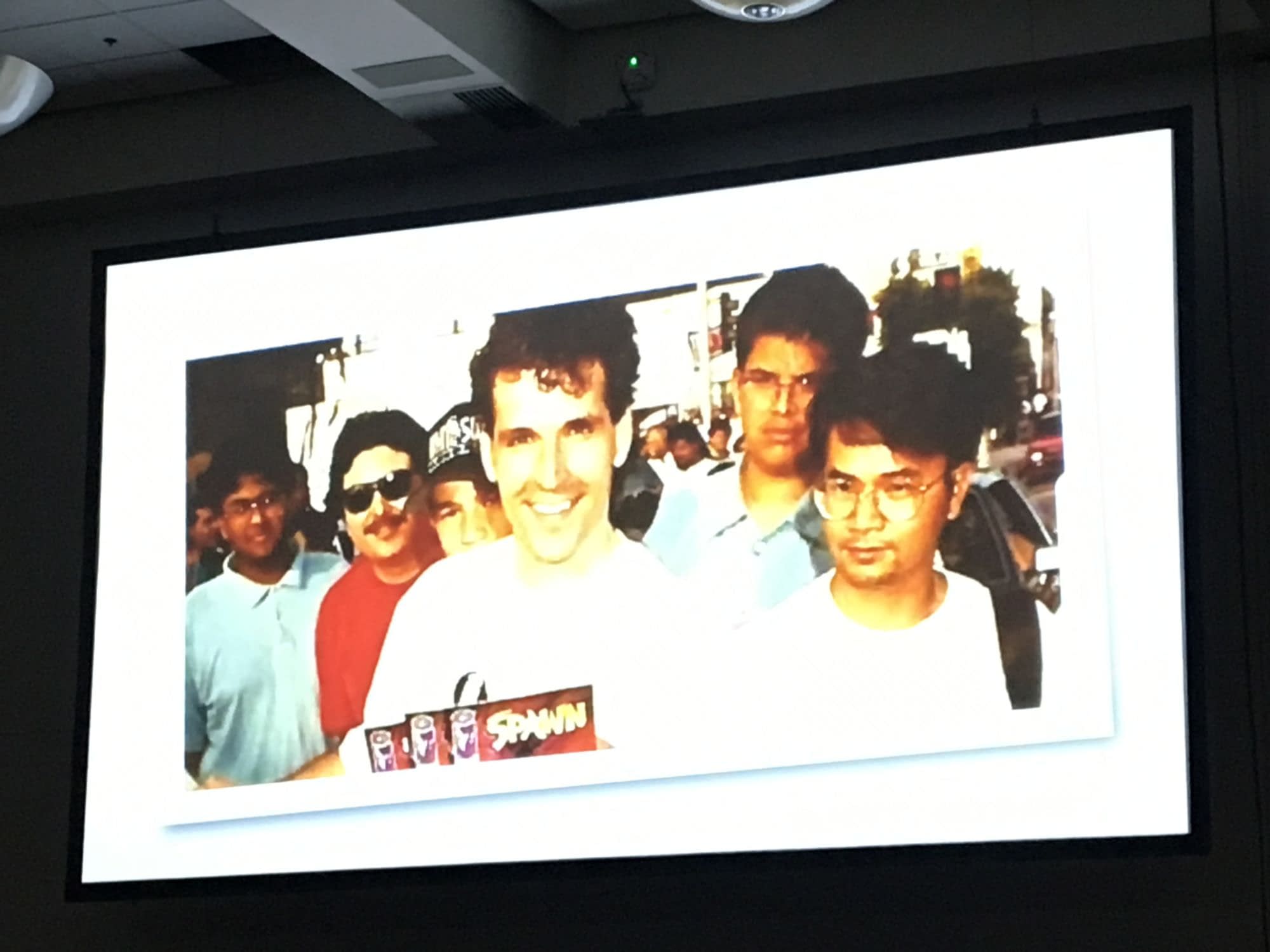 "Don't go up against Wolverine. Be 108!" He informs the crowd that Image gets calls every week for offers. Some based on just covers and solicitations. People in Hollywood go to the comic book stores on Wednesdays because they need content and that is not likely to stop any time soon.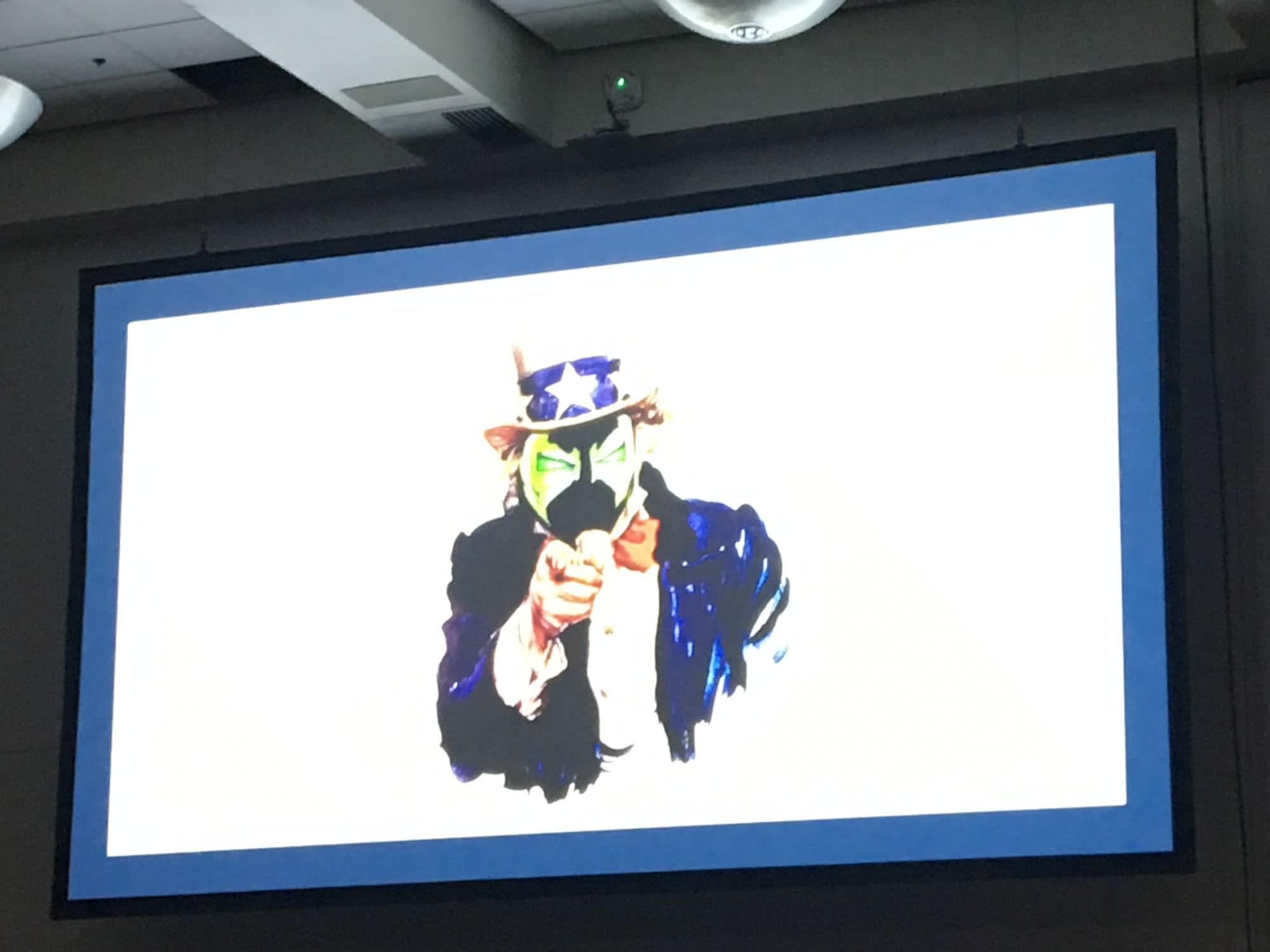 He is a father of 3 and claims that he loves Millennials. He tells the audience that "every generation is accused of being the weakest and laziest" and that he knows the most recent generation will always outthink its predecessor.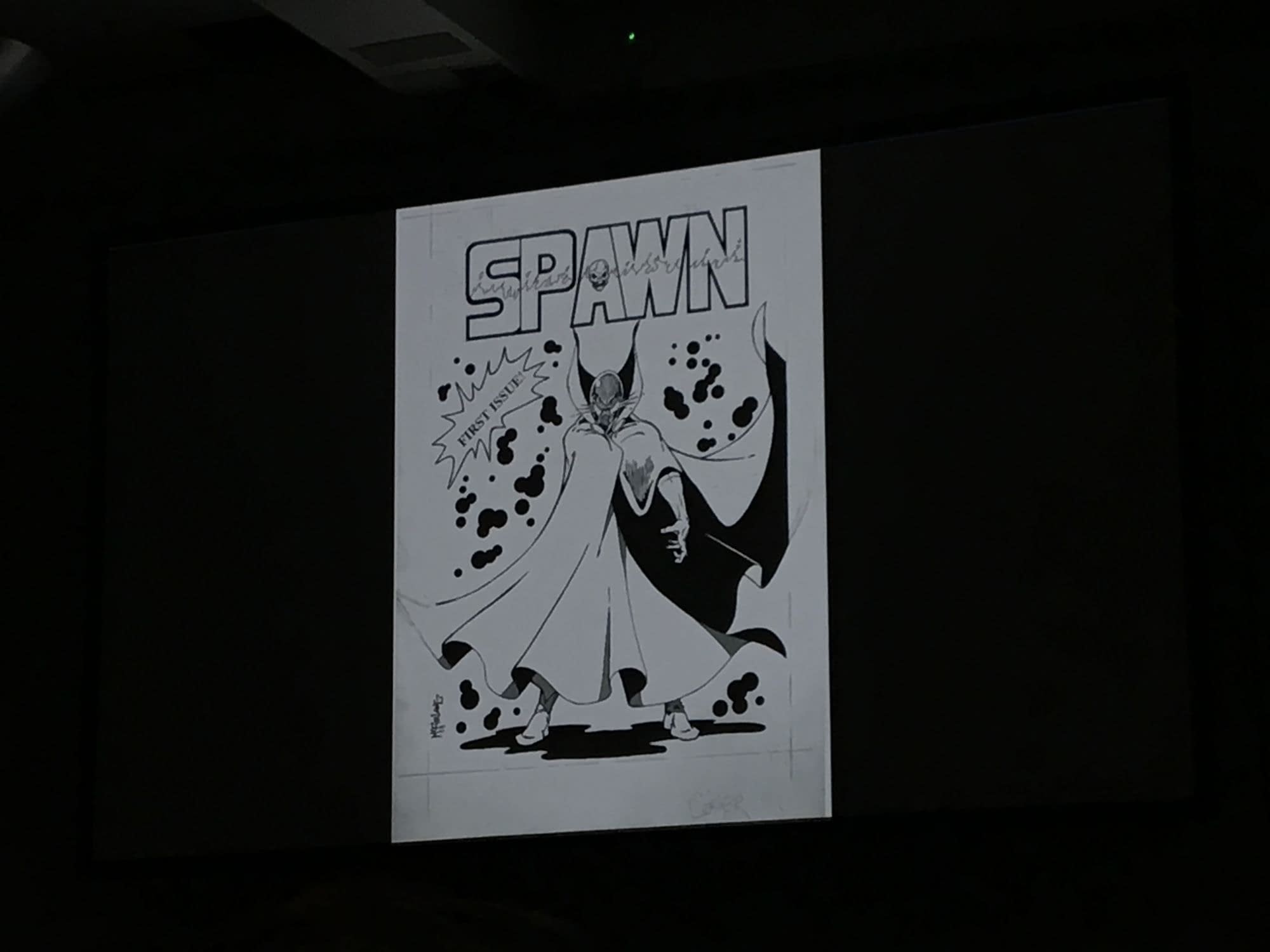 Regarding Spawn #300 itself, Greg Capullo will be doing a significant amount of artwork for it. Jerome Opeña will be doing a few pages as well, one of which was on display, filled with a variety of characters. McFarlane remarked that "I know he's young, I'd never put 8 people on a single page."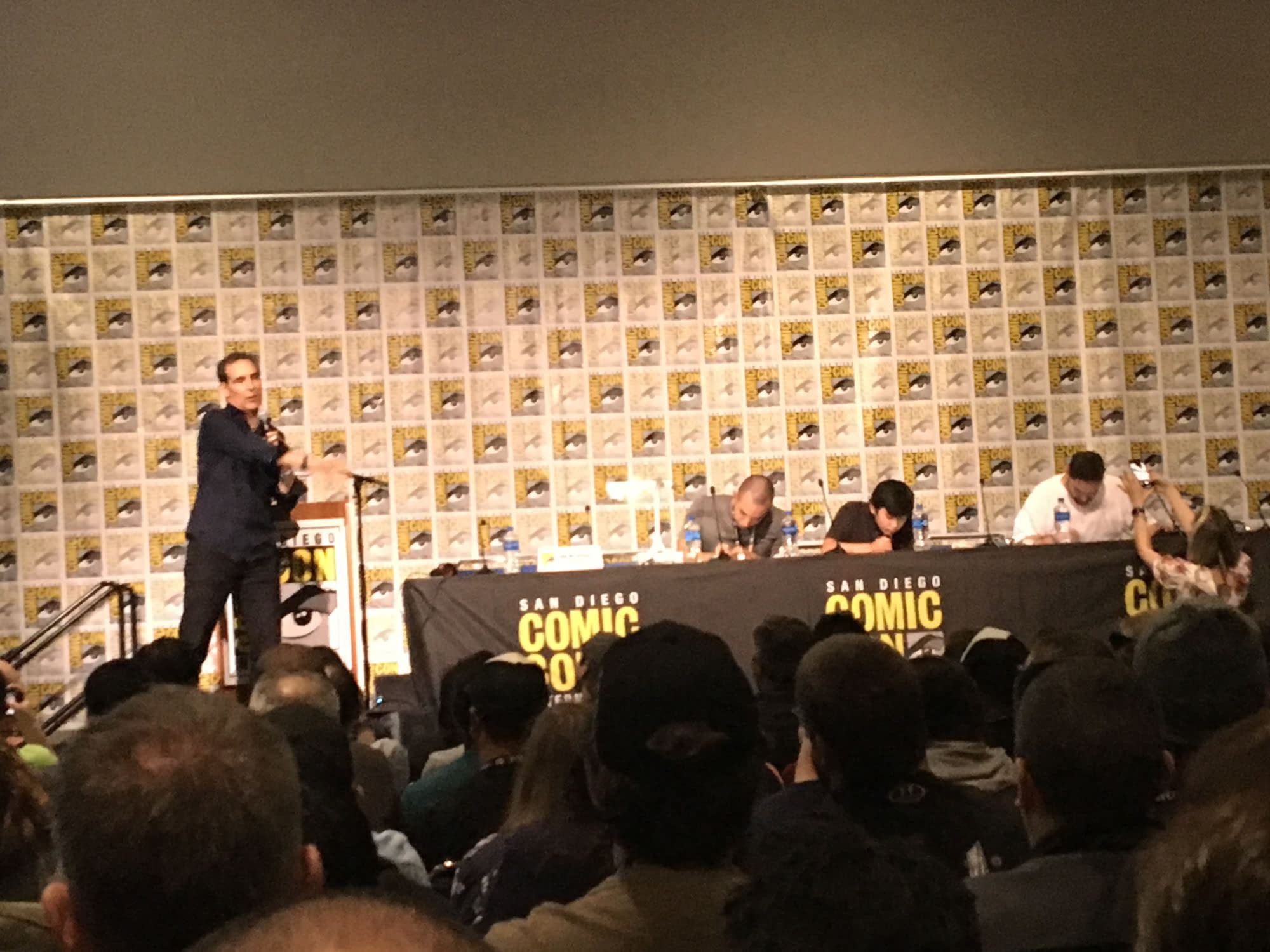 McFarlane was only ever fired from one job and it was Marvel's GI Joe comic because Larry Hama and he didn't gel. He said it was a relief because Hama kept having him redraw everything. He immediately got Batman Year 2, one issue of which made him an inker. It is "awful" but he has to do it because he could not let anyone ink his work anymore.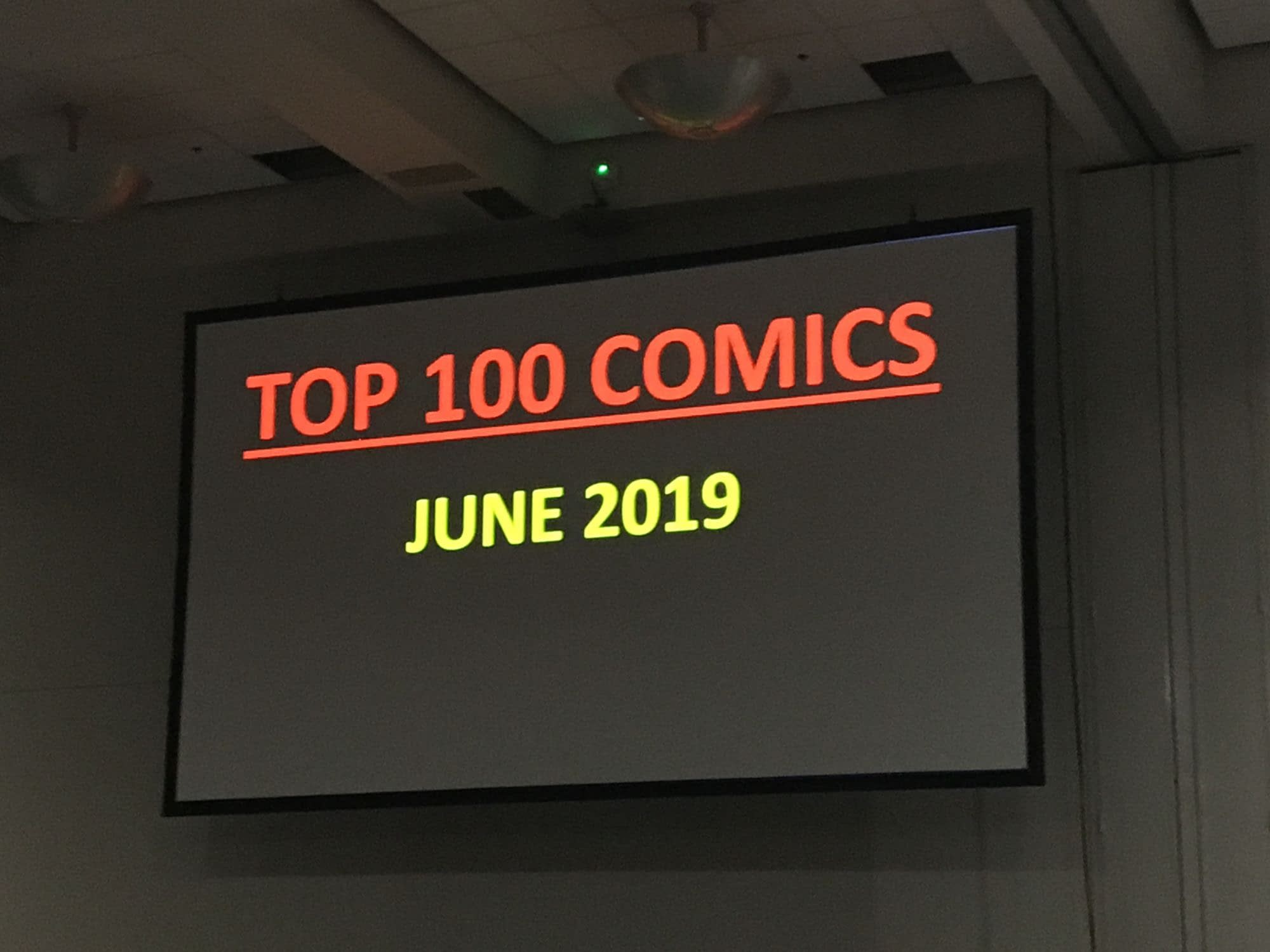 The thing he is most disappointed in by the modern comics industry is that everyone now tends to work from full scripts, something he has never done. He believes that artists need to tell a story and used the analogy that the scriptwriter on a movie should not be telling the director where the camera goes. Best thing he's seen is that there is so much new talent and that it is much easier to find.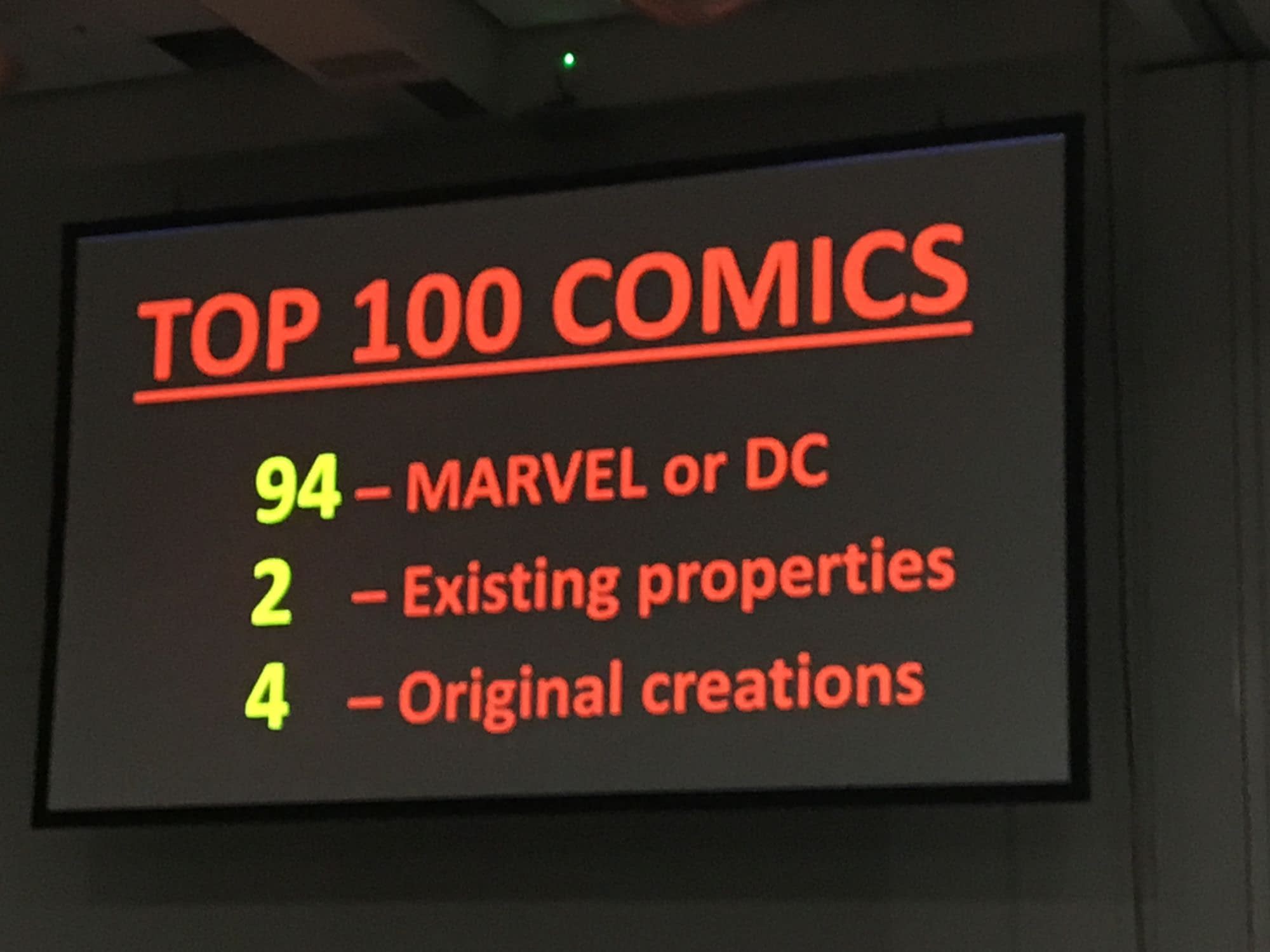 Looking ahead, McFarlane claims that Spawn will never stop and that "if it'll be one issue then I'll sell it to my Mom." He does not care for the film industry. He likes to make a book each month and toys as often as he can and does not understand how someone can operate in a business where one film is only made every few years. Every company he has founded has been with his money so that he is in charge of the creative decisions.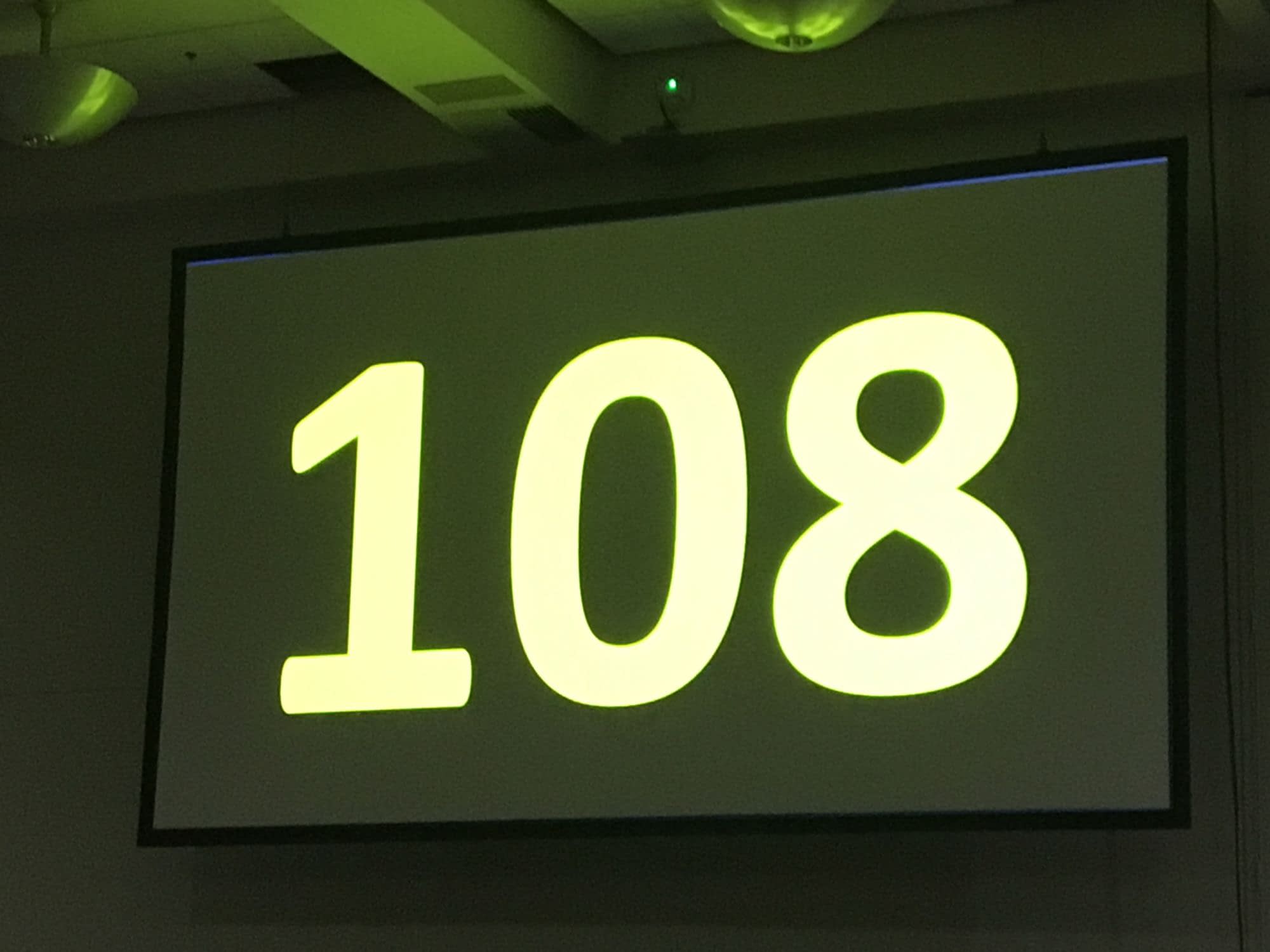 For the new Spawn film he admits that he needs other people's money and, as a result, he needs to meet their expectations. He assures everyone that it will get done even if he has to crowdfund it. He would prefer to have 20 million people give him $1. At this the audience began clapping but McFarlane did not stop talking. As the panel came to a close at least one fan approached the front and gave him a dollar which he proudly waved at the exiting fans.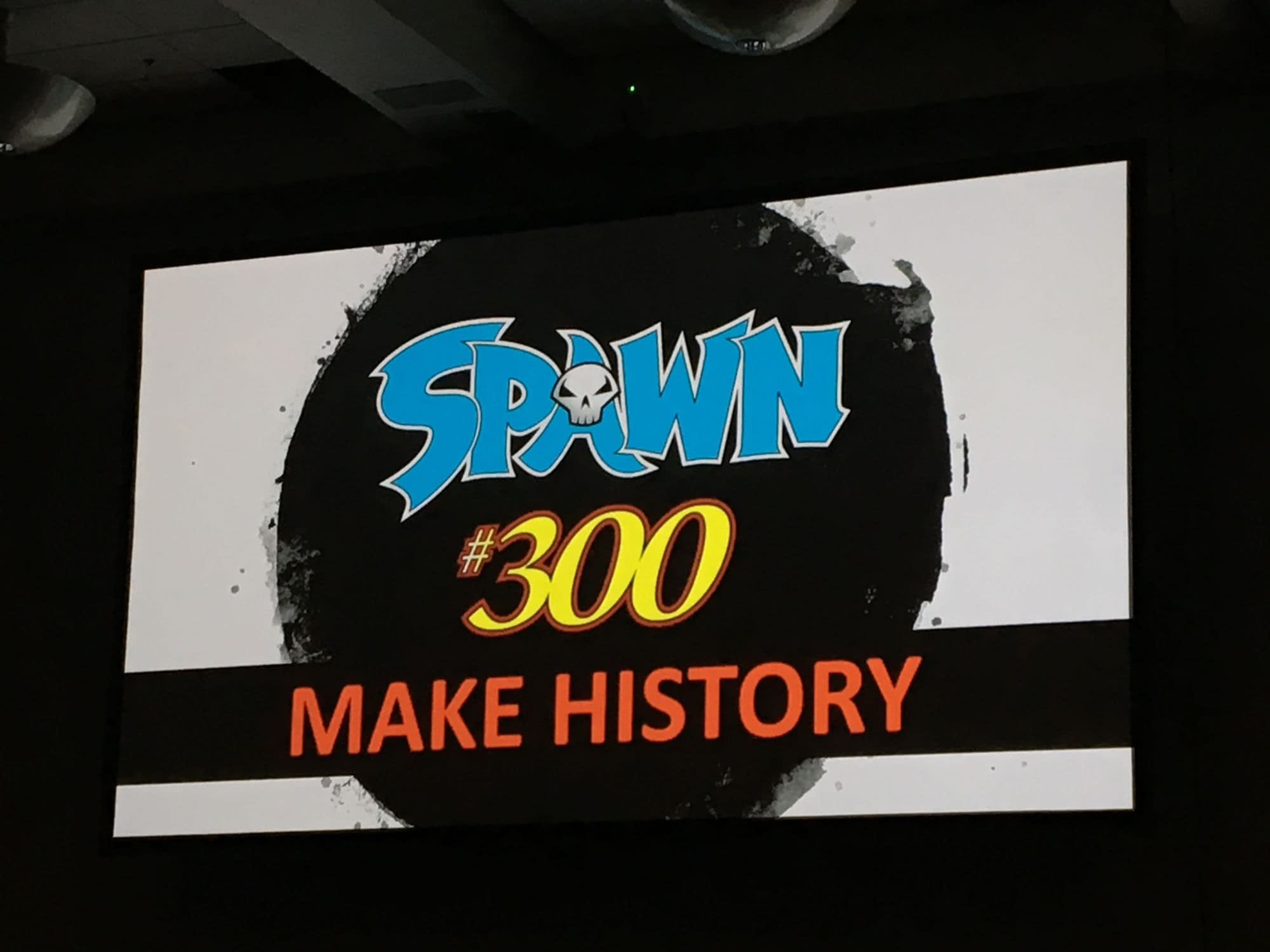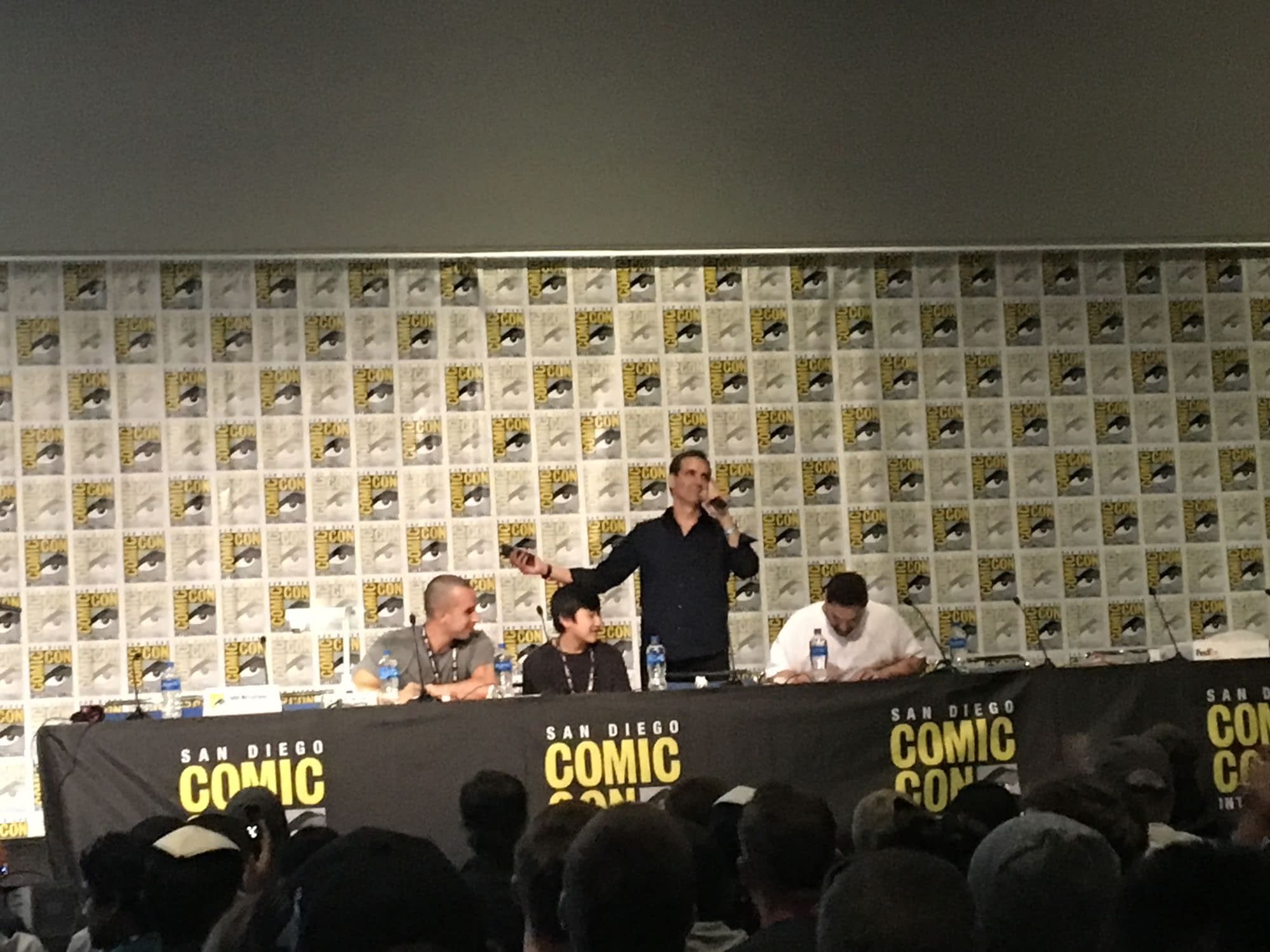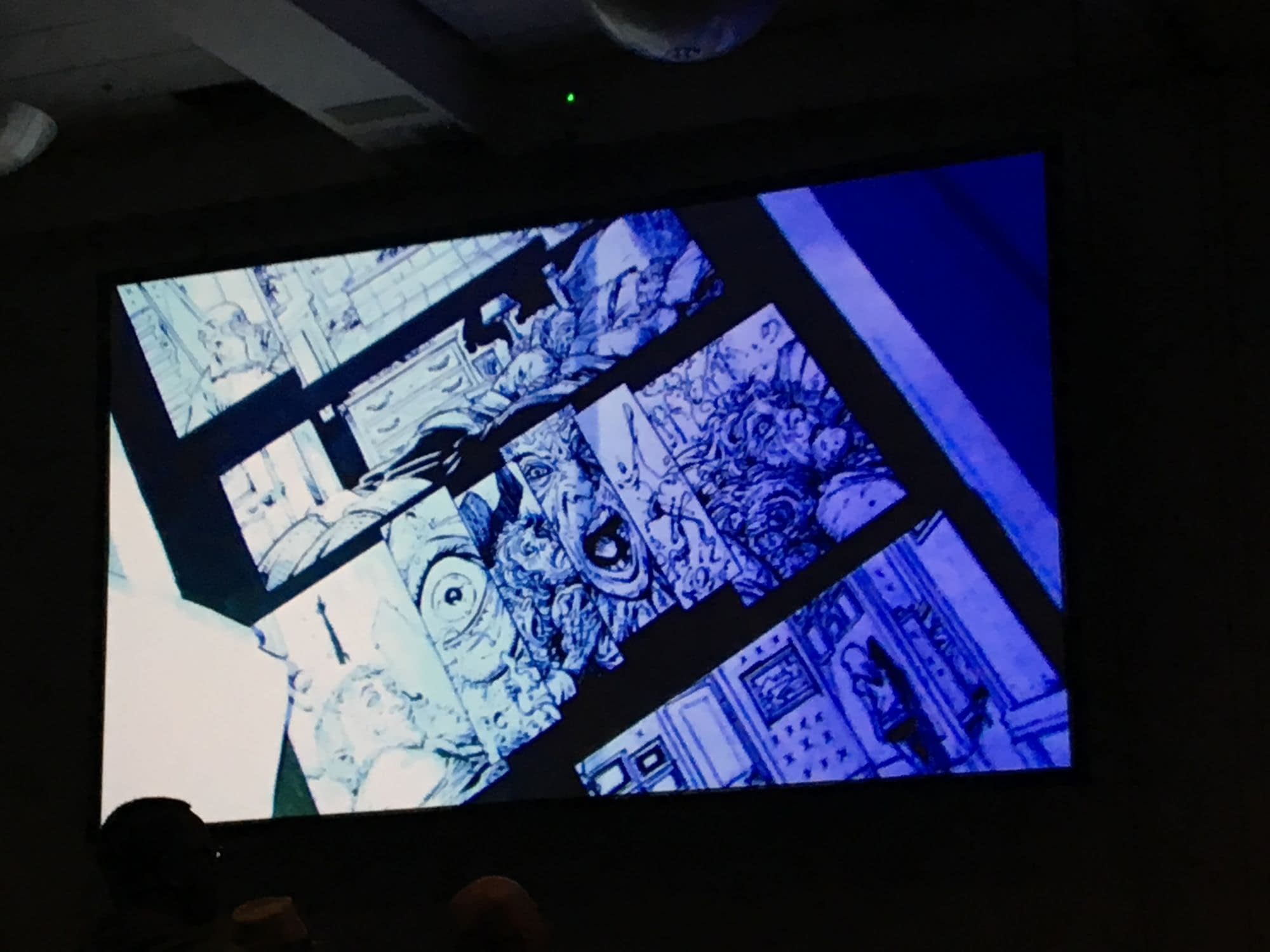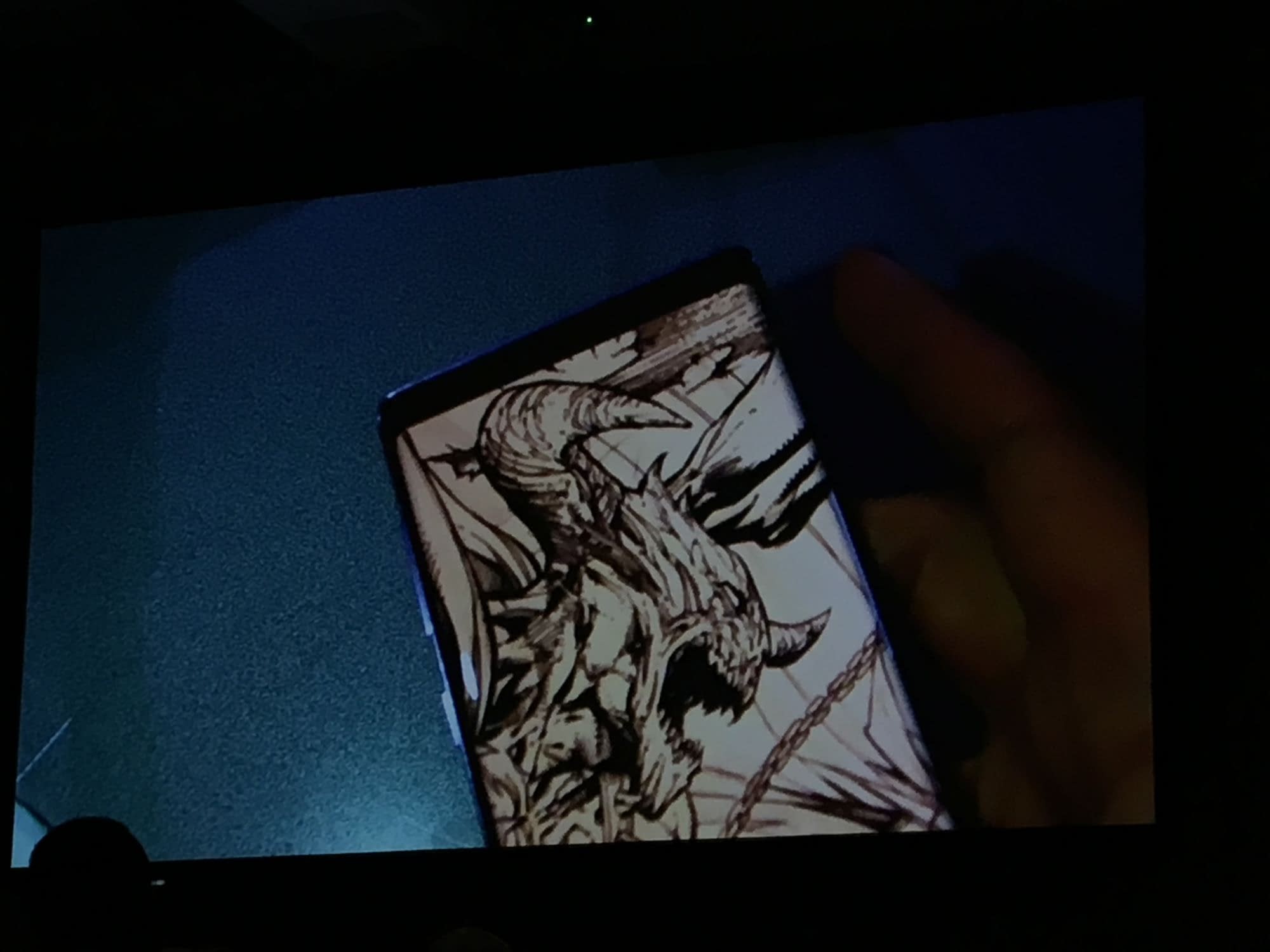 Enjoyed this article? Share it!