"The Size of the Audience is the Largest Issue Anyone Will Face" – Innovation at the Indie Comics Industry Panel at NYCC
Friday night at New York Comic Con saw the Innovation in the Indie Comics Industry Panel. Moderated by George Gustines, who writes about comics for the New York Times, panelists included Damian Wassel (Vault Comics CEO), David Hedgecock (IDW Associate Publisher), Kim Jung Gi (artist), Michael Moreci (writer, Black Star Renegades), Tom Bilyeu (Impact Theory CEO), and Tze Chun & Sebastian Girner (TKO Co-Founders). The focus of the event was to discuss how to get new fans into comics including what techniques have already worked and which have yet to be tried.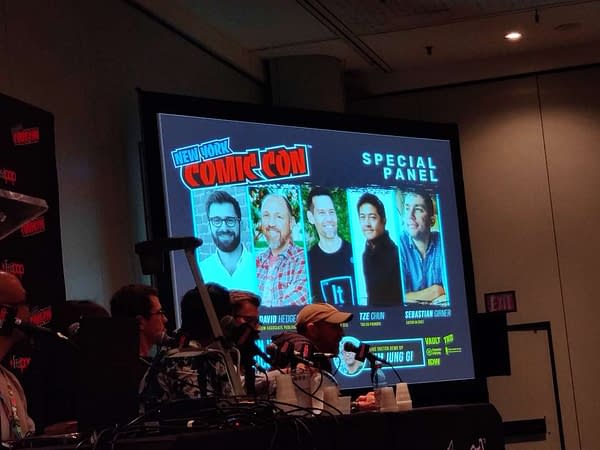 TKO Studios began the panel by introducing themselves and what they do. They launched in December 2018 and they binge release their books. They launched with four books, including Sara by Garth Ennis and Steve Epting. All six issues were available at once in print, digital, and trade. The first issue of each of their series was available for free on their website. TKO is outside of Diamond and ship their own books directly to retailers. They are looking to "modernize the comic reading experience."
Vault was founded by Wassel and his brother in 2016, looking to replicate the success of imprints such as Vertigo with sci-fi and fantasy stories. They believe that the "critical component of reaching a new audience is to solve the access problem." He added that he believes that everyone on this panel thinks that that is the "critical next step for this industry."
Hedgecock sees IDW as a "20-year start-up" and that even though their company is a Diamond premiere publisher he understands that there are problems with ways the product gets to fans and that he believes innovation is key to solving them.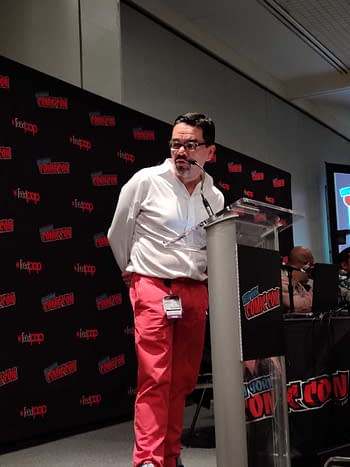 Moreci recently had a "surprise release" of his new title, Hexagon, with the first issue launching at NYCC. He also "does an indie comic called Star Wars."
Gustines asked the panel what they felt the largest issue facing the comic industry was. One panelist mentioned that "the size of the audience is the largest issue anyone will face… if you had a rabid fanbase and just a distribution problem then it would be relatively easy to overcome." He added that he believed that a flaw in the distribution model is restricting new growth.
He continued that "This happened in the nineties… Two lost generations of readers were lost because they were never introduced to comics as kids, instead the publishers marketed more and more toward the market that was already there, those that would age up and age out. Now there is nothing in this industry to compete with current technologies." As an example of how things could be better, he finished with "It is not like this in Japan. You can walk down any street in any city and every corner has a manga shop."
TKO has the infrastructure to provide directly to consumers and retailers. They heard the complaints about Diamond and decided they wanted no part of that. An important aspect to providing the best service is to understand what consumer needs are not being serviced. Superhero stories are being well serviced by Marvel and DC.
TKO releases all six issues of their arc in single issues, in a "nice box that looks good on a shelf… to appeal to those fans of the graphic design of comics" but also releases the collected editions at the same time because they do not want people to have to wait. They have found that they sell about 50/50 between the two formats. They talked heavily amongst themselves about "what we could do differently until we were doing everything differently." With every decision they made they asked if it was "good for the creators, for the fans, and for the comics."
Wassel added that they are facing "a marketing problem, not a sales problem… It is conceptual, not infrastructural. Since the Comic Code did it's thing, we have had this partition between books and comics. Anyone on the street will read a book but most will never read a comic. The fight we have as an industry, and as publishers, is that comics are just books. There are different formal elements on the page but it is the same experience. Comics are not a genre, they're a format."
Gustines asked whether the price of comics might have something to do with the issues they are discussing. Hedgecock said that comics are unique because they are physical periodicals, something a fan can take pride in owning. Competing with streaming services of TV and movies does not make sense and therefore reducing the price would not necessarily help, it has to be about the experience.
Impact Theory believes that everyone has to "acknowledge the power of imprinting." The current comics are not in a format that kids resonate with, unlike manga, which also has simpler stories. Bilyeu said that everyone must read One Piece as it speaks to both adults and kids simultaneously. Stories such as this will get them at the "age of imprint." He thinks in terms of decades, adding "it will take twenty years to turn this around by raising kids to be into comics." Scholastic was cited as having done this with some of the most successful, in terms of numbers sold, comics of the past year.
Moreci mentioned that he has noticed a fundamental difference between bookstores and comic stores. A book store may not carry the exact title that you are looking for but they will absolutely have something in the same genre, they can sell you something else you might like. This is not the case with comic stores that more often than not have a more limited range with what is in stock and what they can offer in place of a specific title that a customer may ask for.
Gustines asked where each panelist wants their company to be in five years. Impact Theory is committed to marketing to kids and then aging up with them. One way to do this would be to find manga artists who can sell product in the West since many children here are already used to the style of anime. These people may come from the existing manga industry but either way the focus will be on children more than selling comics to the older, more established crowd.
Hedgecock would like IDW to move away from licensing work and toward more creator-owned work. They are number four in terms of size but not content with that. Want to be higher up that list.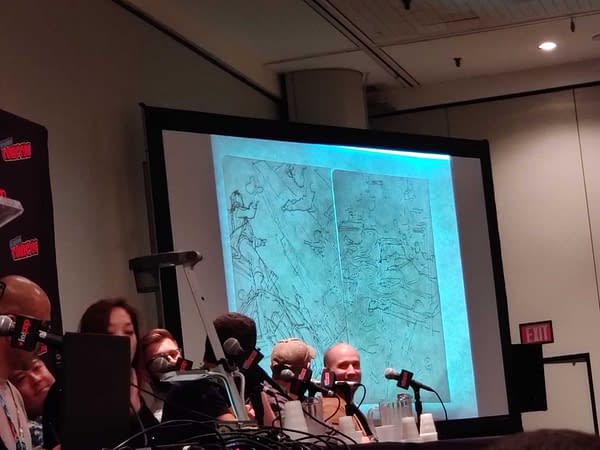 Kim Jung Gi then did a live sketch session for the room. He spoke, via an interpreter, about working with Impact Theory. He did some design work for Steve Aoki's new comic from Impact Theory. Bilyeu added that at dinner with Gi he drew an intricate masterpiece on a paper tablecloth around an inadvertent drop of water. It is still hanging in his office.
An attendee asked about the best way to break into comics. One panelist said that that is different for each person but that the key is to never stop producing, Another added as long as you have the ability to make someone money you will always have a job. Hedgecock added that writer Jim Zub, a ten-year industry veteran, does not yet believe that he has broken in.
Additional reporting by Tanveer Kalo.