Tom Taylor Names Polar Bear After Gail Simone In Superman Annual
Recently, Gail Simone discovered that in the Titans TV show, the character of Barbara Gordon had been given the middle name of Gail in tribute to her work and dedication to the character. Well, it looks like Tom Taylor also wants to play. In the Superman: Son Of Kal-El 2021 Annual published today, we meet a very personable polar bear in the Arctic Circle, on Jon Kent's way to the Fortress Of Solitude.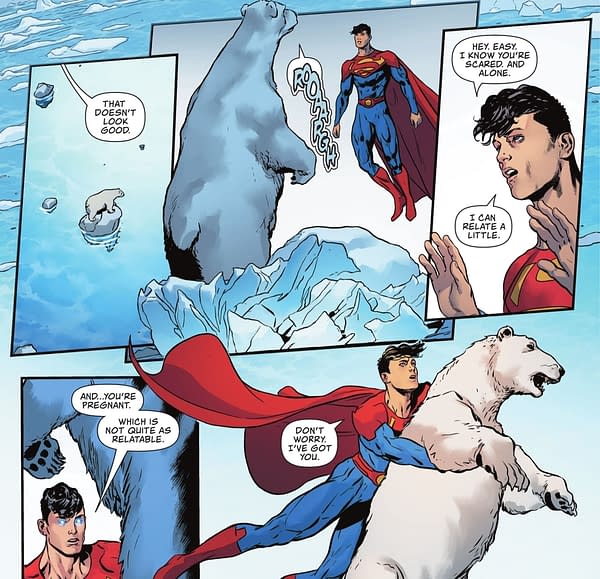 And naturally, Jon Kent, son of Clark Kent and Lois Lane, wants to stop and help all living creatures, even before discovering that this polar bear is in the family way.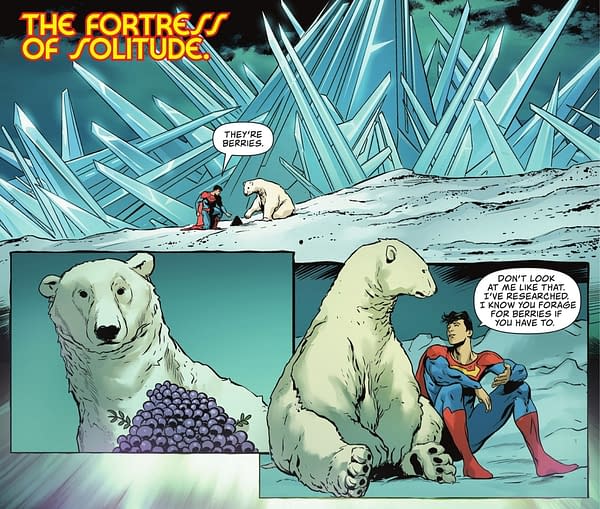 As we later discover in the comic book, Jon Kent is really good at researching. He doesn't even need the internet to do it, he's just very, very fast. So meeting up with the Artificial Intelligent version of his father, a bit like Jor-El's own ghostly image for Clark, Tom Taylor gets to name the polar bear. Or rather, Jon Kent does. And hey, you read the headline of the article.
Yeah, like that's a coincidence. When this was pointed out to Gail Simone on Twitter today, she replied "I am putting @TomTaylorMade in my next comic as a lump of kangaroo slobber." We look forward to said appearance.
SUPERMAN SON OF KAL-EL 2021 ANNUAL #1 (ONE SHOT) CVR A JOHN TIMMS
(W) Tom Taylor (A) Steve Pugh (CA) John Timms
Jon Kent's first days as Earth's new Superman have been a trial by fire. His actions have already put those he loves in harm's way. He has stood strong in the path of constant attacks, but the immovable object is about to meet an unstoppable force. Lex Luthor—the man, the myth, the menace—returns to Metropolis.
Retail: $5.99 In-Store Date: 12/7/2021