Last week ended May well for comic book stores. Batman: Last Knight On Earth #1, Doomsday Clock #10 and Heroes In Crisis #9 followed by Detective Comics Annual #2, Amazing Spider-Man #22, Superman: Leviathan Rising #1 and Immortal Hulk #16 backing them up.
But the first week in June isn't a slouch either.
Tomorrow will see The Walking Dead #192 hit and hit big. It will have Batman #72 which will detail everything that has been happening in the Batman run by Tom King and friends to date. Just in case you didn't get what was going on. And then Justice League #25, the double-sized conclusion to the Sixth Dimension storyline and how it feeds into DC's Year Of The Villain as that kicks off and the League get a new member. There's the second issue of DCeased. Oh, and Green Lantern has a new issue from Grant Morrison and Liam Sharp and that's doing really well as well.
The Green Lantern has actually picked up extra readers recently, a few issues into its run, which is amazing! It's DC's top-selling title after Batman and the big event titles, so thank you from myself, Grant and the team! We're glad you're enjoying it as much as we are! 🍻🍻

— Liam 'Sharpy' Sharp (@LiamRSharp) June 1, 2019
But it's not just DC Comics (though it mostly is). There's a new War Of The Realms #5 from the main book – you know, the one that sells, a Savage Avengers #2 and even a little Uncanny action ahead of Hickman's relaunch. There's the Black Cat relaunch, the reunion of Peter David and Dale Keown on Hulk and a Luke Skywalker #1.
Throw in the launch of the DIE trade paperback, the launch of Thumbs and a new Paper Girls from Image.. oh, and the Minecraft original graphic novel from Dark Horse Comics… and maybe Buffy #5.
Batten down the hatches retailers, and appreciate the big weeks as they come around…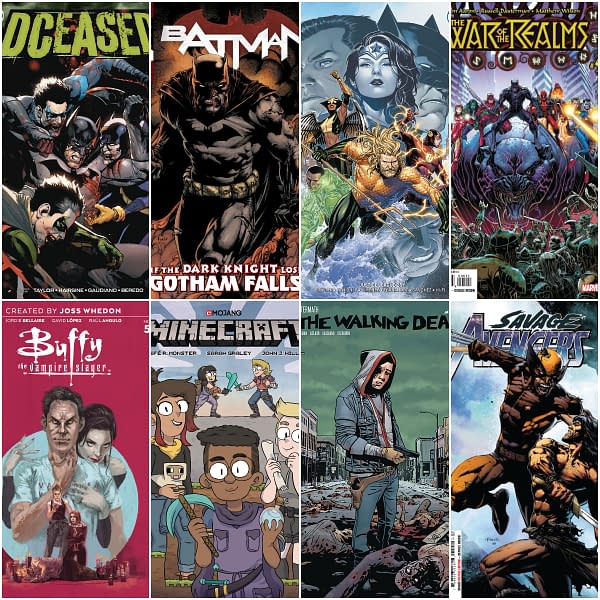 Enjoyed this article? Share it!