The University of South Carolina has received a donation of 180,000 comics and books from a comics collector, Gary Watson, a nurse from Columbus, Ohio. A collection that began after buying a Zorro comic in 1958 when he was eight years old.
Sci-fi illustrator Chris Foss and comic book store owner was drafted in to look through the hundreds of boxes shipped to Columbia on two with two 26-foot-long moving trucks and valued at $2.5 million.
Watson told the local Post And Courier that he is "kinda glad" to let go of his comics so they can be organized in a way that he never had time to complete and is pleased that someone else can take care of them.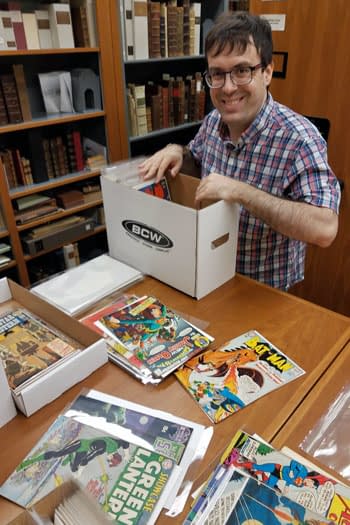 The collection, includes the first issues of Avengers, Justice League, X-Men, Iron Man, Spider-Man and the Hulk, Brave and the Bold #28, Star Trek #1, Showcase #22 as well as Golden Age comics from the 1930s through the 1950s as well as Mutt and Jeff books from the early 20th century.
Only a fifth of the collection has so far been catalogued. Some of the collection's most notable comics will be put on display at the college's Thomas Cooper Library from late August.
Elizabeth Sudduth, associate dean of special collections at University Libraries says "This is such a phenomenal, transformational gift. This is the work of a committed, lifelong collector. We could have never amassed a collection like this on our own. We are so grateful to Gary for entrusting his amazing collection with the Irvin Department."
USC English professor Mark Minett who teaches courses on comics studies at the college stated that "you get to see the historical basis for these properties and see what a comic book looked like in the 1960s."
While Qiana Whitted, a professor in English and African American studies who specializes in comic books says "this gives us an idea of what people were thinking and doing back then. This was a primary form of entertainment for many people. It was a portable, cheap form of entertainment. I think it's worthy of study."
They state that comics also provide a window into past views on politics, gender and race, and modern-day reprints generally don't include advertisements and editorial copy included in the originals, professors say.
Watson retired in 2010, with a collection in his home, garage and three full storage units, but didn't want it to be broken up. An ad posted by a friend on a booksellers email list got the attention of the University, who took a trip to Ohio to see it for themselves…
Enjoyed this article? Share it!