Vault Comics has announced a special series of limited run incentive variant covers for the launch of their two newest series, Wasted Space and Deep Roots. But Vault is doing this a bit differently…
Unlike other incentive variants, Vault will be shipping these to retailers directly, for free. And not through Diamond Comic Distributors.
To qualify, retailers who increase their order these to 10 copies of either series will be shipped 1 copy of the rare cover, while retailers who increase their orders to 20 copies will receive 3 copies of the free incentive cover. Only the first 500 retailers who sign up will qualify.
Since these won't be distributed through Diamond, all Vault is asking is for retailers to take a screen capture or photo of their increased order and submit it to a special website they built.
Wasted Space is the new creator-owned series from Michael Moreci and Hayden Sherman, which Vault refers to as "like throwing Star Wars, Preacher, the work of Philip K. Dick, and a fifth of whiskey into a blender."
Deep Roots is the creator-owned series from Dan Watters and Val Rodrigues, that Bleeding Cool told you about recently. It's been likened to "Alan Moore's Swamp Thing meets Warren Ellis' Planetary." Both of these series hit store shelves this April.
WASTED SPACE #1 INCENTIVE COVER BY NATHAN GOODEN (Powerless, Zojaqan):
DEEP ROOTS #1 INCENTIVE COVER BY CASPAR WIJNGAARD (Angelic, Limbo):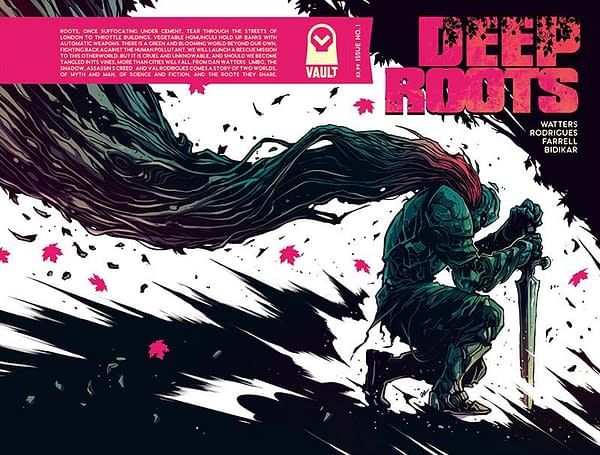 Enjoyed this article? Share it!