Vicious Magpie Creatures Attack in 'Punks Not Dead: London Calling' #2 (REVIEW)
[rwp_box_recap id="0"]
There is a two-page spread early on in issue 2 of Punks Not Dead: London Calling that took my breath away: '60s era mod super-spy Dorothy Culpepper is staring out of the wreckage of London- the city ablaze, chunky blocks of devastation littering the landscape.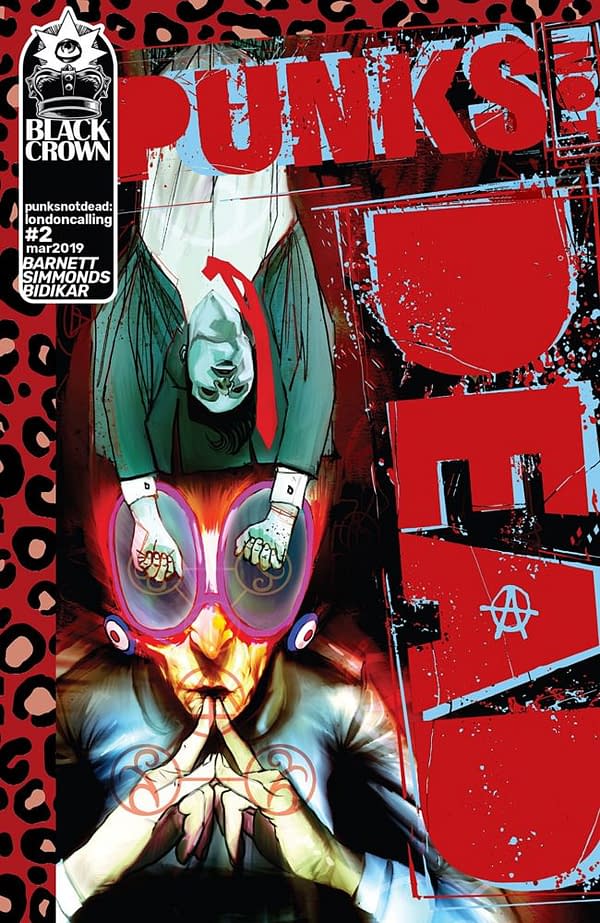 It's a scene so visceral, yet so simple, that I've had to go back and study it a couple of times. The line work from Martin Simmonds is minimal; little blocks and jagged lines making up the city, almost as if rendered with an Etch-a-Sketch and then dusted with the vibrant hues of Armageddon.
The whole book is like this, often times bare-bones lines broken up with livid, angry fuchsias and sherbets. Dorothy's face is a study in expression, each and every liver-spot a supporting character in her portrayal.
It's a really pretty book, I think that's what I'm trying to say.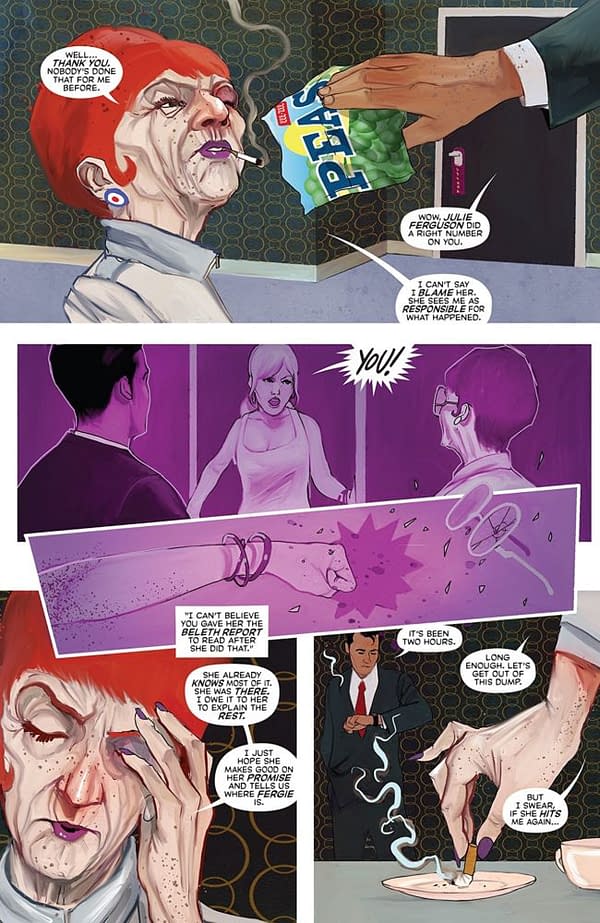 There's some really interesting thematic choices, too. Towards the end of this issue, there's a scene that starts out rather graphic, then turns red and starts to spool out and disintegrate, like an old film melting in an ancient projector. It's a neat way to get the point across without lingering on the horror of the situation, and it's handled brilliantly.
David Barnett's script is no slouch, either. Feargal Ferguson and his pet ghost, the assumed specter of The Sex Pistol's Sid Vicious and their psychedelic road trip to suss out the location of Feargal's dad has plenty of twists and turns, complicated all the more by a pack of freaky magpie creatures that are hunting them.
Fergie's journey includes plenty of other potential menace, too, some more mundane than others. There's a bloodthirsty serial killer trying to find him, and then there's Dorothy Culpepper, who wants to track Fergie down before he triggers the apocalypse.
Punks Not Dead: London calling is a really cool book, with a vibe and energy all its own. Highly recommended for peeps who want to read a comic that marches to its own beat. Strongly suggested for mature audiences due to profanity, graphic violence, and mature themes.
SUMMARY: Script: David Barnett; Art: Martin Simmonds; Color Flatting: Dee Cunniffe; Letters: Aditya Bidikar; Editor: Shelly Bond; Publisher: IDW Publishing; Release Date: March 27, 2019; Cover Price: $3.99; 32 pages.
[rwp-review-ratings id="0"]
[rwp-review-form id="0"]