Why Would Anyone Believe Wally West is Really Dead in Flash Annual #2 (Spoilers)
Bleeding Cool has pointed out the strange DC Universe incongruity that everyone seemed to notice that Heroes In Crisis saw Roy Harper die over in Green Arrow and Titans. But, no one even mentioned the departed Wally West. Not in Flash, not in Titans, nothing.
Well, today the Flash book catches up with Heroes In Crisis in Flash Annual #2, with Barry Allen telling everyone the bad news.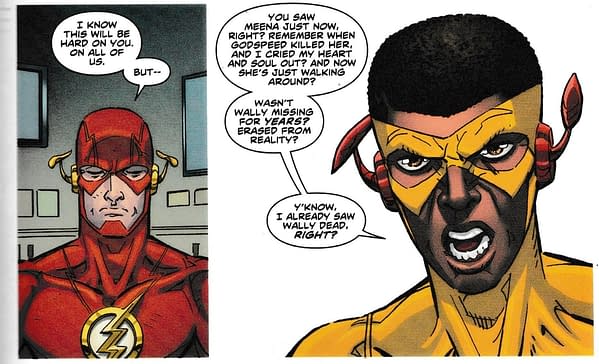 But why would anyone believe it? This is a superhero comic. And this is another Wally West wondering why the first Wally West can't also return. I mean, he has a point.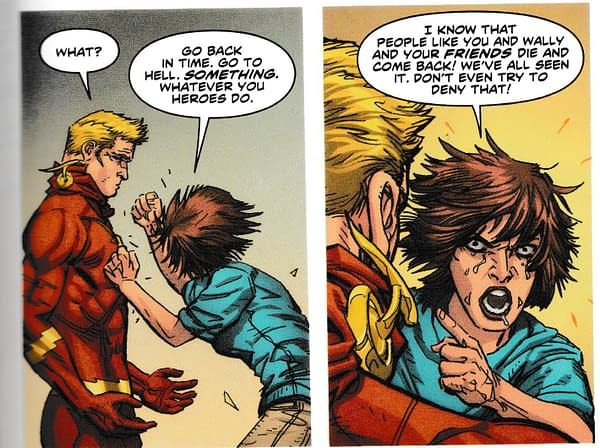 As does Iris West. It does seem a waste to bring him back from the dead only to kill him off again so soon. And over in today's Teen Titans Annual, also discussing the events of Heroes In Crisis…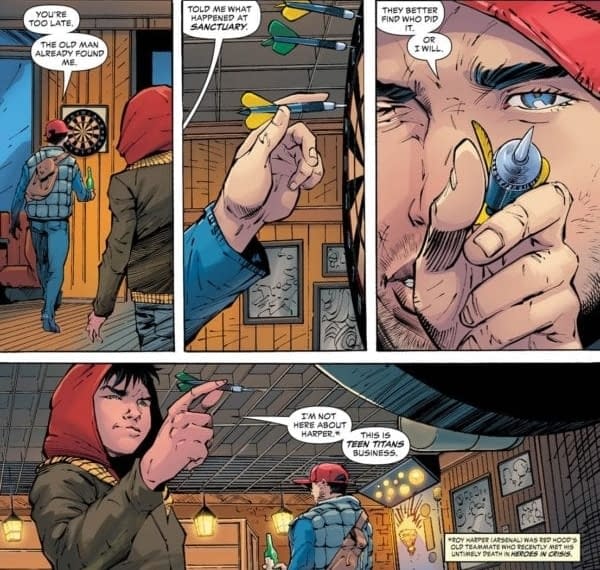 …Jason Todd reflects that attitude with Damian Wayne.

Of course, Bleeding Cool still hears there are other plans for Wally West – and today's Heroes In Crisis #5 suggests all is not what it seems with Wally…
TEEN TITANS ANNUAL #1
(W) Adam Glass (A) Ryan Benjamin (CA) Giuseppe Camuncoli, Cam Smith
Betrayed by the Red Hood, Damian hunts down Jason Todd and vows vengeance-or death! Meanwhile, Djinn and the rest of the Titans battle one of the Other's closest allies-Joy Stick! (Making his DCU debut from the Teen Titans Go! universe.) But when Control Freak learns all of Djinn's most dangerous secrets, Djinn will do anything to keep the Teen Titans from finding out the truth! In Shops: Jan 30, 2019 SRP: $4.99

FLASH ANNUAL #2
(W) Joshua Williamson (A/CA) Scott Kolins
A HEROES IN CRISIS tie-in! In Barry's grief and guilt following Wally West's death at Sanctuary, he refuses to divulge the heartbreaking news to the rest of the Flash family until he's searched every corner of the globe for his former partner- including inside the Speed Force itself. But his journey into the heart of all speedster powers inadvertently triggers the release of his long-lost ally Godspeed! And when Godspeed immediately races off to attack Kid Flash Wallace West, Barry must hunt his former friend and check in on his fellow speedsters. What is Godspeed planning and what does he want with the rest of the Flash Family? Can Barry protect everyone after he couldn't save Wally? With a heart-wrenching appearance from Wally's former sidekick, the recently returned Bart Allen, this annual is an absolute can't-miss for all Flash fans! In Shops: Jan 30, 2019 SRP: $4.99