Will Romine writes from Baltimore Comic Con for Bleeding Cool. Spot him below…
Today was the first day of Baltimore Comic Con. At the Marvel panel, Tom Brevort and Mark Waid showcased the Marvel Now! offerings coming in the next couple of months.
This article isn't about that.
Instead I want to cover what else happened in that panel. Convention officials could not get the projection system to cooperate . It was not until long time Bleeding Cool friend Mark Waid offered up his personal iPad that they could show slides of upcoming cover art. After then slideshow, something interesting happened: we got a candid look at Mark Waid's recent digital comics purchases.
I managed to get a quick, but blurry snapshot with my iPad right before they took it down. Among the titles shown were Animal Man, Batwing, Phantom Stranger, and Swamp Thing. Though they sign his paychecks, it seems that Mark Waid doesn't "make his Marvel." After seeing his digital pull list made public, he immediately told the audience that Phantom Stranger was one of the worst comics he had ever read. At the end of the panel, he retracted his statement saying that he had "meant it as a joke" and that ultimately it was a "dick move.".
I'm keen to take Mr. Waid at his word, but in a business where competitors rise and fall together, remarks like those produce a net harm to the comic book industry. Industry professionals must focus first on getting customers into the comic book shop, and second on promoting their own lines. Only in this way can the industry as a whole expand and bring in fresh readership.
Rich adds…Dan DiDio, apparently, was most amused.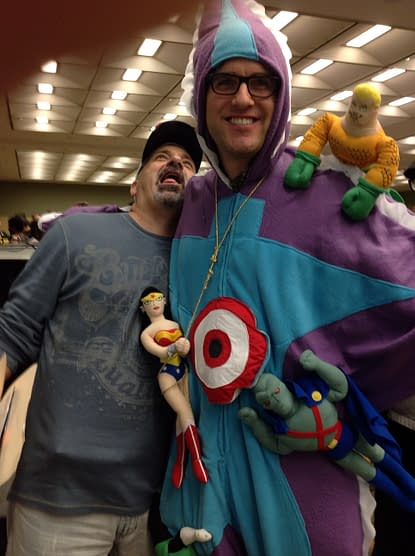 UPDATE: Dan Slott tweets;
"Something you should know about your latest BC piece. Marvel writers don't HAVE to DL Marvel books. We get them emailed to us."
Enjoyed this article? Share it!