Dynamite is launching a Kickstarter to fund a 100 Years of Dejah Thoris deluxe trading card set.
Features their artist's portrayals of the Princess of Mars, including Joe Jusko, Joseph Michael Linsner, Jae Lee, David Finch and Mel Rubi. 
Each foil pack includes 7 total cards split up between high-quality full colour base cards, sketch cards, black and white line art cards, puzzle cards and signature cards. These deluxe packs will eventually retail for upwards of $100, but are available now on Kickstarter for only $65 (without even counting all the bonuses available).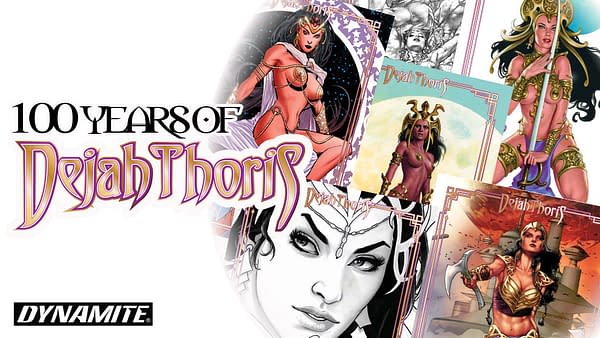 Just one thing. It is 2018. The cards will be published in 2019.
Dejah Thoris appeared in 1912, in Under the Moons of Mars by Edgar Rice Burroughs in the pulp magazine The All-Story, running from February to July of that year. After the success of Tarzan, Burrough's earlier work was collected and published in 1917 with a hardcover in the October of that year, renaming the book A Princess of Mars.
Is it too late to call the project 107 Years of Dejah Thoris Collectible Sketch Cards for its publication in 2019? Or is this just nit-picking?
Enjoyed this article? Share it!