What the Daily Planet Think About 'Cuck Kent' in Action Comics #1012…
Last October, Bleeding Cool got a peek at the script of then-upcoming Action Comics #1004 story by Brian Bendis and Ryan Sook. One in which Lois Lane gives Superman a big public kiss.
At the time, we wrote;
This might tie in with a suggestion we gave that Lois Lane is going to tell the world that rather than being Clark Kent's wife, she is actually Superman's girlfriend and that Jonathan Kent is actually Superman's son, allowing Jonathan Kent to act openly as Superboy.

Apologies for the use of unpleasant parlance, but Lois Lane is going to make a cuckold out of Clark Kent with Superman. Even though they will still be together. Lois will live with Superman and work at the Planet with Clark. Who everyone will now feel utterly sorry for…
Well, any such revelation about Lois Lane and Superman did not happen. Or at least, has not happened yet. But as for the 'Cuck Kent' concept… in today's Action Comics #1012 by Bendis, Syzmon Kudranski and Brad Anderson, it appears to be in full flow, with Planet staffers Robinson Goode and Trish Q.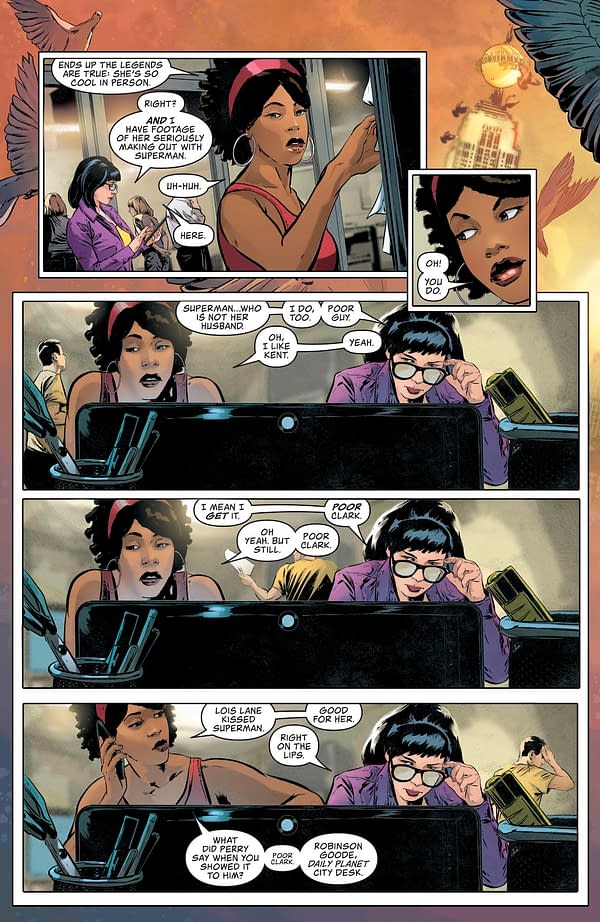 Is he going to be 'poor Clark' forever now? Or is something going to burst? Or will he content himself with the reality of the situation?

ACTION COMICS #1012

(W) Brian Michael Bendis (A) Szymon Kudranski (CA) Jamal Campbell
Artist Szymon Kudranski joins superstar writer Brian Michael Bendis as the attacks of Leviathan threaten targets across the globe, and the agents of the invisible mafia continue to infect Metropolis in this tie-in to EVENT LEVIATHAN!
RATED T
In Shops: Jun 26, 2019
SRP: $3.99