Whatever Happened To Donatello? – The Proof (SPOILERS) Keen readers or Bleeding Cool coverage of Teenage Mutant Ninja Turtles related stories of late will have had a head start on what was happening with the title. from the death of Donatello… to what would be coming for Free Comic Book Day.
But before this weekend hits, we get issue 45. With the medical revelation….
And those who read our Free Comic Book Day spoilerage know what is coming next. But it is not the whole story. Because while that deals with Donatello's physical state… what about is mental state.
What is his mind is… Splintered?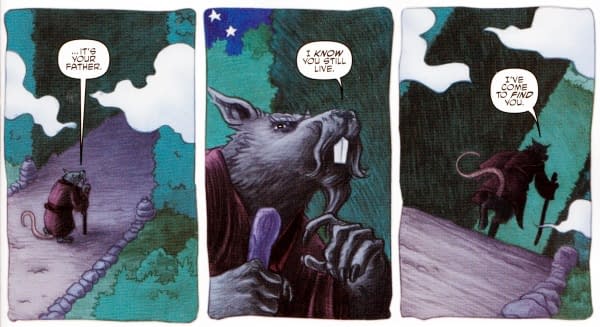 And a journey must be undertaken…

A bit of a swerve to those who were just expecting a metalhead…
Today's comics courtesy of Orbital Comics, London, launching a Music & Comics Gallery on Friday, 12 comic artists have been tasked with taking an album of their choosing, and creating a new piece of cover art for it, with proceeds going to Brain Tumour Research. And on Saturday are running a Free Comic Book Day that they say won't hand out random grab bags and won't run out by midday. Londoners know what they are getting at…