Whatever Happened to John Ridley's Other History Of The DC Universe?
In January 2018, as part of Black History Month, DC Comics held a DC in DC event at the Newseum. The highlight being their "The Many Shades of Heroism: DC Heroes Through the African-American Lens" panel which included the announcement by John Ridley of his new comic book for DC, The Other History Of The DC Universe. Ridley had recently won an Oscar for writing the movie 12 Years A Slave, and had seen his The American Way comic revived by DC Comics.
Then-DC President Diane Nelson led the event, did a little dance and invited Ridley on to announce the project. It also received the front cover of Diamond Previews for the solicitation of the first issue. But then? Nothing. No subsequent solicitations of a second issue and orders for the first were cancelled.
The Other History Of The DC Universe was intended to examine the DC mythology in a literary fashion. That it would analyze iconic DC moments and chart sociopolitical gains through the perspectives of DC superheroes who came from traditionally disenfranchised groups, including John Stewart, Extraño, Vixen, Supergirl, Katana and Rene Montoya among others. At its core, the series focuses on the lives of those behind the costumes, and their endeavours to overcome real-world issues. At the time, Ridley states "I could not be more excited by the opportunity to excavate the canon of the DC Universe through a vast array of characters who've earned their seat at the table. I'm very impressed with DC's commitment to making their history as reverent and urgent as it is engaging and entertaining for all its many fans."
The five-part series, initially lined up as part of DC's Black Label imprint, was intended to be published in January 2019, again, for Black History Month, with the first issue drawn by Alex Dos Diaz on art for the first issue, and rotating artists for subsequent issues. The series will be more illustrated prose rather than comics and the book's first issue was meant to follow Jefferson Pierce, who becomes Black Lightning, with future instalments featuring Karen and Mal Duncan, Tatsu Yamashiro, and Renee Montoya.
So what happened? It's one of a number of questions Bleeding Cool has been asking during this shutdown and yesterday we got an answer, though I don't believe it is one that will please anyone.
I am told that the original plan for the book was for this to be created as a companion book to the 1986-published History of the DC Universe limited series created by Marv Wolfman and George Pérez which was published by DC Comics following the end of Crisis on Infinite Earths. It was later collected and repackaged in 2009 with a cover by Alex Ross. As a result, DC decided the pages needed to have an 'epic' feel to them. And that when the first pages by Dos Diaz came in, DC believed they looked too much like an ordinary comic book and didn't support the text. Since then DC Comics has lined up artists they feel are more fitting to the project but they are taking their time, as epic-style artists tend to.
Maybe for Black History Month 2021? Or 2022? Here's the original solicitation.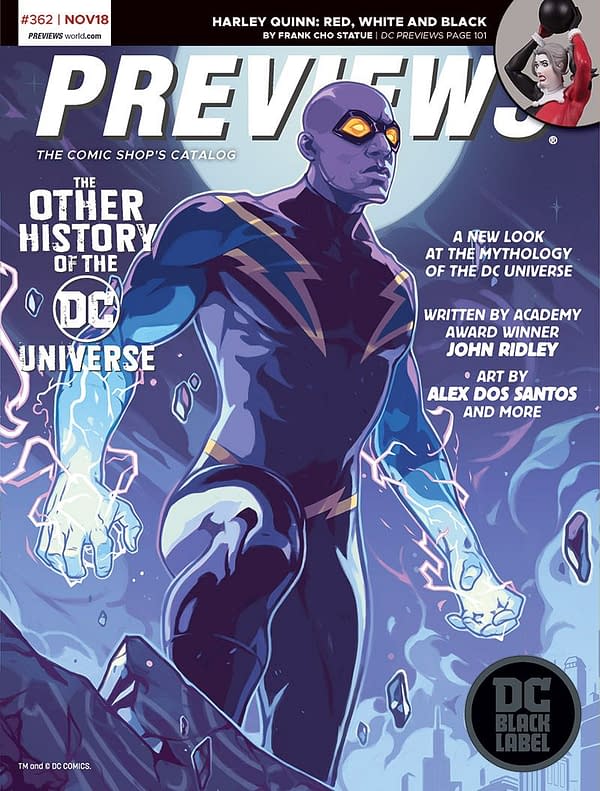 THE OTHER HISTORY OF THE DC UNIVERSE #1
Written by JOHN RIDLEY
Art and cover by ALEX DOS DIAZ
Academy Award-winning screenwriter John Ridley (12 Years a Slave, Let It Fall) examines the mythology of the DC Universe in this compelling new miniseries that reframes iconic moments of DC history and charts a previously unexplored sociopolitical thread as seen through the prism of DC Super Heroes who come from traditionally disenfranchised groups.
This unique new series presents its story as prose by Ridley married with beautifully realized color illustrations from a selection of exciting illustrators and comics artists. Alex Dos Diaz provides art for #1, which follows the story of Jefferson Pierce, the man who will one day become Black Lightning, as he makes his way from being a young track star to a teacher and, ultimately, to his role as a hero.
Future issues focus on characters such as Karen and Mal Duncan, Tatsu Yamashiro and Renee Montoya.
Extensively researched and masterfully executed, THE OTHER HISTORY OF THE DC UNIVERSE promises to be an experience unlike any other. You may think you know the history of the DC Universe…but the truth is far more complex. THE OTHER HISTORY OF THE DC UNIVERSE isn't about saving the world—it's about having the strength to simply be who you are.
PRESTIGE FORMAT
ON SALE 01.30.19
$7.99 US | 1 of 5 | 64 PAGES
APPROX. 8.5" x 10.875"
FC | MATURE READERS