When Fans Become Villains For Batwoman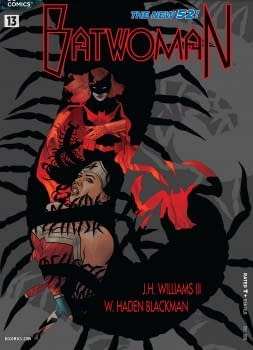 Jack Norris writes;
A new twist to recent news of the creative team changes for DC's Batwoman has developed. As discussions ranged around the web about the resignation of critically acclaimed creative team JH Williams III and WH Blackman due to last-minute editorial changes led to discussion and speculation about exactly what DC's been doing lately to cause various creators to leave projects after citing varying degrees of frustration at editorial policies it was JH Williams himself who dropped this revelation via twitter:
I've just been told that threats of violence have been issued toward individuals at DC comics. This is unacceptable. It needs to stop now.

— J.H. Williams III (@JHWilliamsIII) September 5, 2013
Williams didn't describe the nature of the threats further, but such incidents are hardly rare these days, as evidenced by threats towards creators such as anime creator Hajime Isayama (Attack on Titan) or video game developer Vonderhaar aka Vahn (Call of Duty: Black Ops 2). Nor is it anything new, comics writer Marv Wolfman, in his introduction to the trade paperback collection of the classic 1980s New Teen Titans story The Judas Contract, revealed he received a death threat over that story. It's hard to say if this behavior is becoming increasingly common with ease of electronic communication and increased ability to threaten with relative anonymity or if it's just been reported more frequently. Either way, while harassment is decried by many in geek culture circles, current levels of condemnation show no sign of actually stopping this behavior and it's likely that these recent threats against DC staffers will not be the last time we see people threatened over geek media.
That concludes the news portion of this article. Now I'm going to opinion-ate some because, man, this stuff is ridiculous.
I've personally talked to writers, designers, and creators in various creative fields who've gotten calls at their homes, threats to their kids complete with information about where their kids go to school, the ever popular rape/murder/torture threats via email, text, and twitter and more. Understandably, I won't be providing the names and contact info of those people here, but it's far from an uncommon problem when people interact with creators. Critics and journalists can suffer similar behavior as well, of course, and it's just as inappropriate.
Sometimes threatening comments are nominally tied to more constructive criticisms about a creator decision or direction, such as with the Batwoman editorial edicts that Williams and Blackman left over, but at their black little heart these threats are just harassment and assault against a creator's personal safety and that of their friends and loved ones.
Whether at attempt at silencing someone or just good old fashioned terror tactics, JH Williams III is indeed correct, it's something that needs to stop. Now.