All this talk about Harper Row… are people missing the candidate Grant Morrison is actually giving us for a replacement Robin in his own story? Ellie. We first meet her when she's a teen prostitute in Gotham during the Three Ghosts of Batman arc in Batman 664 and 665. Batman offers her a decent job possibility at WayneTech to help her get off the streets.
We then see her again in Batman 701 thanking Batman for his help after he survives his battle with Dr. Hurt. She runs into him after her new boyfriend's music gig. Progress.
Then we saw her as a receptionist in the last few issues of Inc… "Ellie-Bird." Both Jason and Dick had nicknames of Jaybird and Dickiebird over the years. Roy still calls Jason "Jaybird" in Outlaws. And wearing Robin red…
And then she was all over the last issue of Batman Inc. Playing her part in saving the day.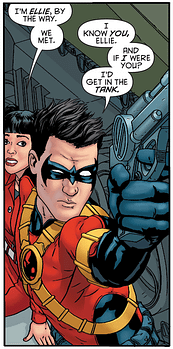 Including the last pivotal moment where she looks on at Batman holding his dead Robin with the realization Robin sacrificed his life for her.
You need more motivation than that? Of course, there's the other possibility that she's that sh's also the continuing Eternal Warrior-style version of Doom Patrol's Crazy Jane and The Invisibles' Ragged Robin… it's those cheeks. But could Grant be implanting deep within the continuity of Batman, his own continuing icon?
Enjoyed this article? Share it!