Why Deadpool is Smarter Than Reed Richards in Next Week's Spider-Man/Deadpool #49
The book that brought us the first appearance of Major X heads toward its milestone 50th issue next week when Spider-Man/Deadpool #49 hits stores, and we've got a preview you'll definitely want to check out. Not because it scoops Rob Liefeld on his own character, but because of a startling revelation revealed within.
A lot of people consider Reed Richards to be one of, if not the, smartest people in the Marvel Universe. But sometimes, despite all his book learning, Reed can be kind of stupid. He begins the preview with an open mind for a theory Deadpool has…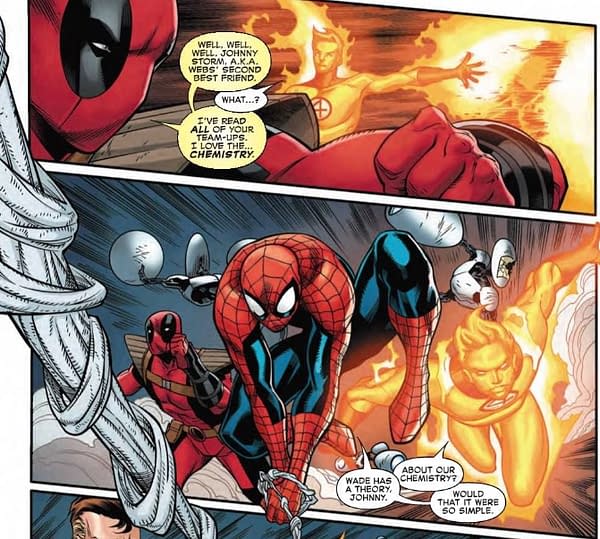 Reed wants to hear what Deadpool thinks, so Deadpool tells him: they're all living in a comic book, and only Deadpool knows it.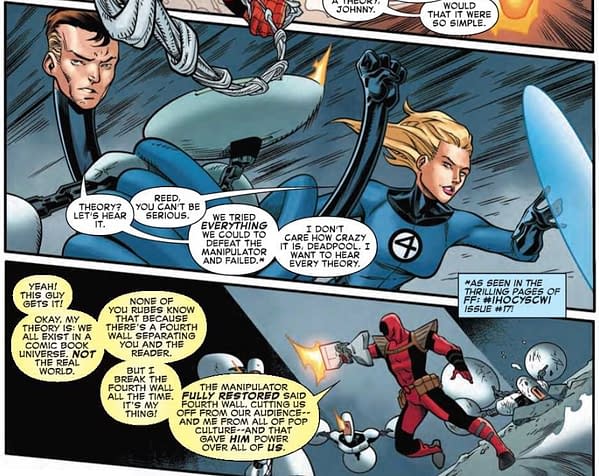 If anyone should be smart enough to realize that Deadpool is, in fact, actually right about this, it should be Reed. But unfortunately Mr. Fantastic simply isn't open-minded enough to accept a reality in which he's a fictional character controlled by a multinational conglomerate… even if he still can't really explain why he had to have his book canceled for all those years.
So there you have it: Deadpool is officially smarter than Reed Richards in every way that counts.
Spider-Man/Deadpool #49 hits stores on Wednesday. Check out the preview below.
Spider-Man/Deadpool #49
(W) Robbie Thompson (A) Jim Towe (CA) Dave Johnson
THE EVENT SO BIG ONE COMIC BOOK/REALITY CANNOT CONTAIN IT!
• A battle royale of epic event proportions!!!
• Make sure the roof you read this issue under is well-supported, because we're gonna DESTROY THE FOURTH WALL.
• The danger is coming…FROM THE OTHER SIDE OF THE PAGE!!!
Rated T+
In Shops: Apr 10, 2019
SRP: $3.99