Women In Comics Con 2017: Because Pop Culture Is A Mirror That Reflects Everyone
By Ray Flook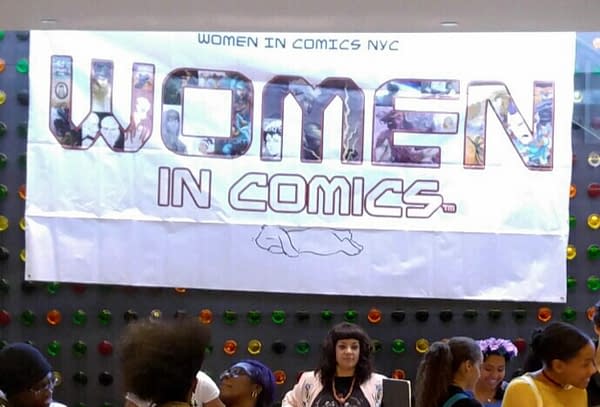 Women in Comics NYC Collective International returned to Bronx, NYC, this weekend for the 2017 edition of Women in Comics Con (WinC-Con), sponsored in conjunction with Bronx Heroes and Lockett Down Productions and held at The Bronx Library Center. For the uninitiated, WinC-Con is an annual comic and arts fest where writers, artists, and other creators come together to celebrate and examine the incredibly influential role women have played and continue to play in both the creative arts and across all aspects of the pop culture spectrum. Throughout the day, attendees were able to engage in a number of thought-provoking panel discussions on a wide range of subjects…affording them the opportunity to expand their mindset with a diverse line-up of creators and works available while allowing new creators and their work to have their voices heard.
The line-up of special guests in attendance at WinC-Con this year included:
The line-up of special guests in attendance at WinC-Con this year included: Blossom Blair, Nadia Burgess, Greg Anderson Elysee, Shauna J Grant, N. Steven Harris, Julia Hutchinson, Irene Lee, Karen Llamas, Emily McLean, Abigael Puritz, Y. Sanders, Regine L. Sawyer, E. Stanley, Ellen Stedfeld, Dina Tate, Edward Watson, Sha-Nee Williams, Javier Winnik, Michele Witchipoo, Savannah Zambrano, Camilla Zhang, Toni Barton, Barbara Brandon-Croft, Sara Gomez-Woolley, Micheline Hess, Alitha E. Martinez, Phyllis Novin, Daniel Jose Older, Kwanza Osajyefo, Khary Randolph and Cherie Ann Turpin
Improving upon what was already a quality event last year WinC-Con offered both "Panel" and "Workshop" tracks of interesting diverse and "hands-on" programming to their schedule:
Panels:
11:30am – 12:30pm Women in Comics: Reconstructing Femininity
1230pm – 1:30pm The Comic Book Spectrum: Comics & Longevity
1:30pm – 2:30pm Black Speculative Arts Movement Panel
2:30pm – 3:30pm Hollywood Spotlight: Alyma Dorsey & Toni Barton
3:30pm – 4:30pm The Invisible Latinx
4:30pm – 5:30pm Fandom Diversified: Changing Dynamics of Geek/Nerd Journalism
5:30pm – 6:15pm New York Cosplay Network: Cosplay Showcase
6:15pm – 7pm Rouge Alliance: Lightsaber Performance Troup Demo
Workshops:
11:15am-12pm WinC EDU: Comics in the Classroom
12:00pm – 1:15pm Writing Workshop: World Building
1:15pm – 3:00pm Sequential Storytelling
3pm – 4:00pm Portfolio Review
4:00pm – 5:00pm Drawing Faces
5:00pm – 6:15pm Writing Workshop: Creating Dynamic Characters
On a personal note, WinC-Con has become one of my favorite events to cover while running the convention season gauntlet because it has both small-event intimacy and large-event importance. I like and respect the fact that the creative forces behind WinC-Con are taking their time and not looking to grow their event too quickly; but Women in Comics Con 2017 proved that as long as marginalized voices continue to be ignored by "the mainstream," the need for events like these and the positive impact they have on the status quo is stronger than ever before.
So here are some pics and video from WinC-Con 2017 to give you a better feel for how the day went down. Hope you enjoy…and keep your eyes glued for announcements on WinC-Con 2018!
Ray Flook has been a contributing writer to Bleeding Cool since 2013 and "Ray-splaining" geek stuff his entire life.. You can follow him on Twitter at @oldmangeek88; on Instagram at @oldmangeek; and soon through the Big Bad Geek podcast.