Wondercon: Sergio Aragones And Mark Evanier Talk Groo And Mad At The Sergio & Mark Show
By Joshua Stone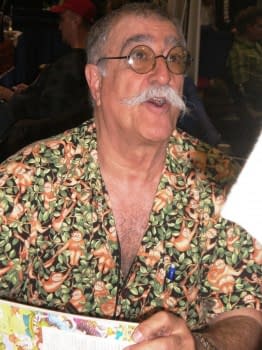 During my years of attending comic conventions, such as San Diego Comic-Con (SDCC) and Wondercon, I have come to decide that any panel I have to wait in long lines for are not worth going into, I'll catch them on Youtube later. The good news for me though is that these cons have plenty of other wonderful panels that I can attend instead of waiting in a 2-5 hour line. One of those panels is The Sergio & Mark Show, a regular panel at SDCC and Wondercon over the years.
Starring Sergio Aragonés and Mark Evanier, the panel was my first at this year's Wondercon and I couldn't have asked for a better panel to start off the weekend. The panel kicked off with some exciting news, Groo was going to finally do battle with that other somewhat less famous barbarian, Conan.
Next Aragonés announced that for Mad he is currently working on A Mad Look at Captain America. Evanier then commented that Jack Kirby wouldn't be getting royalties for that either. Aragonés said after that he would be doing A Mad Look at Grilling, and after 60 years he seems to be running out of things to look at. As great as all that news was though, it wasn't why I chose to attend this panel, or most of the panels Evanier regularly is a part of, it's the stories, and I was again not disappointed. Aragonés started discussing how Mad has been a family for him after coming by himself from Mexico. He would take trips with other artists and writers to many locations around the world. He was then asked about William Gaines, publisher of Mad. Aragonés shared that Gaines, himself, and other Mad artists and writers were in Mexico. At the time, Mexico was not known for it's wine (I will let readers with more knowledge decide as to the current quality of Mexico's wine) and Gaines was a wine connoisseur. While out for dinner, Aragonés decided to have some fun with Gaines. Aragonés ordered several bottles of wine, with each one being worse than the one before. The others with them didn't know anything about wines and were just happy to drink away. Gaines did not share their feelings. When Aragonés returned to New York, he was greeted by a Mad lawyer who served him with a lawsuit for $1 million. The lawsuit was for ruining William Gaines pallet.
Evanier and Aragonés then shared the first thing there were set to work on together, well Evanier actually shared the story as he had to stop Aragonés as Aragonés story was not correct per Evanier. There was actually a lot of that going on throughout the panel which is one of the reasons I always enjoy seeing these two together. Evanier said that DC hired the two of them to write the comic book adaptation of The Wiz, which starred Diana Ross, Michael Jackson, and Richard Pryor.
Two weeks into working on the project someone at DC gave Aragonés a work for hire contract that he was told he had to sign to work on the project. Aragonés told them he wouldn't do it and that he would never work for DC again, which as is often the case in the industry didn't last long. DC hired another artist to replace Aragonés, and then just dumped the entire project when the movie bombed at the box office. Probably for the best because I'm not sure musicals should ever be adapted into comic book form. I have a feeling that something would get lost in the translation.
I would recommend anyone who has the opportunity, to take full advantage of seeing these two gentleman on a panel at a convention near you.
Follow Joshua Stone @1NerdyOne