X-Men/Fantastic Four #1 is the Wolverine's Weiner X-Pick of the Week for February 5th, 2020
Marvel publisher two X-books last week: Marauders #7 and X-Men/Fantastic Four #1. Which will take the top tubed-meat-themed honor in all of comics? We'll find out here in your favorite weekly X-Men recap column…
---
Sworn to sell comics for Marvel executives who feared and hated the fact that Fox owned their movie rights, The Uncanny X-Men suffered great indignities, but thanks to a corporate merger and a line-wide relaunch, the X-Men can finally get back to doing what they do best: being objectively the best franchise in all of comics.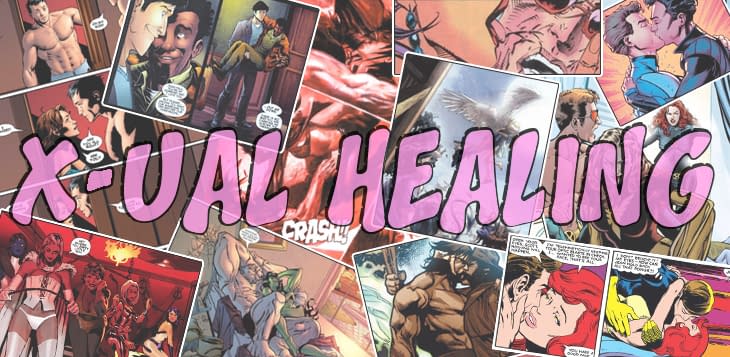 ---
MARAUDERS #7 DX
DEC190788
(W) Gerry Duggan (A) Stefano Caselli (CA) Russell Dauterman
THE TREASURE OF ISLAND M!
As Verendi's plans against Krakoa grow, the Marauders find themselves missing something vital… something that brings Storm and the White Queen to blows. Artist Stefano Caselli (AVENGERS, AMAZING SPIDER-MAN) joins the crew of the craziest X-series of them al!
Rated T+
In Shops: Feb 05, 2020
SRP: $3.99
Was it any good?
After last week's shocking cliffhanger, Marauders #7 kept us waiting to find out the fate of Kaye Pryde and Lockheed. Lockheed's body was recovered at the end of the issue, but we don't know whether he's alive or dead. It was nice to see Callisto and find out what's been going on with the Morlocks, and Callisto's interaction with Storm was particularly great. There wasn't a lot of action in this issue, but the last story arc of Marauders did a good job of sort of building up slowly to a big payoff that tied a lot of different plotlines together, so there's no reason not to have faith that this storyline will do the same. But in terms of week-to-week excitement, this issue was more buildup and less payoff.
X-MEN FANTASTIC FOUR #1 (OF 4)
DEC190770
(W) Chip Zdarsky (A/CA) Terry Dodson
KRAKOA. Every mutant on Earth lives there … except for one. But now it's time for FRANKLIN RICHARDS to come home.
It's the X-MEN VS. the FANTASTIC FOUR and nothing will ever be the same.
Rated T+
In Shops: Feb 05, 2020
SRP: $4.99
Was it any good?
This first issue was very efficient at establishing its premise and then moving the story along, which is necessary since there's just four issues to tell the complete story. It made references to past continuity, which I always appreciate, and it builds on both the general happenings in the X-books and the specific story that's been being told about Franklin Richards in Fantastic Four, as he goes through a very relatable teenage struggle to understand and be understood by his parents. I'm not the biggest fan in the world of stories being told out-of-sequence, as Kate Pryde is currently presumed dead in the pages of Marauders, but that's just a fact of life when you're publishing as many X-Men comics as Marvel does in a given month and they're all told in five or six issue arcs. Overall, this was a strong start and unlike many recent past Marvel hero vs hero stories, no one here was portrayed as a clear villain.
---
Wolverine's Weiner X-Pick of the Week
Marauders was fine but honestly not much happened. X-Men/Fantastic Four, on the other hand, was much more economical, establishing its premise and moving things along quickly. Both issues ended on a cliffhanger, but Marauders was essentially the same cliffhanger as last week, so the winner is clear: X-Men /Fantastic Four.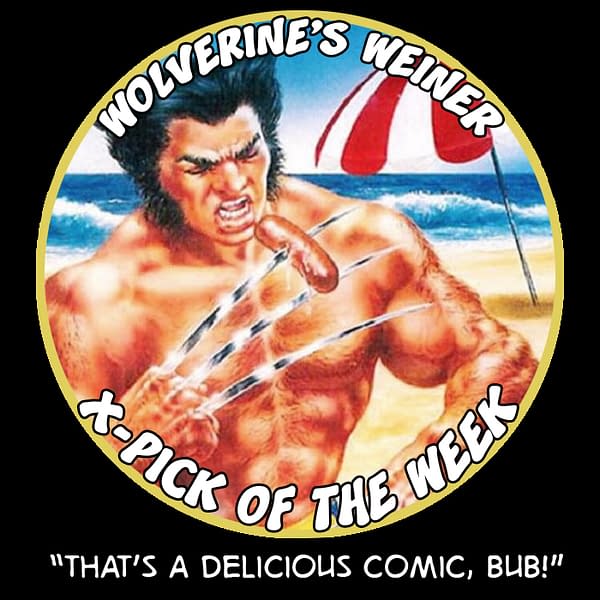 Congratulations to the creative team on this honor.
Past weiner winners:
12/25/2019: No X-Books
01/17/2020: No X-Books
02/05/2020: X-Men/Fantastic Four #1
The Wolverine's Weiner X-Pick of the Week is an award decided by my whims, not by any rule-based scientific process. It's whichever X-Men comic provides me with the most satisfying feeling, like a tubular cased meat product grilled on a fuzzy Canadian's adamantium claws on a hot Summer day. So you're welcome to disagree and post your opinions in the comments. Unless you thought Fallen Angels should win. That kind of opinion has no place here.
---
Read more X-ual Healing here: