Zombie Tramp #48 is the latest issue of Dan Mendoza's long-running series which flaunts lurid illustrations, undue exposure, suggestive postures, exaggerated female anatomy, and sex perversion… and that's just on the front cover!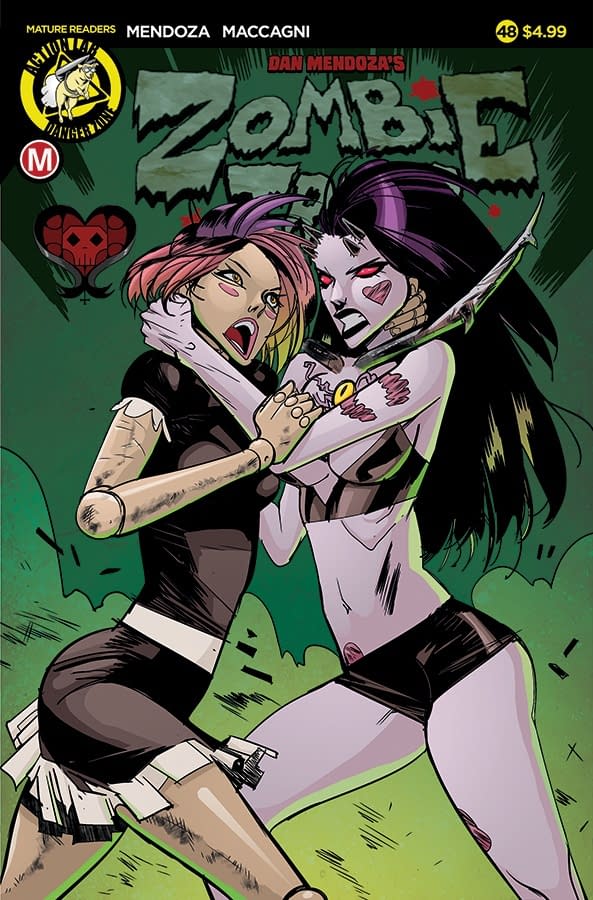 Created and Written by: Dan Mendoza
Drawn by: Marco Maccagni
Colors by: Valentina Pucci
Letters by: Adam Wollet
The story sees the character Dollface, depicted above grappling suggestively with Zombie Tramp, traveling through the Monster Realm, a Hell-like environment. Dollface is searching for her friend Ivan, who is found naked and engaged in illicit sex relations with a demoness. The demoness's goal is to subvert Ivan's moral code, and she appears to succeed. None of this passes Code muster.
Dollface is accosted by ghouls, one of which appears to be her father, a clear violation of the Code's edicts on respect for parents. As Dollface descends further into this hellscape, her clothes are ripped to shreds, breaking all four of The Comics Code of 1954's rules on Costume.
Meanwhile, the demoness's nude breasts are depicted in order to tempt Ivan, and she is later seen nuzzling him with these same breasts, which seem to grow larger from page to page, a blatant display of lust and depravity. Zombie Tramp arrives and transforms the demoness into a deformed creature, which clearly violates Code rules on the depiction of physical afflictions of deformities — but at least Ivan is punished for his part in the crimes.
Artists Marco Maccagni and Valentina Pucci clearly practice their craft well, which is why it's so disappointing to see them lend their talents to Mendoza's sick perversions. Letterer Adam Wollet should be charged with accessory to a crime, both for rendering suggestive dialog and printing profane words such as "fuck doll" and "fucktard" openly in speech bubbles, violating rules for both vulgarity and grammar.
The very concept of Zombie Tramp is rife with violations of the Comics Code's General Standards Part B, from unsavory, gruesome illustrations to scenes depicting the walking dead. Though Zombie Tramp is clearly involved in crimes such as necromancy, seduction, and computer hacking, there are no clear repercussions for her actions. An ad on the back cover for a comic called Baby Badass violates a provision of the Code for Advertising Matter, presenting several figures in such a way as to be offensive or contrary to good taste or morals.
The verdict: NOT APPROVED!
* * * * *
Let's face it. Comics were better back in "the good old days." And what's the primary difference between then and now? No, it's not the rose-tinted lens of nostalgia! Who even asked you, anyway? What made comics so good was the rigid moral oversight of the noble Comics Code Authority. Someone has to clean up this mess, so Bleeding Cool have officially declared ourselves to be the New Comics Code Authority (hey, no one was using the name), and we will not rest until all comics violating the laws of the Comics Code of 1954 are stricken from the industry for good! Or until we get tired.
Enjoyed this article? Share it!