This week, Doonami revealed that they managed to get full funding for Dark Table CCG on Kickstarter and have expanded their stretch goals. The company was aiming for just $10k to fund the project, but as of when we're writing this post, they've managed to amass over $15k with about a week left to go. As part of that success, they've expanded their set of stretch goals up to $35k, with a mysterious one left at the top which we assume would be $50k. Feel free to contribute to the game if you'd like, as we have details about it below along with the trailer.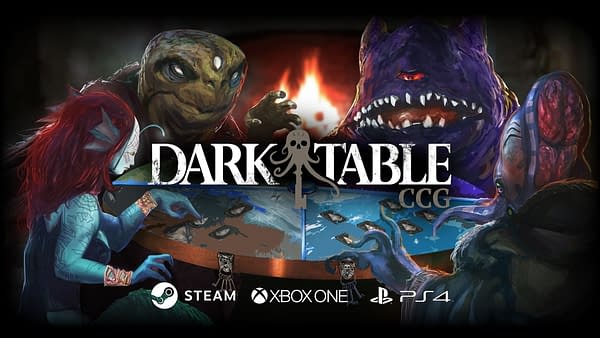 Dark Table CCG is more than just a card game. It is multiplayer card gaming re-imagined: Free-to-play, online 4-player, unrivaled instant deck-building, and a focus on social atmosphere and table politics.

Set in a grim Lovecraftian theme, Dark Table brings a unique strategic experience with up to 4 players battling in a free-for-all, using temporary alliances and mutual interest to get ahead. Select your leader and build your deck around it to survive the onslaught and claim your world. One of the features that sets Dark Table apart from other digital CCG's is the ability to play with up to 4 players in a Free-For-All. The game's alliance system allows players to make a temporary alliance with others in order to stop the largest threat on the table. This acts as a balancing measure when some players have better cards, but can also be a bluffing tactic to get an advantage.

One annoyance of other digital CCG's is the reliance on packs, loot boxes, or endless grinding to build the deck you want. Dark Table takes a different approach; all cards can be bought with in-game currency, paid currency, or deck tokens so you can focus on the fun of deck-building. The hope is that deck-building will be similar to real-life CCG's and less like a gambling experience that makes you sink a ton of money before you can play the cards you want. At any time you can build a deck using a $20 deck token, no matter the value of the individual cards, so you can spend your time theory-crafting and playing decks and not stressing about cost.
Enjoyed this article? Share it!