Posted in: Card Games, Games, Pokémon TCG, Tabletop | Tagged: Crown Zenith, Kouki Saitou, pokemon, pokemon cards, Pokemon TCG
---
Cards Of Pokémon TCG: Crown Zenith Part 47: Full Connecting Cards
These are the nine connecting cards by Kouki Saitou that top off Crown Zenith's special Galarian Gallery subset of Illustration Rares.
---
The Sword & Shield era of the Pokémon TCG has come to an end. Three years of expansions dedicated to the region of Galar, with some love for Brilliant Diamond & Shining Pearl's revitalization of Sinnoh and Pokémon Legends: Arceus's introduction of the ancient region of Hisui, have led to this moment. Crown Zenith, a special set celebrating the Sword & Shield era, was released on January 20th, 2023. It was primarily an adaptation of Japan's VSTAR Universe set and also featured a collection of cards that were cut from other English-language sets and more. Like other special sets including Champion's Path, Shining Fates, Celebrations, and Pokémon GO, Crown Zenith packs were found in specially branded products like Premium Collections and Elite Trainer Boxes rather than booster boxes. This set featured the Galarian Gallery subset which introduced Illustration Rares and Special Illustration Rares, called initially "Art Rares," to the hobby, which set the standard for the following Sword & Shield era which used these card types as their primary Secret Rares. In today's installment of this Crown Zenith spotlight, we take a look at the completed collection of connecting cards by artist Kouki Saitou in the Galarian Gallery subset.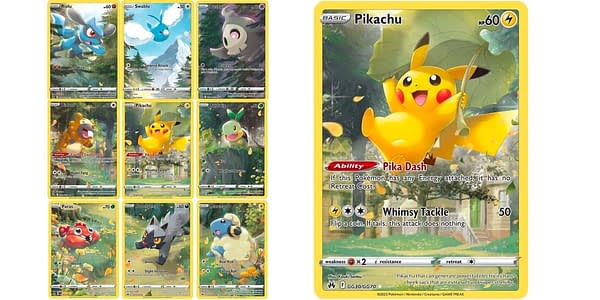 Seeing them together is quite stunning, isn't it? Saitou has been with the Pokémon TCG for decades, but this may be considered a crowning achievement. Pun unfortunately intended. Now that we have assembled them, you can see how these cards connect, creating a beautiful, floral image that shows us an intricate scene featuring Riolu, Swablu, Duskull, Bidoof, Pikachu, Turtwig, Paras, Poochyena, and Mareep. These cards are spectacular in that they perfectly exist as individual cards, which also contributes to the overall connecting image. Just imagine putting these in a binder. I believe that I am personally four cards off of completing the image.
Saitou has been a fixture of the Pokémon TCG since the e-era set Aquapolis was released in 2003. Now, 23 years later, Saitou is still at the very top of his game. Other recent, memorable Saitou cards include the Espeon VMAX Alternate Art from Sword & Shield – Fusion Strike and the Radiant Charizard from this set.
Stay tuned for the journey through this special set as we continue to spotlight the cards and artwork of Pokémon TCG: Crown Zenith. Next time, the spotlight continues with the Galarian Gallery subset.
---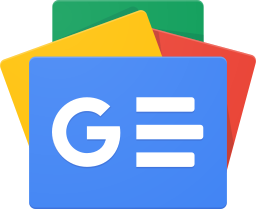 Stay up-to-date and support the site by following Bleeding Cool on Google News today!