Hockey Roguelite Game Tape To Tape Announced For Steam Next Fest
Take hockey to new and uncharted territory as Tape To Tape will give you a roguelite on the ice like you've never seen before.
---
Indie developer and publisher Excellent Rectangle have revealed their new hockey title with a twist as Tape To Tape is on the way to PC. The game is basically being described as NHL 94 meets Hades, as you will put together the best hockey team you can with gear and equipment to take on all challengers in an attempt to make hockey mainstream again. Not to mention pulling off a bit of a Mighty Ducks routine as you attempt to take a bunch of misfit players all the way to the major leagues and the championship game. You can read more and check out the trailer below as it will be coming to the next incarnation of Steam Next Fest this February with a free demo, and will eventually be released later this year.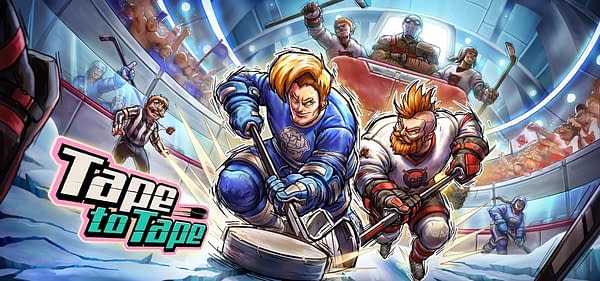 "Take charge of a ragtag group of hockey players in a roguelite journey to the major leagues. As the newly appointed captain, every choice matters on the path to victory. Hire future superstars throughout the season, utilize the synergy found between players, and harness ruthless abilities, all in favor of crafting an unbeatable team. Easier said than done, as the ultimate dream team doesn't appear out of thin air. Use losses as an opportunity to visit the mighty Blademaster in between seasons and permanently upgrade equipment for the battles ahead. When the Center is still flubbing every single face-off, there's no shame in lining the ref's pockets with some sweet maple syrup."
"Combining modern precision with fast-paced 90s-inspired action, Tape To Tape features a unique battle system in the form of a balanced simcade hockey experience. Bone-crushing body checks and stellar saves will keep players shaking in their skates, but mastering the dynamic puck physics system will secure the victory. Players and goalies will react to the puck bouncing off sticks and ricocheting off faces creating organic and emergent battles on the ice. Thankfully, there is no penalty when a tooth is lost."