Overwatch Adds Special Pink Mercy Skin for Breast Cancer Research Foundation
It's not often that you see a game company add a special item in for charity, but when they do, it's always for an amazing or worthy cause. This week, Blizzard introduced a new pink skin for Overwatch's Mercy, with the proceeds going to the Breast Cancer Research Foundation.
The skin will cost you $15, but 100% of the proceeds will be going toward the fund. And in case you're wondering, no, this isn't the average skin that you can just randomly get in a box. It's only available for purchase for a limited time (May 8th-21st) through their website, which will tie the skin to your game's account.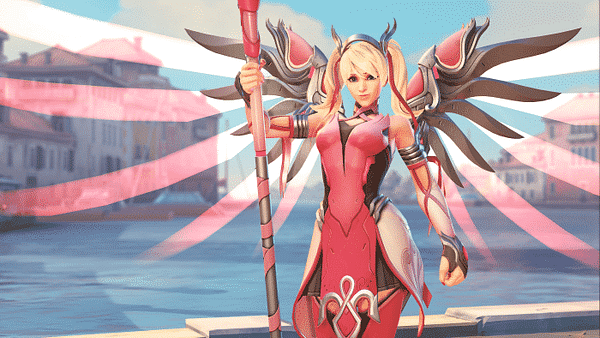 If you'd like to show your support for the cause in other ways beyond buying the new skin, there are other ways to do so like buying a specially made pink Mercy t-shirt, or linking your Twitch account to your Blizzard account to get special cosmetics and sprays for Mercy at certain tiers. You can get all the details for those additions here. It's pretty awesome that Blizzard chose Mercy, also known as Dr. Angela Ziegler who is a healer in the game, as the representative for the cause. It's a fine choice for a worthy cause.
**UPDATE**
There is also a ladies' pink Mercy skin shirt available in the Overwatch shop, sizes S-2XL, with proceeds also going to the Breast Cancer Research Foundation. You can see that here.