This week, Rockstar Games removed a good chunk of the music from their 2008 game Grand Theft Auto IV, primarily because the game was only allowed a ten-year licensing agreement on this music and now it has to go before they're forced to pay royalties. We have the complete list for you below, and if you were still playing Grand Theft Auto IV and jamming to these tunes, we're sorry for your loss. Especially for Bowie!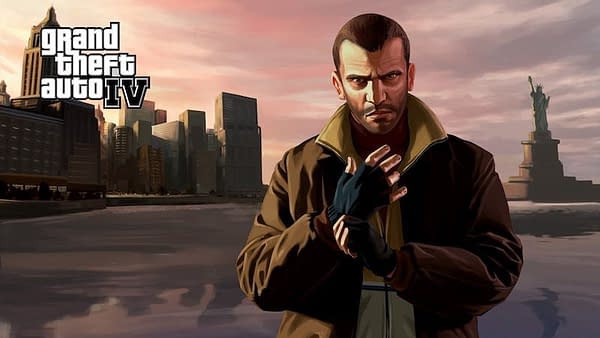 The Journey

Terry Riley – "A Rainbow in Curved Air"
Gil Scott-Heron – "Home Is Where the Hatred Is"
IF99 – International Funk
San Juan Sounds
Angel y Khriz – "Ven Báilalo"
Michael Shrieve – "Communique: 'Approach Spiral'"

K109 The Studio

Tamiko Jones – "Can't Live Without Your Love"
"Still In Love" by Rose Royce (The Ballad of Gay Tony)

The Classics

Marley Marl (feat. Craig G) – Droppin' Science
Brand Nubian – All for One

Vladivostok FM

Glukoza – "Швайне" [Schweine / Pigs in German]
Seryoga – "King Ring"
Ranetki Girls – "О тебе" [O Tebe / About You]
Ruslana – "Wild Dances" Ukranian FM Version
Kino – "Группа крови" [Gruppa Krovi / Blood Type]
Marakesh – "Ждать" [Zhdat / To Wait]
Zveri – "Квартира" [Kvartira / The Flat]
Oleg Kvasha – "Зеленоглазое такси" Club Remix [Zelenoglazoe * Taksi / Green Eyed Taxi]
Splean – "Линия жизни" [Liniya Zhizni / Lifeline]
Basta – "Мама" [Mama / Mother]
Leningrad – "Никого не жалко" [Nikogo ne Zhalko / A Pity for No One]
Dolphin – "РЭП"
Salvation" by Sucker DJs (The Ballad of Gay Tony)
"Music" by Jonathan Peters feat. Maya Azucena (The Ballad of Gay Tony)
"When Love Takes Over" by David Guetta feat. Kelly Rowland (The Ballad of Gay Tony)

The Vibe 98.8

Mtume – "C.O.D. (I'll Deliver)"

Radio Broker

Ralph Myerz – "The Teacher"

Liberty Rock Radio

The Smashing Pumpkins – "1979"
Stevie Nicks – "Edge of Seventeen"
Electric Light Orchestra – "Evil Woman"
David Bowie – "Fascination"
"Touch Too Much" by AC/DC (The Lost and Damned)
"Five To One" by The Doors (The Lost and Damned)
"Jane" by Jefferson Starship (The Lost and Damned)
"Run To The Hills" by Iron Maiden (The Lost and Damned)

The Beat 102.7

Fat Joe (feat. Lil Wayne) – Crackhouse
Papoose – Stylin'

L.C.H.C.

"Call from the Grave" by Bathory (The Lost And Damned)

Vice City FM

"C'est la Vie" by Robbie Nevil
"History" by Mai Tai
"Teardrops" by Womack & Womack
"Wood Beez (Pray like Aretha Franklin)" by Scritti Politti
"You're the Voice" by John Farnham

Vladivostok FM

ALEKSEY BOLSHOY: YA Nenavizhu Karaoke
SERYOGA: Mon Ami (ft. Maks Lorens)
DELICE:Goryacheye Leto
SERYOGA: Dobav' Skorost
RIFFMASTER: Begu (Rancho Song)
RIFFMASTER Riffmaster Tony
ZHENYA FOKIN: Noch'ju
AYVENGO: Underground
KIEVELEKTRO: Gulyaj,Slavyane!! (ft. Alyona Vinnitskaya)
AYVENGO:Reprezenty
SERYOGA: Chiki
Enjoyed this article? Share it!