Bandai Namco announced this week that their next Gundam game, SD Gundam G Generation Cross Rays, is headed west in November. The game will be coming out as a digital download in both North America and Europe for PC and PS4 on November 28th, 2019. To mark the occasion, the company released a brand new trailer for the game, which you can see below. It features the Japanese voice actors for the characters Releina Peacecraft (Akiko Yajima), Lacus Clyne (Rie Tanaka), Marina Ismail (Ayumi Tsunematsu), and Kudelia Aina Bernstein (Yuka Terasaki). Enjoy!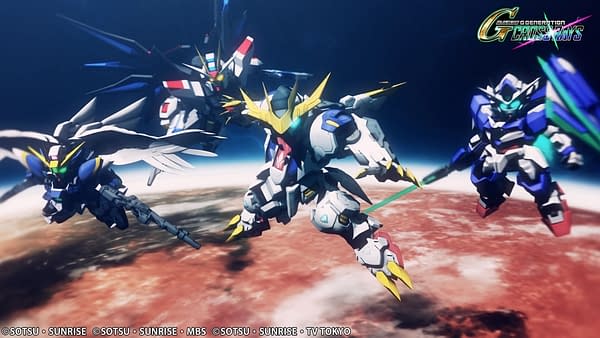 In SD Gundam G Generation Cross Rays, players will be able to relive the story and collect their favorite Mobile Suits and characters from four different eras of the iconic Mobile Suit Gundam series, including Mobile Suit Gundam Wing, Mobile Suit Gundam Seed, Mobile Suit Gundam 00 and Mobile Suit Gundam Iron-Blooded Orphans.

"Few media franchises boast the cross-generational appeal of Mobile Suit Gundam, whose steady stream of animated installments has enamored countless fans for decades on-end," said Stephen Akana, Senior Global Brand Manager. "SD Gundam G Generation Cross Rays lets fans both new and old experience that storied Mobile Suit Gundam lore with unprecedented depth, and we can't wait to see what different combinations of beloved characters and Mobile Suits they choose to battle alongside."

Anchored by the G Generation series' unique "Development", "Design" and "Capture" mechanics, SD Gundam G Generation Cross Rays further offers strategically intense battles featuring high-definition 3D models, dynamic animations and character cut-ins. With over 30 available units to choose from, SD Gundam G Generation Cross Rays gives players the ability to train, customize and deploy their Mobile Suit Gundam dream teams like never before.
Enjoyed this article? Share it!