Laced Records was happy to announce today that they will be working with FromSoftware to bring the Bloodborne original soundtrack to vinyl. The soundtrack is available to pre-order as we speak, which comes in x2 180g "Grim Green" colored vinyl with a deluxe double gatefold sleeve. These come exclusively through Laced Records' online store, along with the standard version which is x2 180g black vinyl. The standard edition will be available through regular retail later in 2019. Both versions will run you$35 and will ship this September, we have more details about them and track list below.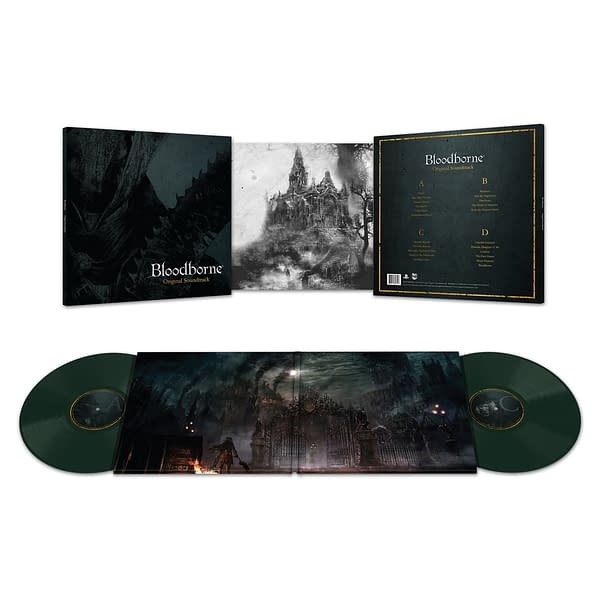 Recorded at London's prestigious AIR Studios and cut at the world-famous Abbey Road Studios rather than in the Hunter's Dream, the Bloodborne (Original Soundtrack) comprises of 21 tracks from the critically and BAFTA award-winning game. Hidetaka Miyazaki's action adventure set in the ancient and forgotten city of Yharnam received plaudits for its evocative gothic soundtrack and soon Hunters will be able to relive their dark journey through this exclusive audio collector's item.

Track Listing:
Disc 1 – Side A
1. Omen
2. The Night Unfurls
3. Hunter's Dream
4. The Hunter
5. Cleric Beast
6. Blood-starved Beast

Disc 1 – Side B
1. Watchers
2. Hail the Nightmare
3. Darkbeast
4. The Witch of Hemwick
5. Rom, the Vacuous Spider

Disc 2 – Side A
1. Moonlit Melody
2. The One Reborn
3. Micolash, Nightmare Host
4. Queen of the Vilebloods
5. Soothing Hymn

Disc 2 – Side B
1. Celestial Emissary
2. Ebrietas, Daughter of the Cosmos
3. The First Hunter
4. Moon Presence
5. Bloodborne
Enjoyed this article? Share it!